Dudley Wood Stadium, Dudley Wood Road, Netherton, Nr Dudley, West Midlands.
POSTCODE———————————-DY2 0DX
LOCATED————————————The district of Netherton is found roughly twelve miles west of Birmingham city centre, heading out towards Stourbridge, within half a mile north of Cradley Heath town centre.
ORIGINAL SITE—————————–Grazing land.
DATE CONSTRUCTED——————–1924 as an enclosed football ground.
DATE VENUE OPENED——————-Once revamped, June 1947 for Speedway.
Meaning other sports may have taken place prior to the arrival of Greyhound Racing.
FIRST MEETING—————————–December 16th 1949.
Greyhound Racing only.
LICENSED OR INDEPENDENT———-Independent then switched to NGRC during 1966.
All venues covered would have to be licensed with the government, licensed suggested in this section would refer to tracks operating under NGRC Rules.
INSIDE OR OUTSIDE HARE TYPE——Outside McGee.
Please note that the Electric Hare suggested is only a guidance and would have been in operation for a certain amount of time at this venue. Although it is not necessarily guaranteed that it was operational all the time, as other types of lure may have been used and updated as time progressed.
DISTANCES———————————–272, 462, 647, 692 and 875 metres.
Please note that most racing venues distances had become varied throughout the years, the ones given above were at once point set and offers only a guidance to the track size.
CIRCUMFERENCE—————————413 metres.
Please note that alterations at most racing venues throughout its existence would see that the circumference of the track would vary, the one shown above offers only a guidance to the track size.
BIG RACE NAMES—————————Golden Hammer and Elsinore Stakes.
STADIUM SHARED WITH——————Speedway and Football.
LAST MEETING——————————-March 17th 1995.
Greyhound Racing only.
STADIUM CLOSURE DATE—————-October 1995.
Meaning other sports may have taken place after Greyhound Racing had ceased.
STADIUM DEMOLITION——————-1998
BUILT ON SITE——————————-Barret Houses now found on Racemeadow Crescent, The Lukes and Stadium Drive, set back just off Dudley Wood Road in the district of Netherton which is found between Dudley Wood and Cradley Heath.
In some cases, structure's that originally covered the venue after the stadium had been demolished, may have been themselves demolished too, so the one described is more likely to be the one which now presently covers the site.
EVIDENCE LEFT TODAY——————-Nothing known of.
FURTHER COMMENTS——————–None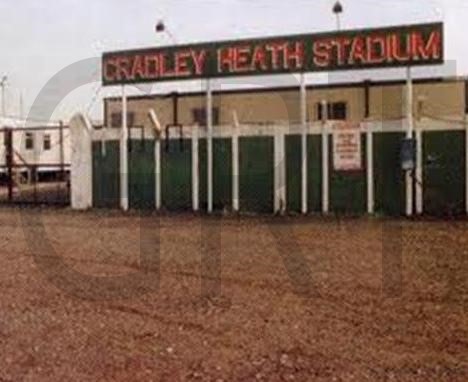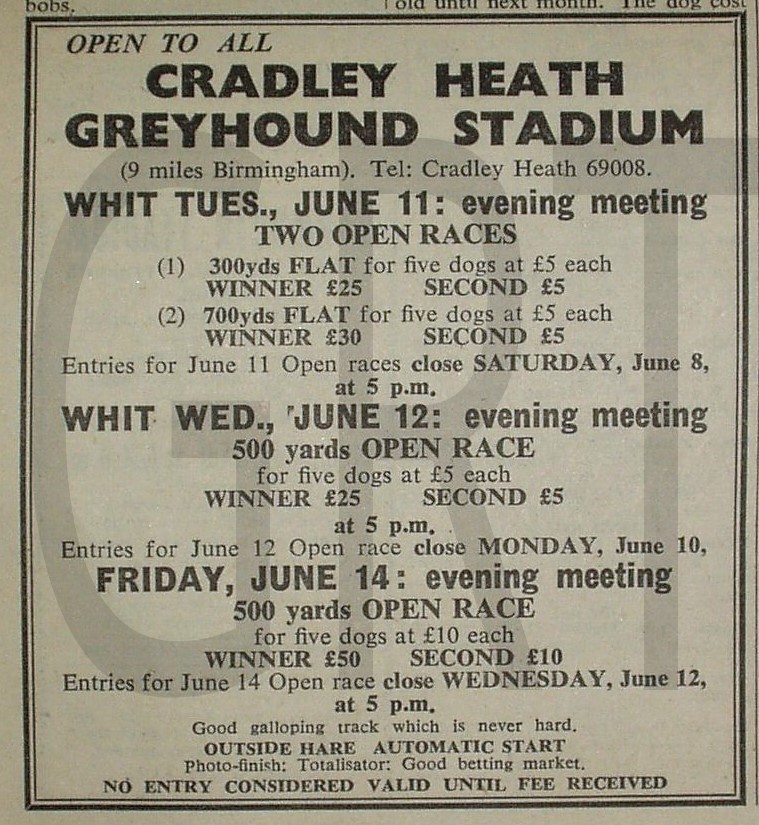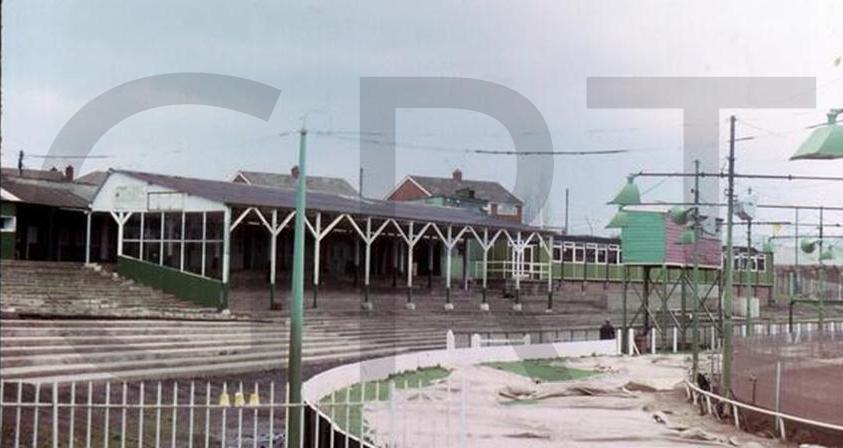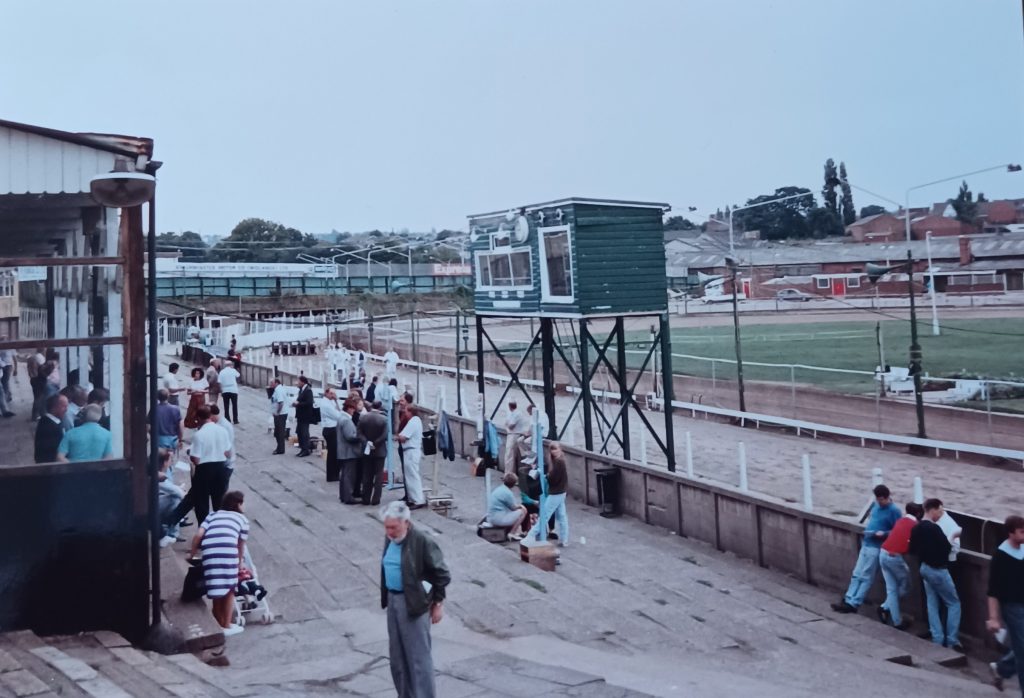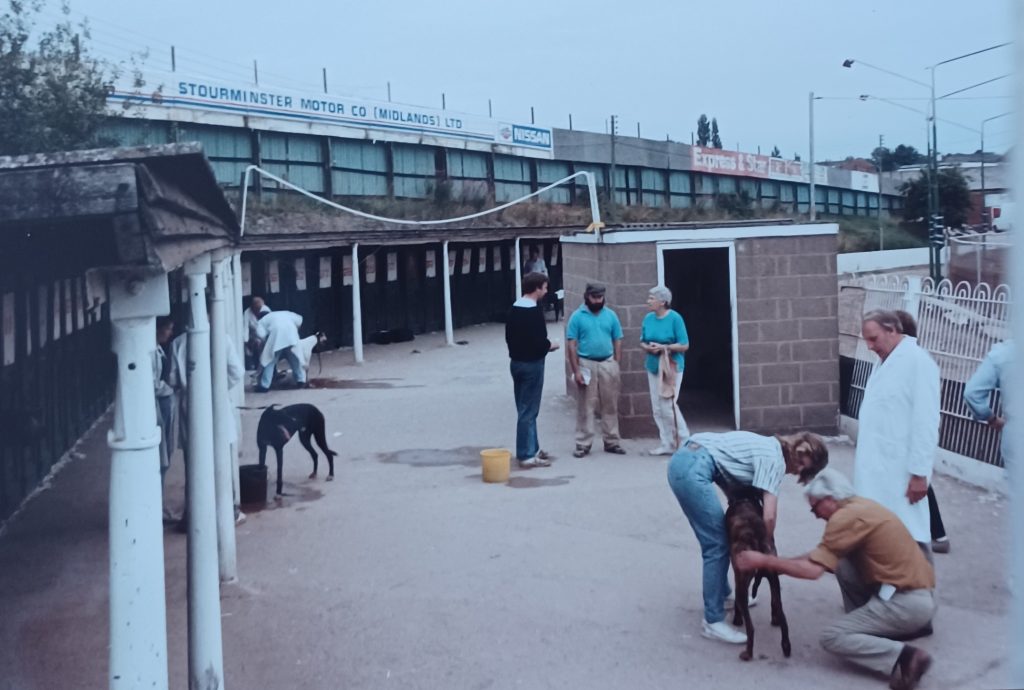 Cradley Heath is a small town in the West Midlands, situated twelve miles west of Birmingham city centre heading out towards the borough of Stourbridge. But the greyhound stadium we are about to discuss was actually located not far from Dudley Wood, hence the name Dudley Wood Stadium, which was situated roughly half a mile north of Cradley Heath town centre.
The site had originally been grazing land up until the end of the First World War, before the land became levelled to be used as a football pitch by local amateurs. But it was in 1924 that Cradley Heath Football Club purchased the land, and developed it into a more enclosed football ground, before adding a grandstand in 1927. During the months of 1939, it was clear that the football club was enduring financial hardship and found themselves in discussions with a Greyhound Racing Consortium who wanted to purchase the stadium. But due to the interruption of the Second World War, the deal fell through, and the stadium continued to host amateur football throughout the hostilities.
1947 witnessed the re construction of the stadium, with new covered stands being erected, along with banked terracing, improving the stadium so much that it could now accommodate over 15,000 spectators. A Speedway track was added, designed in a way to make room for an eventual greyhound track. The Speedway team staged its first meeting in June of 1947, with Greyhound Racing staging their first meeting more than two years later on the 16th of December 1949. The new sport would see it operating as an independent flapping track, with five greyhounds contesting over distances of 300, 500 and 700 yards, with the hounds chasing an outside Sumner type hare system. In 1950 the football club made an application to join the football league but were instantly refused due to them sharing Greyhound Racing venue.
Cradley Heath Football Club eventually left the stadium in 1959, before surprisingly folding two years later. 1959 also witnessed the return of Speedway Racing after a six-year absence. Another big change happened during September 1966, when Greyhound Racing at Cradley Heath switched to operating under NGRC rules, with trainers being allowed to operate on C type license. In time distances were switched to metric versions, which saw race distances now run over 272, 462, 647, 692 and 875 metres, with the track having a calibrated circumference of 413 metres.
Its big race attractions were The Golden Hammer" an event contested over the 500-yard trip, and also "The Elsinore Stakes". Concerns for the future of the stadium began around the early 1990's, when it seemed no investment plans were in place to upgrade the now deteriorating old stadium. Rumours surfaced regarding the sale of the stadium, after the owners had showed some concern knowing that the venue was now no longer viable to continue. After news that the stadium had been sold to developers, more bad news instantly filtered through, announcing that both promoters of Greyhound Racing and Speedway had been given their notices to vacate the stadium by the end of 1995.
It was Greyhound Racing, who became its first casualty, with the hounds staging their final meeting on March 17th 1995, followed by the Speedway team who staged their final events seven months later. The stadium became demolished during 1998, despite Barrett Homes not having planning permission to build their new planned homes. But after continuous disputes regarding planning permission, Barrett Homes got their way, and construction of new houses began in January 2002.
The site is now covered by a new housing estate located just off Dudley Hill Road, with its access road Stadium Drive, feeding houses situated along the side of Racemeadow Crescent and The Lukes. The estate is situated in the district of Netherton, which lies between Dudley Wood and Cradley Heath.
Memorabilia for this track is required for this page, if you can help please contact me.