The home of Dundee United Football Club, Tannadice Park, Tannadice Street, Dundee.
POSTCODE———————————-DD3 7JW
LOCATED————————————Tannadice Park is located one mile north of Dundee city centre.
ORIGINAL SITE—————————–Farm Grazing land.
DATE CONSTRUCTED——————–Around 1870 for football.
DATE VENUE OPENED——————-Around 1870 for football.
Meaning other sports may have taken place prior to the arrival of Greyhound Racing.
FIRST MEETING—————————–May 19th 1928.
Greyhound Racing only.
LICENSED OR INDEPENDENT———-Independent
All venues covered would have to be licensed with the government, licensed suggested in this section would refer to tracks operating under NGRC Rules.
INSIDE OR OUTSIDE HARE TYPE——Don't know more than likely a trackless hare.
Please note that the Electric Hare suggested is only a guidance and would have been in operation for a certain amount of time at this venue. Although it is not necessarily guaranteed that it was operational all the time, as other types of lure may have been used and updated as time progressed.
DISTANCES———————————–Don't know.
Please note that most racing venues distances had become varied throughout the years, the ones given above were at once point set and offers only a guidance to the track size.
CIRCUMFERENCE—————————Don't know.
Please note that alterations at most racing venues throughout its existence would see that the circumference of the track would vary, the one shown above offers only a guidance to the track size.
BIG RACE NAMES—————————Nothing known of.
STADIUM SHARED WITH——————Dundee United Football Club.
LAST MEETING——————————-June 9th 1928, due to June 13th meeting being abandoned
Greyhound Racing only.
STADIUM CLOSURE DATE—————-Still there acting as a football stadium.
Meaning other sports may have taken place after Greyhound Racing had ceased.
STADIUM DEMOLITION——————-N/A
BUILT ON SITE——————————-N/A
In some cases, structure's that originally covered the venue after the stadium had been demolished, may have been themselves demolished too, so the one described is more likely to be the one which now presently covers the site.
EVIDENCE LEFT TODAY——————-Nothing remains from the Greyhound Racing period.
FURTHER COMMENTS——————–The first venue in Dundee to host Greyhound Racing.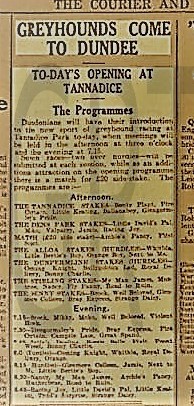 The next greyhound track that features in this section, may come as a surprise to many. It was at Tannadice Park the home of one of Scotland's top football league clubs, Dundee United. Tannadice Park had been the home to Dundee United since the 1870's, and yet became the first venue in Dundee to host greyhound racing.
The stadium is located one mile north of Dundee's city centre, yet is only a minute's walk from Dens Park, the home of Dundee Football Club, another venue that would host greyhound racing during the following years. It was during 1928 that a greyhound company approached the football clubs committee, with a view of hosting the new up and coming sport of greyhound racing, which was hoped to create extra income.
At the time Tannadice Park was surrounded by countryside, with the ground very basic with earth banks behind each goal along with one main grandstand. The greyhound track was sectioned off from the pitch with white fencing, which totally surrounded the playing area, with a judge's box purposely built opposite the main grandstand.
The first meeting came on the afternoon of the 19th of May 1928, with roughly one thousand patrons in attendance, along with a dozen bookmakers standing, who would witness a seven five dog race meeting. A trumpeter heralded the introduction of the dogs for the first race, then attendants, who were dressed in bowler hats, white smocks and black leggings, brought out the dogs to parade. In an eventful race a greyhound called Fire Curtain won the first event, although the meeting was completed, some of the dogs misbehaved by fighting with others during races.
Another evening meeting was held later that day, with another seven race card, but the crowd was way short of what the afternoon had assembled. Tannadice's final meeting came on the 9th of June 1928, although a meeting scheduled for the 13th was abandoned because of adverse weather, even though the card for that evening still featured in the Dundee courier.
No more meetings took place after that, it seemed as though the public were not interested, as attendances were way short of expectation. It was claimed that another contribution to its failure was that the track itself, which was of a poor design, may be due to Tannadice Park's rectangular shape.
Today, Tannadice Park is a totally transformed venue from the days of greyhound racing, its stature must put itself as one of the top ten football grounds in Scotland.
A programme, photograph or even memorabilia for this track is required for this page, if you can help please contact me.