Central Park Stadium, Church Road, Eurolink Industrial Estate, Murston, Sittingbourne, Kent.
POSTCODE———————————-ME10 3SB
LOCATED————————————About one mile north east of Sittingbourne town centre in the district of Murston on the Eurolink Industrial Estate.
ORIGINAL SITE—————————–Undeveloped land known as Mere Court.
DATE CONSTRUCTED——————–1990 for Sittingbourne Football Club who then moved on in 1992 due to financial reasons.
DATE VENUE OPENED——————-1995 at a final cost of £6 million after all faults had been rectified.
Meaning other sports may have taken place prior to the arrival of Greyhound Racing.
FIRST MEETING—————————–October 3rd 1995.
Greyhound Racing only.
LICENSED OR INDEPENDENT———-NGRC.
All venues covered would have to be licensed with the government, licensed suggested in this section would refer to tracks operating under NGRC Rules.
INSIDE OR OUTSIDE HARE TYPE——Outside Swaffham.
Please note that the Electric Hare suggested is only a guidance and would have been in operation for a certain amount of time at this venue. Although it is not necessarily guaranteed that it was operational all the time, as other types of lure may have been used and updated as time progressed.
DISTANCES———————————–265, 450, 480, 500, 642, 708 and 916 metres.
Please note that most racing venues distances had become varied throughout the years, the ones given above were at once point set and offers only a guidance to the track size.
CIRCUMFERENCE—————————Don't know.
Please note that alterations at most racing venues throughout its existence would see that the circumference of the track would vary, the one shown above offers only a guidance to the track size.
BIG RACE NAMES—————————The Kent Derby.
STADIUM SHARED WITH——————Speedway
LAST MEETING——————————-Still in operation.
Greyhound Racing only.
STADIUM CLOSURE DATE—————-N/A
Meaning other sports may have taken place after Greyhound Racing had ceased.
STADIUM DEMOLITION——————-N/A
BUILT ON SITE——————————-N/A
In some cases, structure's that originally covered the venue after the stadium had been demolished, may have been themselves demolished too, so the one described is more likely to be the one which now presently covers the site.
EVIDENCE LEFT TODAY——————-N/A
FURTHER COMMENTS——————–None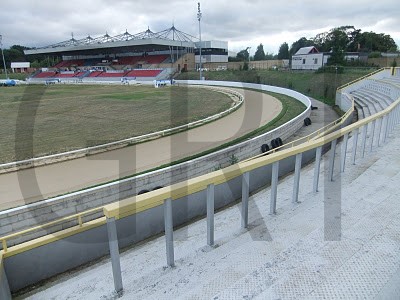 The Kent town of Sittingbourne provides us with our next greyhound track, and is now presently known as Central Park, a venue which is now recognised as one of the more up to date circuits in operation today. Construction began in 1990, but not as a greyhound track, but as the home for Sittingbourne Football Club, who had previously sold their old town centre ground to the council. But the construction of the new stadium, had left the football club over one million pound in debt, forcing them to move out in 1992, and sell the ground back to the council.
By 1994 all efforts to stage Greyhound Racing, became overshadowed by a design fault on the main stands roof, shelving all plans of the sport for over 12 months. By the time the repairs had been done and safety certificates issued, the total cost of building the stadium had risen to over six million pounds. Racing did eventually get under way, with Sittingbourne being added to the list of NGRC tracks, with its first meeting coming on the 3rd of October 1995, with a greyhound called Try My House winning the first ever event over the 480 metre trip.
However, within months of its opening, more financial problems arose, which contributed to a temporary closure of the stadium, but a change of management soon got operations under way once again. Sittingbourne found itself along with Poole as one of the pioneering tracks to stage Sunday night BAGS meetings in 2011, and now and again features on the RGTV Channel, with its big race events such as the Kent Derby and the Grand National.
Today, Sittingbourne finds itself in a very healthy position, it has a crowd capacity of 4,750 with a restaurant to serve around 180 diners. It presently stages six dog racing over distances of 265, 450, 480, 500, 642, 708 and 916 metres, with the greyhounds chasing an outside Swaffham type hare.
The track's location is not one of the easiest to find, situated roughly about a mile north east of the town, it is recommended that you follow the sign posts to the Eurolink Industrial Estate at Murston. The stadium also features Speedway Racing who began with events during 2013.
Memorabilia for this track is required for this page, if you can help please contact me.