The Home of Cowdenbeath Football Club, Central Park, Main Street, Cowdenbeath, Fifeshire.
POSTCODE———————————-KY4 9QQ
LOCATED————————————About half a mile south west of Cowdenbeath Railway Station.
ORIGINAL SITE—————————–Grazing land encircled by Railway lines.
DATE CONSTRUCTED——————–Developed between 1917 and 1921 as the home to Cowdenbeath Football Club.
DATE VENUE OPENED——————-August 1921 Cowdenbeath's first official match.
Meaning other sports may have taken place prior to the arrival of Greyhound Racing.
FIRST MEETING—————————–July 7th 1928.
Greyhound Racing only.
LICENSED OR INDEPENDENT———-Independent
All venues covered would have to be licensed with the government, licensed suggested in this section would refer to tracks operating under NGRC Rules.
INSIDE OR OUTSIDE HARE TYPE——Outside Sumner
Please note that the Electric Hare suggested is only a guidance and would have been in operation for a certain amount of time at this venue. Although it is not necessarily guaranteed that it was operational all the time, as other types of lure may have been used and updated as time progressed.
DISTANCES———————————–360 and 500 yards.
Please note that most racing venues distances had become varied throughout the years, the ones given above were at once point set and offers only a guidance to the track size.
CIRCUMFERENCE—————————Don't know.
Please note that alterations at most racing venues throughout its existence would see that the circumference of the track would vary, the one shown above offers only a guidance to the track size.
BIG RACE NAMES—————————Nothing known of.
STADIUM SHARED WITH——————Cowdenbeath Football Club.
LAST MEETING——————————-Possibly early 1960's.
Greyhound Racing only.
STADIUM CLOSURE DATE—————-Still hosts Scottish League football and also Stock Car Racing.
Meaning other sports may have taken place after Greyhound Racing had ceased.
STADIUM DEMOLITION——————-N/A
BUILT ON SITE——————————-N/A
In some cases, structure's that originally covered the venue after the stadium had been demolished, may have been themselves demolished too, so the one described is more likely to be the one which now presently covers the site.
EVIDENCE LEFT TODAY——————-Nothing evident of greyhound racing ever having been there.
FURTHER COMMENTS——————–Today Central Park can boast that it stages World Championship Stock Car Racing.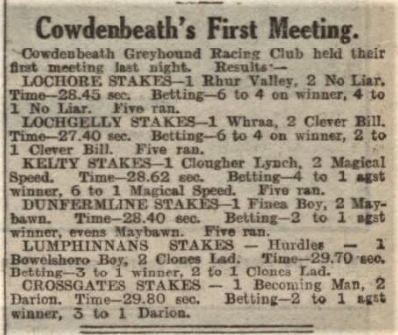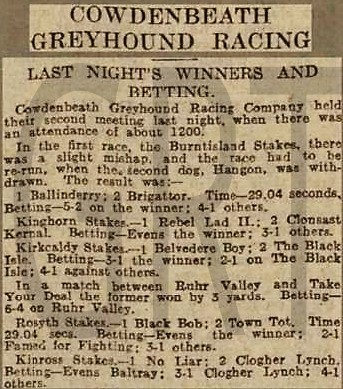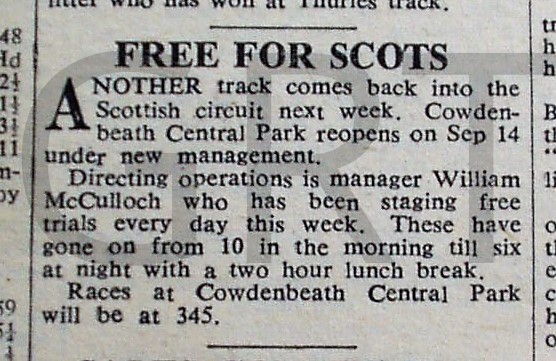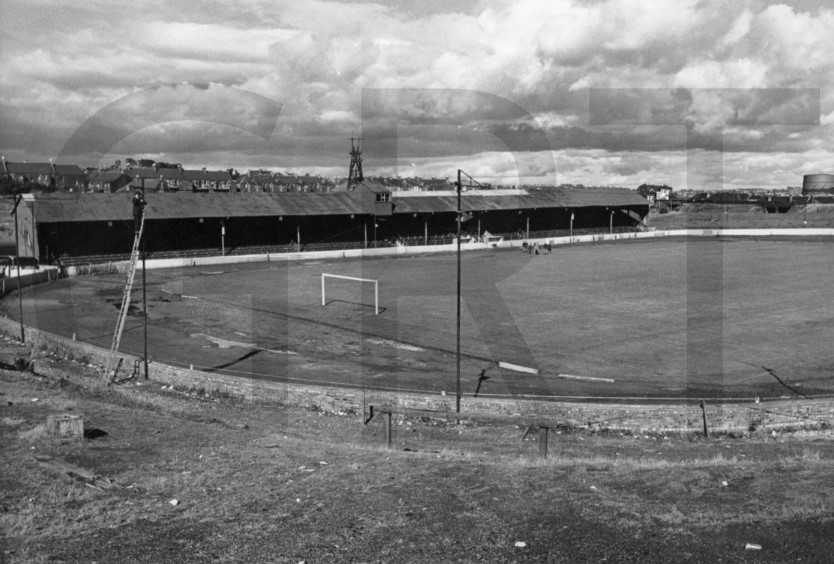 The ex-mining town of Cowdenbeath is situated in the Scottish county of Fifeshire, and becomes another town that accommodated two greyhound tracks during the sports good times. The one known as North End Park operated as a flapping track right up until the late 1960's, but the more senior one to exist was the one at Central Park, located within a matter of a hundred yards or so from the town's main street.
The first signs of Central Park becoming a sporting venue was way back in 1917, when a triangular section of waste land hemmed in by railway lines, was purchased by Cowdenbeath Football Club, who at the time were homeless. Although pretty basic at first it took almost four years before a grandstand was built, as the venue began to take shape as a recognised stadium. Although rectangular in its early days, the more oval shape that we know of today, offers clear proof that it once accommodated Greyhound Racing. But the introduction of Greyhound Racing was due to the financial hardship being suffered by a number of Scottish league clubs during the late twenties and early 1930's, and Cowdenbeath became one of the first to benefit from the extra financial rewards that Greyhound Racing offered.
Its first meeting came on the 7th of July 1928 with the greyhounds chasing a unique type of trackless hare along a temporary staked out track, and would last for two months only during football's close season. Racing resumed the following Springtime, and continued to do so virtually every year right up until the outbreak of the Second World War. The interruption of hostilities made little impact, as Central Park still continued staging meetings during daylight hours. Post war meetings returned under lights, and staged six dog races over distances of 360 and 500 yards, with the greyhounds chasing an outside Sumner type hare. Football still remained the stadiums main purpose, with Central Parks record attendance of 25,586 being set in 1949 during an FA cup tie against Glasgow Rangers.
Sadly, Greyhound Racing at Central Park ceased after more than 35 years, when Cowdenbeath staged its final meeting during 1964. In 1965 the greyhound track was removed only to be replaced by a shale Speedway track, with the Fife Lions Speedway Team hosting fixtures there. But after two dismal seasons, that too was replaced by a tarmac surface as the sport of Stock Car Racing became its next sporting venture. 1968 witnessed the installations of floodlights for the first time, but mishaps lay on the horizon as a fire gutted the main stand on two occasions, firstly in 1985 and then again in 1992.
Today, Central Park has developed in to a neat and tidy venue, and is now more known for its duties as a Scottish Football League ground, but it is also known worldwide as a venue that stages World Championship Stock Car Racing. The surrounding areas have also changed throughout the years, even the once adjacent railway lines are no longer there.
A programme, photograph or even memorabilia for this track is required for this page, if you can help please contact me.