North End Park, Cowdenbeath, Fifeshire.
POSTCODE———————————-KY4 9QA
LOCATED————————————Half a mile north of Cowdenbeath town centre at the rear of the towns Library.
ORIGINAL SITE—————————–A dumping ground for the nearby Colliers Den Coal Pit.
DATE CONSTRUCTED——————–North End Park was also known as Colliers Den when it became a football pitch in 1888.
DATE VENUE OPENED——————-Late 1900's.
Meaning other sports may have taken place prior to the arrival of Greyhound Racing.
FIRST MEETING—————————–Possibly 1938.
Greyhound Racing only.
LICENSED OR INDEPENDENT———-Independent.
All venues covered would have to be licensed with the government, licensed suggested in this section would refer to tracks operating under NGRC Rules.
INSIDE OR OUTSIDE HARE TYPE——Possibly Inside Sumner
Please note that the Electric Hare suggested is only a guidance and would have been in operation for a certain amount of time at this venue. Although it is not necessarily guaranteed that it was operational all the time, as other types of lure may have been used and updated as time progressed.
DISTANCES———————————–285 and 490 yards.
Please note that most racing venues distances had become varied throughout the years, the ones given above were at once point set and offers only a guidance to the track size.
CIRCUMFERENCE—————————400 yards.
Please note that alterations at most racing venues throughout its existence would see that the circumference of the track would vary, the one shown above offers only a guidance to the track size.
BIG RACE NAMES—————————Nothing known of.
STADIUM SHARED WITH——————Heart of Beath Football Club.
LAST MEETING——————————-Early 1970's.
Greyhound Racing only.
STADIUM CLOSURE DATE—————-Used up until recently as home to Hearts of Beath Football Club.
Meaning other sports may have taken place after Greyhound Racing had ceased.
STADIUM DEMOLITION——————-Not known.
BUILT ON SITE——————————-Nothing known as yet.
In some cases, structure's that originally covered the venue after the stadium had been demolished, may have been themselves demolished too, so the one described is more likely to be the one which now presently covers the site.
EVIDENCE LEFT TODAY——————-Nothing known of.
FURTHER COMMENTS——————–None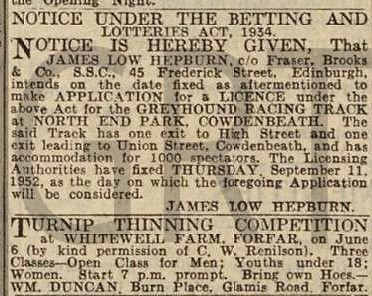 Another of the Scottish towns to have hosted Greyhound Racing at two different venues, is the Fifeshire town of Cowdenbeath. Cowdenbeath is situated roughly six miles north of the Forth Bridge, and although it may have recognised itself as a coal mining town around the turn of the twentieth century, in modern times it has become more known worldwide for staging World Championship Stock Car Racing.
Greyhound Racing first featured in the town during 1928 at Central Park, the home of the towns football club, but another venue hosted the sport later in time known to locals as North End Park. The site of North End Park is found about half a mile north of Cowdenbeath's town centre, situated at the rear of the town's library, which operates on High Street.
The original site had been used as a dumping ground for the now gone nearby Colliers Den coal pit, but the land became levelled before it was eventually used for sporting events during the late 1800's. Cowdenbeath Football Club had a spell playing there before moving to Central Park in 1917.
Dates are sketchy regarding its Greyhound Racing days, but it is suggested elsewhere that racing began in 1938, and continued to operate up to around the early 1970's. It operated as a flapping track, and consisted of a 400 yard circumference grassed circuit that created distances of 289 and 489 yards, and wide enough to accommodate six dog racing.
Once Greyhound Racing had ceased, the venue continued to host junior football with local club Hearts of Beath playing matches there, along with locals staging other sporting activities also. Since the Millenium the site of North End Park has remained unclear, but it was known that the site was sold to a supermarket group in 2013, and further information suggests that it was sold on again to developer in 2015. No doubt in the near future, the site will submerge beneath modern structures, taking with it all evidence of its once sporting history with it.