The Home of Watford Football Club, Vicarage Road Stadium, Vicarage Road, Watford, Hertfordshire.
POSTCODE———————————-WD18 0ER
LOCATED————————————Half a mile west of Watford town centre along Vicarage Road.
ORIGINAL SITE—————————–Watford Union Workhouse Recreation Grounds.
DATE CONSTRUCTED——————–1922 as a Football Stadium.
DATE VENUE OPENED——————-August 30th 1922 when Watford drew 0-0 with Millwall in front of 8,000 fans.
Meaning other sports may have taken place prior to the arrival of Greyhound Racing.
FIRST MEETING—————————–October 20th 1928. Closed June 28th 1969. Opened for second spell on October 4th 1974.
Greyhound Racing only.
LICENSED OR INDEPENDENT———-Had spells of both Independent and NGRC.
All venues covered would have to be licensed with the government, licensed suggested in this section would refer to tracks operating under NGRC Rules.
INSIDE OR OUTSIDE HARE TYPE——Outside Sumner.
Please note that the Electric Hare suggested is only a guidance and would have been in operation for a certain amount of time at this venue. Although it is not necessarily guaranteed that it was operational all the time, as other types of lure may have been used and updated as time progressed.
DISTANCES———————————–410, 595 and 773 metres.
Please note that most racing venues distances had become varied throughout the years, the ones given above were at once point set and offers only a guidance to the track size.
CIRCUMFERENCE—————————Not known.
Please note that alterations at most racing venues throughout its existence would see that the circumference of the track would vary, the one shown above offers only a guidance to the track size.
BIG RACE NAMES—————————Nothing known of.
STADIUM SHARED WITH——————Watford Football Club.
LAST MEETING——————————-October 30th 1978.
Greyhound Racing only.
STADIUM CLOSURE DATE—————-Stadium now totally transformed into an All-seater Football Stadium.
Meaning other sports may have taken place after Greyhound Racing had ceased.
STADIUM DEMOLITION——————-N/A
BUILT ON SITE——————————-N/A
In some cases, structure's that originally covered the venue after the stadium had been demolished, may have been themselves demolished too, so the one described is more likely to be the one which now presently covers the site.
EVIDENCE LEFT TODAY——————-Nothing regarding greyhound racing.
FURTHER COMMENTS——————–None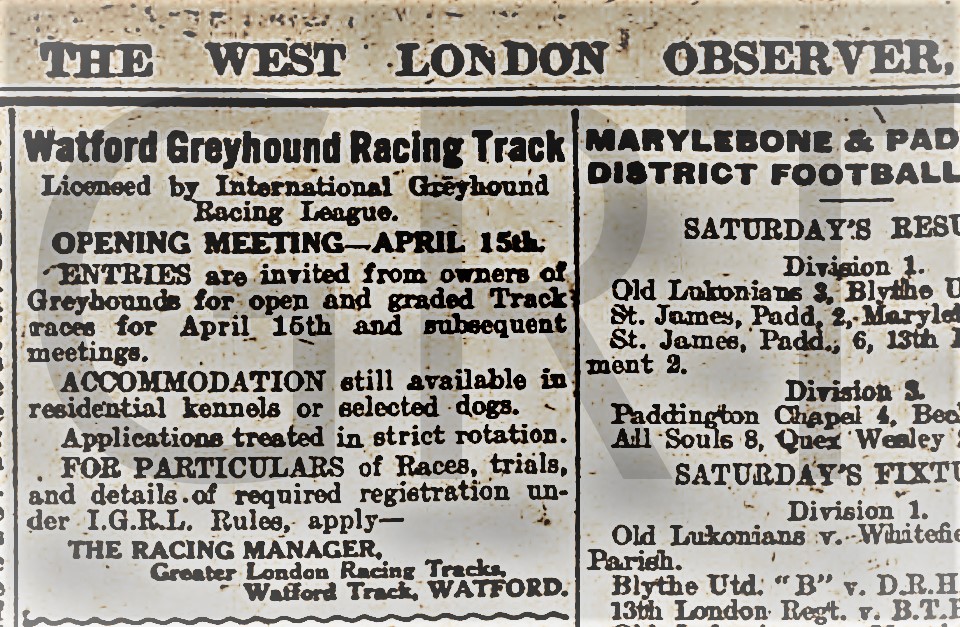 The large, populated Hertfordshire Town of Watford is found 17 miles northwest of the City of London, lying just within the boundaries of the M25 orbital motorway. When discussing sport in Watford it is normally found that the football dominates the topic, but unknown to many of its town folk, the town has a substantial history regarding Greyhound Racing.
This section describes The Vicarage Road Stadium, a venue situated within half a mile of Watford's town centre, and it is here that Watford Football Club play their home matches, and also for many years staged Greyhound Racing. The venue came about due to Watford Football Club having been ousted from its previous ground and were then in need of a new ground.
The site chosen had previously been a recreation ground, used by members of The Watford Union Workhouse whose headquarters lay close by. The location of the new venue was chosen due to the sites natural bowl shape, which would undertake less earth movement, and would consist of an already in place banked terracing. Development of Vicarage Road began in early 1922, with the site becoming available for Watford's first home match on the 30th of August 1922 when 8,000 fans witnessed a 0-0 draw against Millwall. But like many football clubs during the 1920's, the great depression of the time was taking its financial toll on the football club, and it was a period that the owners of the football club turned their attention to greyhound racing which would in turn boost their income.
It would be The Dutch Family who would finance the new project, a family who had plenty of interests in Greyhound Racing at the time, who funded a 300-yard turfed track to be laid around two corners of the football pitch. Vicarage Road's first meeting came on the 20th of October 1928 with events run under the newly formed NGRC rules.
In 1934 the GRA began to take control of operations, their interest would see a huge investment on new equipment. Alterations were taken up on the football pitch, moving it enough to lay a track all the way round its perimeter, which in turn consisted of four very tight corners, with a new racing distance created of 500 yards.
In 1954 the GRA broke its relationship with the football club, but racing did continue with the track operating as a flapping track. Operating at this level would last for the next fifteen years, with distances now being run over 290 and 490 yards with six greyhounds chasing an inside Sumner type hare. But the success of the football club during the late 1960's brought changes to Vicarage Road once again, as redevelopment was needed to cope with larger crowds. Ambitions of the football club had paid off, with the club being promoted to the second tier of The Football League in rapid time. Plans for a new stand was put forward, which in turn would see the removal of a section of the greyhound track, and more drastically the end of Greyhound Racing at Vicarage Road.
After almost 40 years of continuous racing at Watford, the venue staged its final meeting on the 28th of June 1969. The early 1970's had seen little progression of the football club, and by February 1973 it was clear that The GRA was showing strong interest to bring back Greyhound Racing to Vicarage Road.
Investment was substantial, with a new all sanded track being laid, a new tote system installed, along with a brand-new kennelling system constructed behind The Rookery End Stand. Afternoon meetings were set in place after the track had signed up to a BAGS contract, with five contracted trainers supplying the hounds. Six dog race events were to be run over 410, 595 and 773 metres, with the greyhounds chasing an outside Sumner type hare.
On the 14th of October 1974, a good crowd attended the opening meeting, with a greyhound called Lee's Lucy winning the first event. But concerns were growing almost immediately, as the four tight banked bends was causing inevitable crowding. Injuries amongst the greyhounds were becoming too regular, with the track picking up a worrying reputation, and became known as The Wall of Death. In March 1978, the future of the sport looked in doubt, as Watford lost its BAGS contract, mainly due to the crowds becoming sparse, and also a doping scandal which created little trust within the track.
After a four-year controversial spell of Greyhound Racing, Vicarage Road staged its final meeting on the 30th of October 1978, with a greyhound called Chad Supreme winning the very last race. With success on the football pitch, and the club now being financially supported by pop star Sir Elton John, the greyhounds became an unwelcomed activity, and it came as no surprise when the track was removed in 1979. The kennels were removed along with the track and its equipment, and little was left to show that the venue once hosted Greyhound Racing.
Vicarage Road still continues to host Watford's home matches, with the stadium having been totally revamped to an all-seater stadium. Since those day, Sir Elton John has moved on also, but Rugby Union has featured, along with organised pop concerts, but with the revenue that football turns over today, Watford Football Club remains its main asset.
A photograph or even memorabilia for this track is required for this page, if you can help please contact me.