Portland Park, Station Road, Ashington, Northumbria.
POSTCODE———————————-NE63 9XG
LOCATED————————————Just north of Ashington town centre just off the A197.
ORIGINAL SITE—————————–Grazing land owned by The Duke of Portland.the land became let out as a football pitch during the late 1800's.
DATE CONSTRUCTED——————–1909
DATE VENUE OPENED——————-1909
Meaning other sports may have taken place prior to the arrival of Greyhound Racing.
FIRST MEETING—————————–First spell October 3rd 1936 until March 30th 1964, then a second spell from August 17th 1984 until March 1993.
Greyhound Racing only.
LICENSED OR INDEPENDENT———-Independent
All venues covered would have to be licensed with the government, licensed suggested in this section would refer to tracks operating under NGRC Rules.
INSIDE OR OUTSIDE HARE TYPE——Inside Sumner.
Please note that the Electric Hare suggested is only a guidance and would have been in operation for a certain amount of time at this venue. Although it is not necessarily guaranteed that it was operational all the time, as other types of lure may have been used and updated as time progressed.
DISTANCES———————————–280, 470 and 660 yards.
Please note that most racing venues distances had become varied throughout the years, the ones given above were at once point set and offers only a guidance to the track size.
CIRCUMFERENCE—————————Don't know.
Please note that alterations at most racing venues throughout its existence would see that the circumference of the track would vary, the one shown above offers only a guidance to the track size.
BIG RACE NAMES—————————Nothing known of.
STADIUM SHARED WITH——————Ashington Football Club. Stock Car Racing and Speedway also played a part in the stadiums history but not while greyhound racing took place.
LAST MEETING——————————-February 26th 1993.
Greyhound Racing only.
STADIUM CLOSURE DATE—————-February 16th 2008, Ashington Football Club last match.
Meaning other sports may have taken place after Greyhound Racing had ceased.
STADIUM DEMOLITION——————-Began in September 2008.
BUILT ON SITE——————————-An ASDA Superstore and its car park.
In some cases, structure's that originally covered the venue after the stadium had been demolished, may have been themselves demolished too, so the one described is more likely to be the one which now presently covers the site.
EVIDENCE LEFT TODAY——————-Nothing known of.
FURTHER COMMENTS——————–None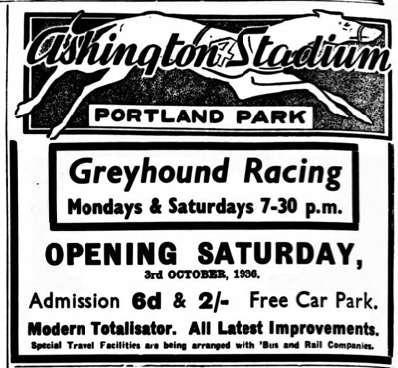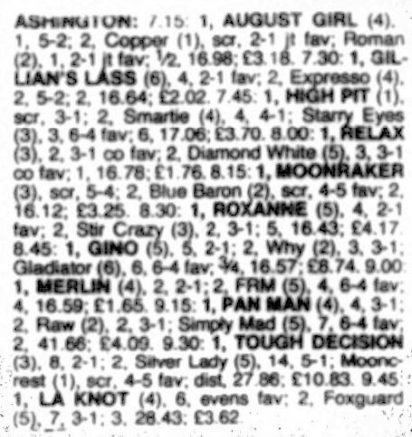 The Northumbrian town of Ashington lies eighteen miles north of Newcastle, having developed as a mining town during the nineteenth century, and probably made more famous for its footballing sons Jackie Milburn and the Charlton brothers. Before the turn of the century Portland Park had been nothing more than a football pitch marked out on a section of farm land which happened to be owned by the Duke of Portland.
In 1909 Ashington Football Club moved in as tenants, but by 1914 had changed the grounds original name of "The Station Road Ground " in to that of Portland Park. By 1921 the success of the club in non-league football had found themselves elected to the newly formed Third Division North, their efforts supported by an impressive stadium that was capable of accommodating around 20,000 followers. But poor performances on the pitch contributed to the football club's downfall, and after just eight seasons in the Football League disaster struck, as news had filtered through that they had not been re-elected to join the 1928-29 campaign. They had lost voters confidence by finishing bottom of the Division, and also attendances had clearly plummeted, with some crowds failing to top 1,000. With the football clubs league status now gone, its financial income suffered drastically too, leaving the club's future lying in the balance.
After a meeting amongst its members, which brought some disapproval, it was announced that staging Greyhound Racing at Portland Park may hold the key to its survival. The introduction of the new sport would see the removal of some outbuildings and terracing from behind each goal, and also the playing pitch narrowed to compensate for the new grass surfaced track. By the time of its inaugural meeting on the 3rd of October 1936, Portland Park had transformed into a more familiar oval shape. At its opening some of its invited guests were members of the Northern League Football Association, who had come to see the transformation which had brought greyhound racing to Portland Park.
Ashington operated as an independent track, running five dog races over distances of 395 and 495 yards, seeing the hounds chase an inside type hare system. Football continued to feature at Portland Park with Ashington recording its best ever attendance in December 1950, when over 13,000 fans witnessed an FA cup tie against Rochdale.
After nearly thirty years, the first spell of Greyhound Racing came to a close on the 30th of March 1964, but the sport did return once more in 1984 with its inaugural meeting coming on the 17th of August. The event proved a success mainly due down to the free admission on offer which contributed to over 2,000 racegoers attending. Meetings again consisted of five greyhounds, all contesting over distances of 280, 470 and 660 yard, with the hounds chasing an inside Sumner type hare.
In between those twenty years of no greyhound racing, football continued to be Portland Parks main feature, although Speedway made a brief appearance during 1972, albeit without much success lasting for just two meetings only. The arrival of Stock Car Racing was to be hoped to be its next successful venture, but a crash during a race involving a number of vehicles, triggered a blaze which saw the main stand totally destroyed. Not surprisingly no more Stock Car events took place after the fire, but the stadium did benefit with a new 300 seated stand taking its place.
Greyhound Racing came to a close during March 1993, after an ongoing dispute with the council regarding the lease, and became a period that would see virtually all its fixtures and fittings being removed. Portland Park staged its final meeting on February 26th 1993, with a hound called La Knot winning the last event. The football club continued throughout the nineties, and early 2000's, but the future of Portland Park looked bleak after the council sold the ground in 2006. It had been sold under the agreement that would cement the football clubs future, by having a brand new stadium built on the outskirts of town. Portland Park's final football fixture came on the 16th February 2008, with Ashington hosting Seaham Red Star in front of a crowd of 1,954.
In September 2008 the bulldozers moved in to remove one of Ashington's most famous landmarks, the stadium making way for a brand new ASDA superstore, now located north of the town, at the road junction of the A196 and A197.
A photograph or memorabilia for this track is required for this page, if you can help please contact me.