Bedford Road, Henlow Camp, Nr Lower Stondon, Bedfordshire
POSTCODE———————————-SG16 6EA
LOCATED————————————Lower Stondon is found four miles north of Hitchin in Bedfordshire. The track is found north of Henlow Camp clearly visible from the A600 Bedford Road.
ORIGINAL SITE—————————–Farm grazing land.
DATE CONSTRUCTED——————–1923
DATE VENUE OPENED——————-1923 for Whippet Racing, and sometimes greyhounds but it was a straight drag only.
Meaning other sports may have taken place prior to the arrival of Greyhound Racing.
FIRST MEETING—————————It is reported greyhound racing started on August 1st 1927.
Greyhound Racing only.
LICENSED OR INDEPENDENT———-Independent up to 1976, then NGRC up to present.
All venues covered would have to be licensed with the government, licensed suggested in this section would refer to tracks operating under NGRC Rules.
INSIDE OR OUTSIDE HARE TYPE——Outside Swaffham McGee.
Please note that the Electric Hare suggested is only a guidance and would have been in operation for a certain amount of time at this venue. Although it is not necessarily guaranteed that it was operational all the time, as other types of lure may have been used and updated as time progressed.
DISTANCES———————————–250, 277, 460, 550, 660, 692 and 870 metres.
Please note that most racing venues distances had become varied throughout the years, the ones given above were at once point set and offers only a guidance to the track size.
CIRCUMFERENCE—————————410 metres.
Please note that alterations at most racing venues throughout its existence would see that the circumference of the track would vary, the one shown above offers only a guidance to the track size.
BIG RACE NAMES—————————The Henlow Derby and The Carlsberg Tetley Challenge.
STADIUM SHARED WITH——————Nothing known of.
LAST MEETING——————————-Still in operation.
Greyhound Racing only.
STADIUM CLOSURE DATE—————-N/A
Meaning other sports may have taken place after Greyhound Racing had ceased.
STADIUM DEMOLITION——————-N/A
BUILT ON SITE——————————-N/A
In some cases, structure's that originally covered the venue after the stadium had been demolished, may have been themselves demolished too, so the one described is more likely to be the one which now presently covers the site.
EVIDENCE LEFT TODAY——————-N/A
FURTHER COMMENTS——————–None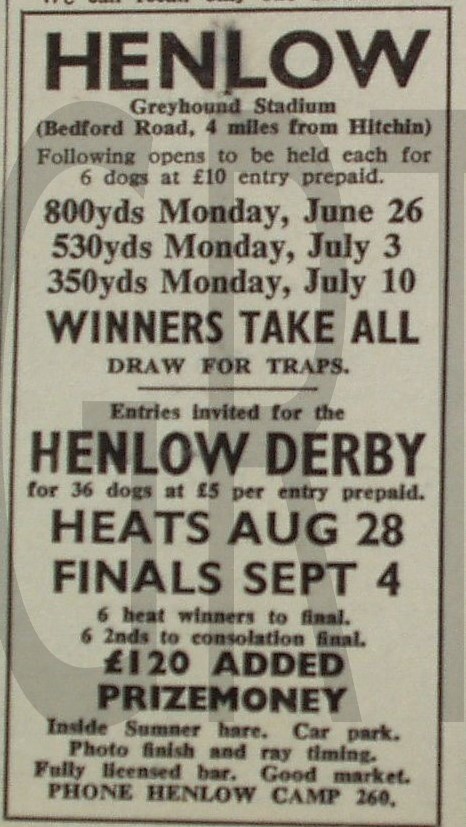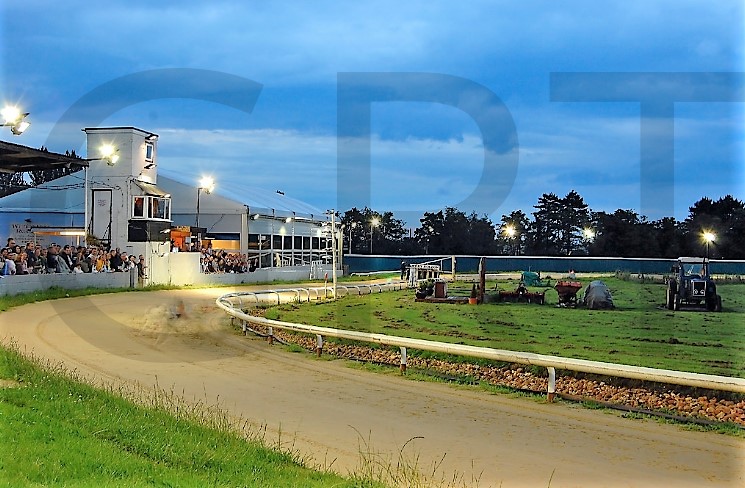 Henlow Camp is a small town in Bedfordshire, situated roughly four miles north of Hitchen, with possibly its main source of an attraction being the Henlow Greyhound Stadium. The Henlow venue proudly boasts that it is the oldest existing greyhound racing site in Britain, as press reports suggest that greyhound racing was run on a grass straight in a farmer's field from as early as 1923.
The years following the First World War had seen whippet racing developing rapidly throughout the UK, mainly in the north, where it had become part of the past times amongst the textile and mining communities. One of the reasons on how the Henlow track developed was due to its close proximity of the Henlow Camp, an RAF base, which at the time would have accommodated a good number of whippet racing enthusiasts throughout its personal, who were no doubt in need of somewhere to race their pets.
Although Henlow had seen whippets chasing a drag hare in those early years, there had also been opportunities for greyhounds to run the same course also. But it was during the summer of 1927 that a more recognised oval greyhound track was laid, and due to the interest shown by locals, Henlow put on its first meeting on the 1st of August 1927. Henlow racegoers may have a case in saying that it had become the first organised meeting to be run around an oval course in the southern half of the UK, yet it was more than twelve months after Manchester's Belle Vue had done their first in the north.
The track was primitive indeed, as the course had been marked out by wooden stakes, and the dogs chased a trackless type hare which happened to be nothing more than a lure pulled along by a hand operated winch. The post war years had seen the track well organised as a 1949 programme shows then that races consisted of six greyhounds challenging over distances of 285 and 500 yards, yet still operated as an independent track. Although distances varied throughout the years due to alterations and development, by 1966 distances were being run over 350, 530 and 800 yards, with an inside Sumner hare type system fitted at the time. It continued to operate undisturbed as a flapping track for almost fifty years before accepting an offer to join the NGRC in 1976 as a permit track operating under a C license.
Today, Henlow continues to operate under NGRC rules, but due to its graphical location, will probably not reach the standards of the big city licensed tracks, such as Sheffield and Nottingham. Henlow has crowd capacity of just 1,000, and offers six dog racing, with the hounds chasing an outside Swaffham McGee type hare. Distances are run over 250, 277, 460, 550, 660, 692 and 870 metres, with the track having a 410-metre circumference. It features regular on The Racing Post Channel, with its big race events such as The Henlow Derby and The Carlsberg Tetley Challenge.
Memorabilia for this track is required for this page, if you can help please contact me.