Old Pit Yard, Cambois, Nr Blyth, Northumberland.
POSTCODE———————————-NE24 1SW
LOCATED————————————The village of Cambois is siuated along the North east coastline between Ashington and Blyth, with the stadium liying within 150 yards of the beach half a mile north of Cambois.
ORIGINAL SITE—————————–Unused Coalboard land.
DATE CONSTRUCTED——————–1996
DATE VENUE OPENED——————-1998
Meaning other sports may have taken place prior to the arrival of Greyhound Racing.
FIRST MEETING—————————–April 3rd 1998.
Greyhound Racing only.
LICENSED OR INDEPENDENT———-Independent
All venues covered would have to be licensed with the government, licensed suggested in this section would refer to tracks operating under NGRC Rules.
INSIDE OR OUTSIDE HARE TYPE——Inside Sumner then switched to outside Swaffham during 2001.
Please note that the Electric Hare suggested is only a guidance and would have been in operation for a certain amount of time at this venue. Although it is not necessarily guaranteed that it was operational all the time, as other types of lure may have been used and updated as time progressed.
DISTANCES———————————–247, 412 and 587 metres.
Please note that most racing venues distances had become varied throughout the years, the ones given above were at once point set and offers only a guidance to the track size.
CIRCUMFERENCE—————————340 metres
Please note that alterations at most racing venues throughout its existence would see that the circumference of the track would vary, the one shown above offers only a guidance to the track size.
BIG RACE NAMES—————————Seamus Watson Memorial Trophy and Wansbeck Derby.
STADIUM SHARED WITH——————Nothing known of.
LAST MEETING——————————-August 6th 2012.
Greyhound Racing only.
STADIUM CLOSURE DATE—————-Still used for schooling trials.
Meaning other sports may have taken place after Greyhound Racing had ceased.
STADIUM DEMOLITION——————-N/A
BUILT ON SITE——————————-N/A
In some cases, structure's that originally covered the venue after the stadium had been demolished, may have been themselves demolished too, so the one described is more likely to be the one which now presently covers the site.
EVIDENCE LEFT TODAY——————-Still there.
FURTHER COMMENTS——————–Still used for schooling trials.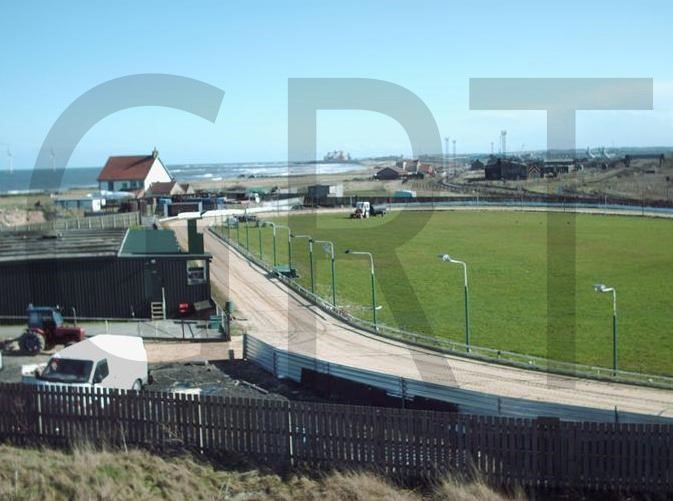 Wansbeck Stadium had been up until recently the most modern purpose built Greyhound Racing venue existing in the UK, up until the opening of Towcester in December 2014. It was constructed to accommodate the gap left behind by the demise of Ashington Greyhound Stadium which closed in 1993. Efforts were made to continue greyhound racing at Ashington by two brothers who applied to take over the lease, but due to the Council having sold the site for redevelopment had been refused. Yet their ambitions to run a greyhound track did not end there, as their next efforts would be to find a new site somewhere north of Newcastle.
It must have been excellent news to the North Eastern greyhound fraternity when it was announced that the brothers had been given the go ahead to build a track on a site found just north of the Northumberland coastal village of Cambois. Cambois lies geographically between Ashington and Blyth in Northumberland, with access only by a "B" road, and one main road just off the A189 Expressway.
Its location could not be described as the best, some would say it is situated out in the middle of nowhere, found half a mile north of a remote ex coal mining village. Construction of the new venue began in 1996 on the site of an old pit yard, situated within one hundred and fifty yards from the sea front. Although the new project had brought new hope, progress had been slow, mainly due to both brothers holding down full time jobs, and it would take almost eighteen months before The Wansbeck Greyhound Stadium was up and ready for action. It would take almost 500 tons of high quality silica sand to cover the 340 metre circumference track base. A reconditioned tote system, obtained from the old Stanley track near Durham was installed, along with a few outbuildings, a Clubhouse and a small stand which would house the Bookmakers.
Opening up as a flapping track, Wansbeck's first meeting came on the 3rd of April 1998, with events consisting of five greyhounds challenging over distances of 247, 412 and 587 metres. The early years had seen the hounds chase an inside Sumner type hare, but by the end of 2001, a new outside Swaffham type hare system had been installed. Its big race events were The Seamus Watson Memorial Derby run over 412 metres, and also The Sprint Cup run over 247 metres, both staged during the month of August.
Its final years had seen the track struggling to fulfil two meetings per week, as the decline of the sport had seen fewer entrants, and with just one meeting per week arranged, it just was not enough to break even, and it came no surprise when the track announced its forthcoming closure. Wansbeck staged its final meeting on the 6th of August 2012, with a greyhound called Old School winning the final race of a ten race event.
Today, Wansbeck Greyhound Stadium still exists and remains in a respectable and operational condition, but its future for the return of greyhound racing remains bleak indeed, mainly due to the dying interest of the sport. Private trials are still available, but they are by appointments only, and there is also some further activity that still supports its existence, which is the presence of the occasional Whippet Racing gathering.
A photograph or memorabilia for this track is required for this page, if you can help please contact me.