Caistor Road, Caistor-on-Sea, Great Yarmouth, Norfolk.
POSTCODE———————————-NR30 5TE
LOCATED————————————Located near Whitegate Farm just a few hundred yards west of present Yarmouth Greyhound Stadium.
ORIGINAL SITE—————————–Farm grazing land.
DATE CONSTRUCTED——————–1931-32
DATE VENUE OPENED——————-March 1932
Meaning other sports may have taken place prior to the arrival of Greyhound Racing.
FIRST MEETING—————————–March 25th 1932.
Greyhound Racing only.
LICENSED OR INDEPENDENT———-Independent
All venues covered would have to be licensed with the government, licensed suggested in this section would refer to tracks operating under NGRC Rules.
INSIDE OR OUTSIDE HARE TYPE——Don't know
Please note that the Electric Hare suggested is only a guidance and would have been in operation for a certain amount of time at this venue. Although it is not necessarily guaranteed that it was operational all the time, as other types of lure may have been used and updated as time progressed.
DISTANCES———————————–Not known
Please note that most racing venues distances had become varied throughout the years, the ones given above were at once point set and offers only a guidance to the track size.
CIRCUMFERENCE—————————Not known
Please note that alterations at most racing venues throughout its existence would see that the circumference of the track would vary, the one shown above offers only a guidance to the track size.
BIG RACE NAMES—————————Nothing known of.
STADIUM SHARED WITH——————Speedway but only two meeting took place.
LAST MEETING——————————-1938 or 1939
Greyhound Racing only.
STADIUM CLOSURE DATE—————-1939
Meaning other sports may have taken place after Greyhound Racing had ceased.
STADIUM DEMOLITION——————–Not known
BUILT ON SITE——————————-North Dene Heliport.
In some cases, structure's that originally covered the venue after the stadium had been demolished, may have been themselves demolished too, so the one described is more likely to be the one which now presently covers the site.
EVIDENCE LEFT TODAY——————-Nothing known of.
FURTHER COMMENTS——————–None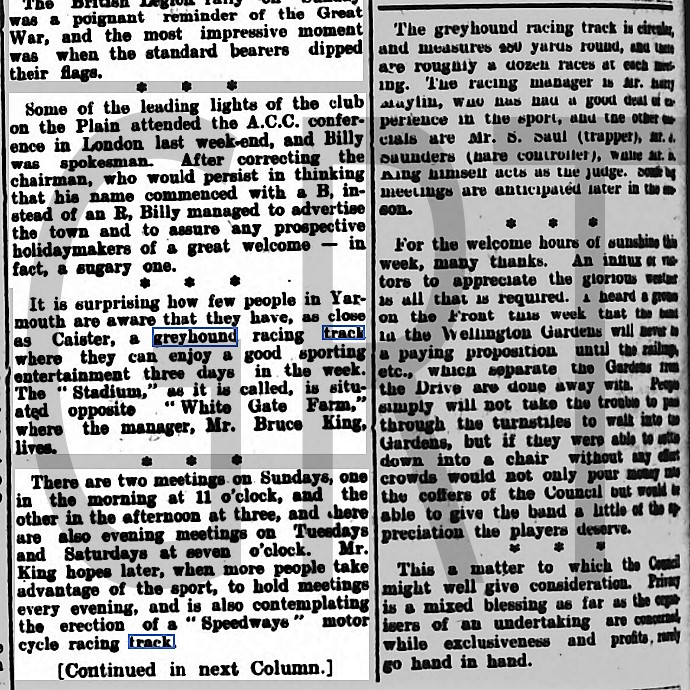 Well known as the one of the top greyhound circuits in existence today, is the one situated just outside the East Anglian holiday resort of Great Yarmouth.
The Yarmouth site has been promoting greyhound racing for almost 80 years, but its development was sprung into life due to the closure of an earlier track that operated not far away. This venue had developed on grazing land just a few hundred yards further west of where Yarmouth Stadium lies today, with the site now covered by the North Denes Heliport.
It opened up as a flapping track in 1932, with its opening meeting coming on the good Friday of the 25th of March. No other further information is available on how it operated, but it is known that a handful of grass track speedway events took place on the site, before the venue closed around 1939.
A programme, photograph or even memorabilia for this track is required for this page, if you can help please contact me.