Mildenhall Stadium, Hayland Drove, West Row, Nr Mildenhall, Suffolk.
POSTCODE———————————-IP28 8QU
LOCATED————————————About four miles west of Mildenhall town centre near a village called West Row.
ORIGINAL SITE—————————–A field that grew potatoes.
DATE CONSTRUCTED——————–Developed from 1973 until 1978.
DATE VENUE OPENED——————-May 1975 for Speedway.
Meaning other sports may have taken place prior to the arrival of Greyhound Racing.
FIRST MEETING—————————–September 21st 1991.
Greyhound Racing only.
LICENSED OR INDEPENDENT———-NGRC.
All venues covered would have to be licensed with the government, licensed suggested in this section would refer to tracks operating under NGRC Rules.
INSIDE OR OUTSIDE HARE TYPE——Inside Sumner up to 2001, then outside Swaffham until closure.
Please note that the Electric Hare suggested is only a guidance and would have been in operation for a certain amount of time at this venue. Although it is not necessarily guaranteed that it was operational all the time, as other types of lure may have been used and updated as time progressed.
DISTANCES———————————–375 and 550 metres.
Please note that most racing venues distances had become varied throughout the years, the ones given above were at once point set and offers only a guidance to the track size.
CIRCUMFERENCE—————————325 metres.
Please note that alterations at most racing venues throughout its existence would see that the circumference of the track would vary, the one shown above offers only a guidance to the track size.
BIG RACE NAMES—————————Nothing known of.
STADIUM SHARED WITH——————Speedway and Stock Car Racing.
LAST MEETING——————————-Temporary closure date, January 12th 2018, Oakgrove Acacia won the very last race. The reopening meeting took place on the 8th of February 2022, having been renamed as The Suffolk Downs Stadium.
Greyhound Racing only.
STADIUM CLOSURE DATE—————-Still hosting motor sports.
Meaning other sports may have taken place after Greyhound Racing had ceased.
STADIUM DEMOLITION——————-N/A
BUILT ON SITE——————————-Stadium still there.
In some cases, structure's that originally covered the venue after the stadium had been demolished, may have been themselves demolished too, so the one described is more likely to be the one which now presently covers the site.
EVIDENCE LEFT TODAY——————-The greyhound track still remains at present.
FURTHER COMMENTS——————–During the times leading up to its closure Mildenhall was recognised as the smallest track operating under NGRC Rules.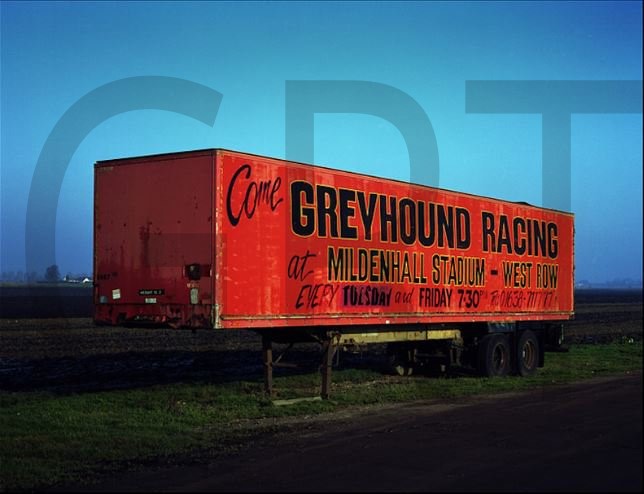 The Mildenhall Greyhound Stadium lies isolated amongst vast acres of arable farmland, situated about one mile west of RAF Mildenhall, and almost four miles west of Mildenhall town centre. Life began as a training track for Speedway riders in 1973, with a circuit marked out on abandoned potato field, which was owned by a farmer who happened to be a keen Speedway enthusiast. He and his accomplices developed a basic track, surrounded by straw bales and a wooden fence along with an isolated wooden shelter.
In May 1975, a more permanent cinder track was laid, it was then that the venue could stage its first ever Speedway event, with a newly assembled team known as The Fen Tigers. But it would take another five years or so before the stadium became more recognised as an enclosed venue, once the correct facilities, such as covered viewing areas, had been added. After 15 consecutive seasons, Speedway came to an end, with the Mildenhall outfit being expelled from the league, due to lack of interest and lack of funds. Speedway's final meeting came in October 1989, but a more professional return in 1992 found themselves featuring almost every season that followed.
The three-year gap had left the stadium open to other ideas, it was during this period that a greyhound track was laid on top of the existing Speedway track. Mildenhall Greyhound Stadium found themselves as another addition to the list of NGRC track's, offering trainers to operate on a permit type licenses. An outside Sumner type hare system was installed around the newly laid silica sand-based track. The tracks circumference of just 325 metres became the shortest of all NGRC tracks, yet created a four bend 375 metre trip, and a six bend 550 metre trip. Other essentials were added, such as a new kennel block was constructed, large enough to house over 70 greyhounds, along with the repositioning of the track lights.
Mildenhall's first meeting came on the 21st of September 1991, opening with an eight-race event with seven of the distances over the 375 metres and one over the 550. A crowd of over 500 witnessed six dog racing, with a greyhound called Copacabanna winning the first ever race. But by June 1992 the track had closed due to poor attendances and unwanted publicity, the reasons being that NGRC trainers license and registration fees had not been paid, meaning some of the trainers were operating illegally without them even knowing.
By August new management had sorted out the mess, seeing the track back up and running once again. The Summer of 2007 witnessed yet another temporary closure, but this time due to the upgrading of the running circuit, and also seeing the installation of a new Swaffham type hare.
During August 2015 strong complaints regarding noise levels at the venue from residents of the nearby village of West Row resulted in an unwanted court battle. Further financial problems had seen the greyhound racing come to an end by January 2018. A greyhound called Oakgrove Acicia won the very last race on the Friday the 12th of January 2018. Motor sports have continued to fill Mildenhall's fixture list, with Stock Car, Banger Racing and Speedway featuring.
Please note since the above paragraph was written, Greyhound racing has returned to the venue and is now known as The Suffolk Downs Stadium.
Memorabilia for this track is required for this page, if you can help please contact me.