Swaffham Raceway, Downham Road, Swaffham, Norfolk.
POSTCODE———————————-PE37 7QE
LOCATED————————————Two and a half miles west of Swaffham town centre, visible from the A47 trunk road, then just two hundred yards down the A1122 Downham Road.
ORIGINAL SITE—————————–Farm grazing land.
DATE CONSTRUCTED——————–During the early 1970's.
DATE VENUE OPENED——————-1970's for motror sports only.
Meaning other sports may have taken place prior to the arrival of Greyhound Racing.
FIRST MEETING—————————–November 16th 1987.
Greyhound Racing only.
LICENSED OR INDEPENDENT———-NGRC.
All venues covered would have to be licensed with the government, licensed suggested in this section would refer to tracks operating under NGRC Rules.
INSIDE OR OUTSIDE HARE TYPE——Outside Swaffham McKee.
Please note that the Electric Hare suggested is only a guidanc, and would have been in operation for a certain amount of time at this venue. Although it is not necessarily guaranteed that it was operational all the time, as other types of lure may have been used and updated as time progressed.
DISTANCES———————————–270, 462 ,686 and 896 metres.
Please note that most racing venues distances had become varied throughout the years, the ones given above were at once point set and offers only a guidance to the track size.
CIRCUMFERENCE—————————434 metres.
Please note that alterations at most racing venues throughout its existence would see that the circumference of the track would vary, the one shown above offers only a guidance to the track size.
BIG RACE NAMES—————————-Nothing known of.
STADIUM SHARED WITH——————Motor Sports.
LAST MEETING——————————–July 14th 2000.
Greyhound Racing only.
STADIUM CLOSURE DATE—————–Still operational for motor sports.
Meaning other sports may have taken place after Greyhound Racing had ceased.
STADIUM DEMOLITION——————-N/A
BUILT ON SITE——————————–N/A
In some cases, structure's that originally covered the venue after the stadium had been demolished, may have been themselves demolished too, so the one described is more likely to be the one which now presently covers the site.
EVIDENCE LEFT TODAY——————–The greyhound track is still there along with the hare rail, but now the sanded track is now infested by unwelcoming weeds.
FURTHER COMMENTS———————A new all sanded running surface was laid during 2008 with a view to return to racing, but a failure to obtain a license left the track to be used for just schooling purposes only.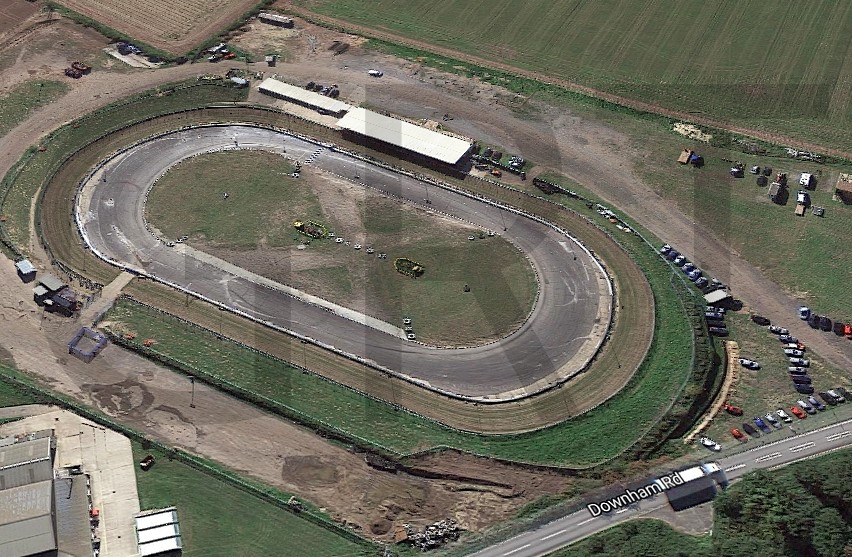 The Norfolk town of Swaffham has experienced one of the more recent rise and fall of a greyhound track in recent years. The venue although situated on the outskirts of Swaffham, became known to locals as The Swaffham Raceway and was found two and a half miles west of the town centre, clearly visible from the busy A47 trunk road.
But its development on farmland during the early 1970's, began not as a Greyhound track, but actually a purpose-built venue to host motor sports. Stock Car and Banger Racing would be its main attraction, but it wasn't until the late 1980's before the stadium would host Greyhound Racing.
Swaffham's first meeting came on the 16th of November 1987 and became another addition to the list of NGRC tracks. It ran six dog races over distances of 270, 462, 686 and 896metres, with the greyhounds chasing an outside Sumner type hare. But the racing surface had problems regarding drainage, and also the original outside Mckee type hare system had given some concern regarding its reliability. It was at this point that the tracks promoter began looking in to on how to improve the hare systems performance and reliability, and through this, the new design of the Swaffham hare system emerged. Although his design was similar to the Mckee type, extra pulleys fitted within the hare rail had proved that the system worked more efficiently. News of the design began to spread throughout the greyhound world, and soon many tracks were switching to the Swaffham Mckee type hare system.
But the track was never away from controversy, when in 1990 a number of altercations were brought to the attention of NGRC officials, after complaints had been made regarding unlicensed kennel hands handling greyhounds, and also the uncontrolled movement of greyhounds away from the stadium had become a concern. But a more serious issue arose in 2000 which would lead to the tracks closure, after a tip off from a track employee led to an enquiry by NGRC officials, after suspicions of ongoing irregularities. The NGRC officials investigated and removed all stud books from the premises and immediately halted racing.
Sadly, the incident had caused too much unrest amongst the tracks management, and it was enough to end greyhound racing at Swaffham for good. The final meeting at Swaffham was staged on the 14th of July 2000. But a last-ditch effort to bring greyhound racing back to Swaffham came in 2008 after the running surface had been relayed and also the hare system overhauled. But efforts to obtain a license for racing came to nothing, which left the track idle except for schooling and trialling used by local owners and trainers.
With no future plans in place for the greyhounds return, Swaffham continues to operate but only as a motor sports venue still featuring stock car and banger racing. Yet the once sanded greyhound track is still there, although now fading away under weeds, its rusty old hare rail is also still there, its channel clogged with debris.
Memorabilia for this track is required for this page, if you can help please contact me.