Hackney Wick Stadium, Waterden Road, Stratford, Greater London
POSTCODE———————————-E15 2EE
LOCATED————————————About seven miles north east of London city centre.
ORIGINAL SITE—————————–Unoccupied Land.
DATE CONSTRUCTED——————–Early 1930's
DATE VENUE OPENED——————-1932
Meaning other sports may have taken place prior to the arrival of Greyhound Racing.
FIRST MEETING—————————–April 8th 1932.
Greyhound Racing only.
LICENSED OR INDEPENDENT———-NGRC.
All venues covered would have to be licensed with the government, licensed suggested in this section would refer to tracks operating under NGRC Rules.
INSIDE OR OUTSIDE HARE TYPE——Outside
Please note that the Electric Hare suggested is only a guidance, and would have been in operation for a certain amount of time at this venue. Although it is not necessarily guaranteed that it was operational all the time, as other types of lure may have been used and updated as time progressed.
DISTANCES———————————–304, 484, 523 and 740 metres.
Please note that most racing venues distances had become varied throughout the years, the ones given above were at once point set and offers only a guidance to the track size.
CIRCUMFERENCE—————————472 yards.
Please note that alterations at most racing venues throughout its existence would see that the circumference of the track would vary, the one shown above offers only a guidance to the track size.
BIG RACE NAMES—————————The Ladbrokes Golden Sprint.
STADIUM SHARED WITH——————Midget Car Rcing and Speedway.
LAST MEETING——————————-January 4th 1997.
Greyhound Racing only.
STADIUM CLOSURE DATE—————-January 1997.
Meaning other sports may have taken place after Greyhound Racing had ceased.
STADIUM DEMOLITION——————-Late 2003
BUILT ON SITE——————————-World Broadcasting Building on the Olympic Village.
In some cases, structure's that originally covered the venue after the stadium had been demolished, may have been themselves demolished too, so the one described is more likely to be the one which now presently covers the site.
EVIDENCE LEFT TODAY——————-Nothing at all.
FURTHER COMMENTS——————–Hackney greyhounds made a name for itself on saturday afternoon television, when featuring on The World Of Sport during winter months as stand in after all horse racing meetings had been frozen off.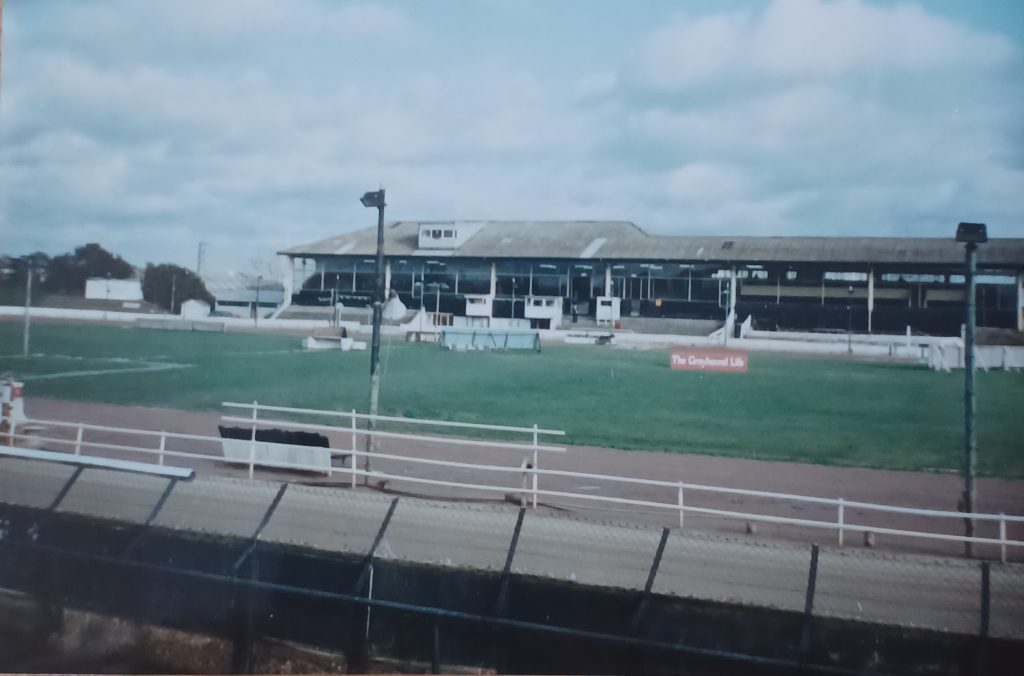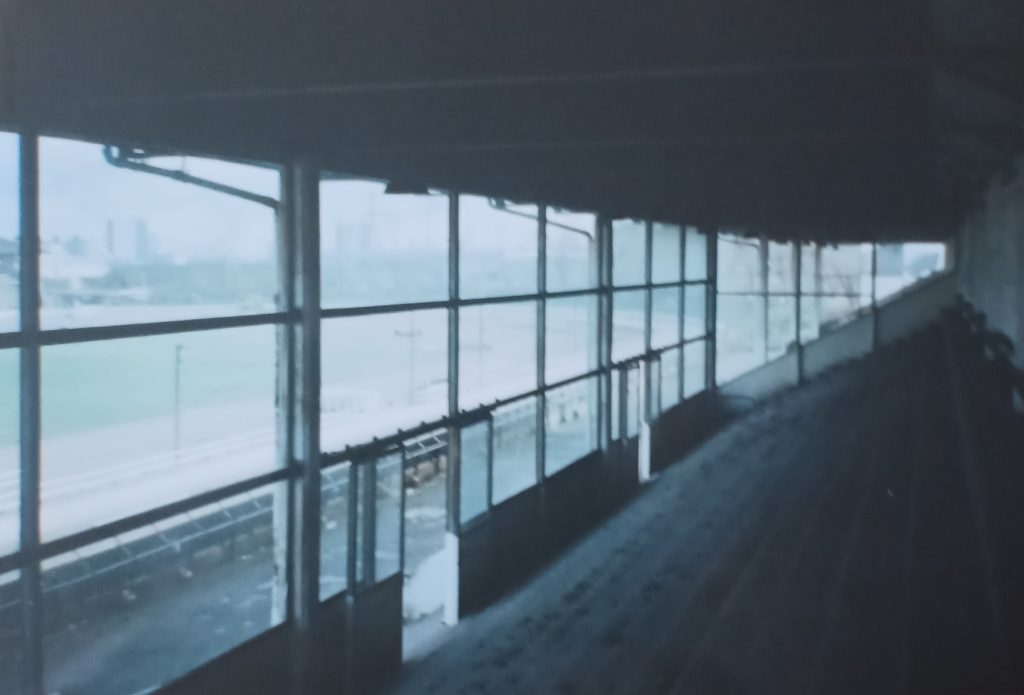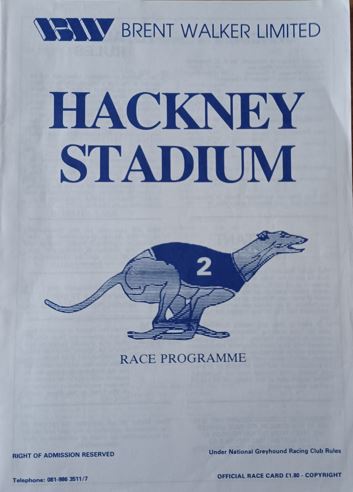 Probably one of the most recognised venue's associated with Greyhound Racing was the Hackney Wick Stadium, a venue situated within the Borough of Stratford, seven miles north east of London city centre. The stadium had developed on grazing land during the early 1930's, and became ready in time to stage its opening meeting on the 8th of April 1932. A crowd of 13,000 witnessed a greyhound called Bullseye win the first ever event.
So popular was Hackney dogs, that during the Second World War attendances would regular top 25,000 during afternoon meetings, but having said that, and due to war regulations, no evening meetings were allowed to be staged. By 1953 the stadium's capacity had been set at 25,000, which included an estimated 10,000 seats, with the figure made up with clusters of standing room enclosures.
The legislation of allowing bookmakers shops to operate from 1961 onwards, had seen a good number of greyhound tracks close, but not Hackney dogs as the arrival of the newly opened bookmaker's shops needed afternoon meetings, and it was Hackney who benefitted, and soon inherited a name as the king of the BAGS meeting. Its Saturday afternoon meeting became a regular feature on British Television during Winter months, usually called upon after the Horse Racing coverage had been frozen off.
Over the years, the Hackney Wick Stadium played host to motor sports, with The Midget Car Racing World Championship being held there in 1936. Speedway Racing also played a big part, with Hackney Wick Wolves using it for their home fixtures from 1935 to 1939, then Hackney Hawks between 1963 and 1983, then The Hackney Kestrels from 1984 until 1990. The last Speedway team to use Hackney Stadium was the London Lions formed 1996, but soon they disbanded due to financial hardships.
Greyhound Racing at Hackney had always operated under NGRC rules, with six dog race events being run over later distances of 304, 484, 523 and 740 metres, with the hounds chasing an outside hare. Its big race events included The 1000 Guineas, and The Ladbrokes Golden Sprint, just two of many that it hosted. During the 1980's, new stadium regulations had seen the stadium facing a large bill for work to be undertaken, but with attendances gradually falling, there was little money available to do the work, forcing the stadium to close in 1991. But good news emerged after it was announced that a twelve million pounds investment plan was in place to refurbish the whole site.
It was during 1994 that construction work began of two brand new stands, each complete with glass fronted restaurants. By October 1995, the newly titled London Stadium, Hackney, was ready once again to stage Greyhound Racing. But things soon began to turn sour, within 14 months of refurbishment, the company who had invested heavily on the stadium went out of business, and it was announced that the 4th of January 1997 was to be its final meeting.
After that, the Hackney Wick Stadium gradually drifted into a state of disrepair and efforts to regenerate the sport in 2001 once again failed. By the end of 2003 the stadium had been bulldozed, with its foundation continuing to be used a little longer for car boot sales and open-air markets. The land had been purchased under the compulsory purchasing order, as the site had become part of the plans to host the London's 2012 Olympic Games. Its foundations eventually disappeared beneath the newly constructed Olympic Village and left no trace at all of the old stadium. To find the site today, the World Broadcasting Building which is situated within the shadows of the giant Olympic Stadium, pinpoints the location of were Hackney Wick Stadium once lay.
A photograph or memorabilia for this track is required for this page, if you can help please contact me.