Rayleigh Weir Stadium, Arterial Road, Benfleet, Rayleigh, Essex.
POSTCODE———————————-SS7 3NU
LOCATED————————————Six miles north west of Southend, and one mile south of Rayleigh town centre.
ORIGINAL SITE—————————–Farm Grazing land.
DATE CONSTRUCTED——————–1947-48
DATE VENUE OPENED——————-March 1948.
Meaning other sports may have taken place prior to the arrival of Greyhound Racing.
FIRST MEETING—————————–March 1948.
Greyhound Racing only.
LICENSED OR INDEPENDENT———-Independent but switched to NGRC during 1965.
All venues covered would have to be licensed with the government, licensed suggested in this section would refer to tracks operating under NGRC Rules.
INSIDE OR OUTSIDE HARE TYPE——Inside Sumner.
Please note that the Electric Hare suggested is only a guidance and would have been in operation for a certain amount of time at this venue. Although it is not necessarily guaranteed that it was operational all the time, as other types of lure may have been used and updated as time progressed.
DISTANCES———————————–310, 510 and 725 yards.
Please note that most racing venues distances had become varied throughout the years, the ones given above were at once point set and offers only a guidance to the track size.
CIRCUMFERENCE—————————Don't know.
Please note that alterations at most racing venues throughout its existence would see that the circumference of the track would vary, the one shown above offers only a guidance to the track size.
BIG RACE NAMES—————————Nothing known of.
STADIUM SHARED WITH——————Rayleigh Rockets Speedway team between July 1948 and 1973.
LAST MEETING——————————-March 8th 1974.
Greyhound Racing only.
STADIUM CLOSURE DATE—————-March 1974.
Meaning other sports may have taken place after Greyhound Racing had ceased.
STADIUM DEMOLITION——————-1974
BUILT ON SITE——————————-The Stadium Trading Estate, located between Claydons Lane and Stadium Way.
In some cases, structure's that originally covered the venue after the stadium had been demolished, may have been themselves demolished too, so the one described is more likely to be the one which now presently covers the site.
EVIDENCE LEFT TODAY——————-Nothing known of.
FURTHER COMMENTS——————–None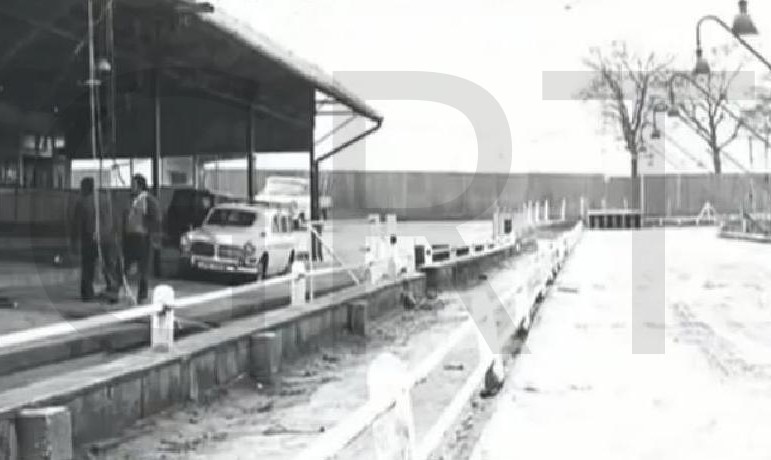 The Essex town of Rayleigh is situated roughly six miles northwest of Southend-On-Sea, a town which progressed in size and population during the early post years of the Second World War. It was during 1947 that permission for a new sports stadium was granted by the council, a venue that had intentions to offer greyhound and speedway racing to the local community.
The site chosen was situated on rural farmland known as Rayleigh Weir, with the venue being constructed just off the A127 Arterial Road, becoming known as the Rayleigh Weir Stadium. The opening of the stadium began with Greyhound Racing, with a meeting being staged in March 1948, with Speedway Racing making its first appearance the following July. Greyhound racing consisted of six greyhound contesting over distances of 290, 510 and 740 yards, with the hounds chasing a Sumner type outside hare. Both sports became a regular feature, but other minor sports played a part in the venue's history also, such as harness racing, pony racing, cycling and even open-air wrestling.
Stock Car racing featured also, its first meeting being staged during 1958, but poor attendances contributed to the sport not featuring every season, before finally staging its last meeting during 1973. The stadium also suffered from uncertain periods, as in 1950 when the stadium closed its gates to all sports, after the promoters had found themselves bankrupt, following a court appearance which had seen them being ordered to pay thousands of pounds of unpaid taxes back to the government. The taxes happened to be the Entertainment Tax, a hefty expense which saw 50% of all admission takings being paid straight to the government from both its speedway and greyhound racing meetings.
New owners took over the lease and reopened the stadium and continued to operate once again as an independent flapping track. Another huge change came in 1965, after Rayleigh accepted an invitation from the NGRC to operate as a permit track. This meant further investment in the stadium to keep in line with regulations. A white sand and cockle surface was laid instead of turf, with the management claiming that the new surface would reduce injuries compared to the more regular grass type surface. Racing distances also changed, with events now being run over 310, 510 and 725 yards.
By 1972, the stadium was showing signs of deterioration, and with the stadium's owners having limited funds and facing higher costs to run the venue, they accepted an offer from developers to purchase the stadium. The sale of the 12-acre site stunned all concerned, a move which forced the Rayleigh Rockets speedway team to look elsewhere to race, before staging their final fixture on the 20th of October 1973. Stock Car racing ceased also, which left greyhound racing to continue for a little longer before that too staged its final event on the 8th of March 1974.
The stadium was demolished soon after, its foundations levelled to make way for large industrial units. These units remain today, with the old stadium site pinpointed by The Stadium Trading Estate, located between Claydons Lane and Stadium Way, situated roughly one mile south of Rayleigh's town centre.
A programme, photograph or even memorabilia for this track is required for this page, if you can help please contact me.