Hillside Street, Stevenston, Ayrshire.
POSTCODE———————————-KA20 3HU
LOCATED————————————The town of Stevenston is located 18 miles north of Ayr along the Ayrshire coastline. The venue itself lay about a quarter of a mile south of Stevenston town centre.
ORIGINAL SITE—————————–Drained Marshland in the grounds of the old Auchenharvie Colliery.
DATE CONSTRUCTED——————–1948
DATE venue opened———————-April 1948.
Meaning other sports may have taken place prior to the arrival of Greyhound Racing.
FIRST MEETING—————————–April 17th 1948.
Greyhound Racing only.
LICENSED OR INDEPENDENT———-Independent
All venues covered would have to be licensed with the government, licensed suggested in this section would refer to tracks operating under NGRC Rules.
INSIDE OR OUTSIDE HARE TYPE——Inside Sumner.
Please note that the Electric Hare suggested is only a guidance and would have been in operation for a certain amount of time at this venue. Although it is not necessarily guaranteed that it was operational all the time, as other types of lure may have been used and updated as time progressed.
DISTANCES———————————–320 and 526 yards.
Please note that most racing venues distances had become varied throughout the years, the ones given above were at once point set and offers only a guidance to the track size.
CIRCUMFERENCE—————————Not known
Please note that alterations at most racing venues throughout its existence would see that the circumference of the track would vary, the one shown above offers only a guidance to the track size.
BIG RACE NAMES—————————Nothing found.
STADIUM SHARED WITH——————Home to amateur football and also had a Motorcycling Scramble track on the infield.
LAST MEETING——————————-Don't know but possibly during 1967.
Greyhound Racing only.
STADIUM CLOSURE DATE—————-Possibly 1967.
Meaning other sports may have taken place after Greyhound Racing had ceased.
STADIUM DEMOLITION——————-Not known
BUILT ON SITE——————————-The site is now a Golf Driving Range known as Auchenharvie Golf Complex situated on Moorpark Road West. In some cases, structure's that originally covered the venue after the stadium had been demolished, may have been themselves demolished too, so the one described is more likely to be the one which now presently covers the site.
EVIDENCE LEFT TODAY——————-Nothing known of.
FURTHER COMMENTS——————–None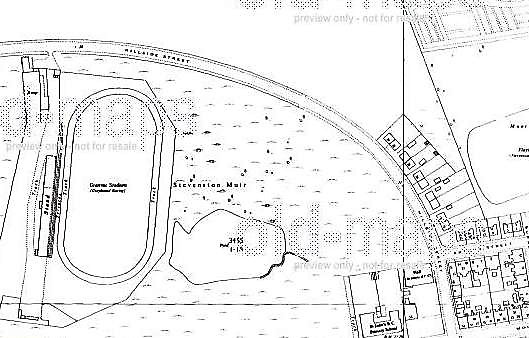 Another of Ayrshire's long list of greyhound tracks was the one known as the Granvue Greyhound Stadium in Stevenston, a small town situated within a mile of a beautiful section of coastline known as Irvine Bay. The town of Stevenston is located roughly eighteen miles north of Ayr, close to the seaports of Ardrossan and Saltcoats and developed as a coal mining community, with as many as 32 coal mines in operation during the 19th century.
Stevenston had first experienced greyhound racing during the early 1930's at an amateur football ground south of the town known as Warner Park. But this paragraph describes a stadium that became developed on an abandoned section of marshland known as Stevenston Muir, which lay adjacent to today's Hillside Street. The original site lay in the boundaries of Auchenharvie Colliery, which closed during the latter part of the nineteenth century.
The site was positioned in a picturesque setting that overlooked the Ayrshire coast; a setting that may have contributed to the venue being named as it was. After six years of negotiation to obtain a license, the venue eventually opened up as a flapping track, its first meeting came on April 17th 1948.
Although constructed as a purpose-built greyhound stadium, other sports featured such as amateur football, and also became host to a motorcycle scrambling event, which took place within the infield of the greyhound track. Races were staged over 310 and 530 yards, with the normal six hound events chasing an inside Sumner type hare.
It is not certain when greyhound racing ceased, but it was between 1967 and 1970. The reasons are yet to be determined, but the stadium was known to be demolished soon after.
The site is now covered by the Auchenharvie Golfing Range Complex, which is situated about a quarter of a mile south of Stevenston town centre, but a water filled disused quarry situated in a field just off hillside street also suggests its once location.
A programme, photograph or even memorabilia for this track is required for this page, if you can help please contact me.