Kingsmead Stadium, Kingsmead Road, Canterbury, Kent.
POSTCODE———————————-CT2 7PH
LOCATED————————————About half a mile north east of Canterbury town centre, just off the B2248 road on land hemmed in by two rivers.
ORIGINAL SITE—————————–A rubbish dump on undeveloped land, on an island created by the two River Stour's.
DATE CONSTRUCTED——————–Between 1956 and 1958.
DATE VENUE OPENED——————-August 1958 for Amateur Football.
Meaning other sports may have taken place prior to the arrival of Greyhound Racing.
FIRST MEETING—————————–August 28th 1987.
Greyhound Racing only.
LICENSED OR INDEPENDENT———-Had a short spell of being independent before switching to NGRC in August 1987.
All venues covered would have to be licensed with the government, licensed suggested in this section would refer to tracks operating under NGRC Rules.
INSIDE OR OUTSIDE HARE TYPE——Initially an outside Sumner but later switched to the outside Swaffham.
Please note that the Electric Hare suggested is only a guidance and would have been in operation for a certain amount of time at this venue. Although it is not necessarily guaranteed that it was operational all the time, as other types of lure may have been used and updated as time progressed.
DISTANCES———————————–245, 450 and 645 metres.
Please note that most racing venues distances had become varied throughout the years, the ones given above were at once point set and offers only a guidance to the track size.
CIRCUMFERENCE—————————About 400 metres.
Please note that alterations at most racing venues throughout its existence would see that the circumference of the track would vary, the one shown above offers only a guidance to the track size.
BIG RACE NAMES—————————The Silver Salver.
STADIUM SHARED WITH——————Canterbury City Football Club. Speedway from May 1968 until October 1987.
LAST MEETING——————————-October 30th 1999.
Greyhound Racing only.
STADIUM CLOSURE DATE—————-Canterbury City Football Club used the stadium up to 2001.
Meaning other sports may have taken place after Greyhound Racing had ceased.
STADIUM DEMOLITION——————-Early 2000's.
BUILT ON SITE——————————-Luxurious Apartments on Stonebridge Road, Ambleside Place and Westwood Drive.
In some cases, structure's that originally covered the venue after the stadium had been demolished, may have been themselves demolished too, so the one described is more likely to be the one which now presently covers the site.
EVIDENCE LEFT TODAY——————-Nothing known of.
FURTHER COMMENTS———————None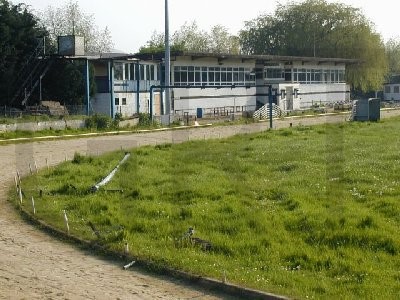 The site of the old Kingsmead Stadium was situated about half a mile north east of Canterbury's city centre, set back just off the B2248 Kingsmead Road. The original site had been nothing more than a rubbish dump existing on a section of undeveloped land, which dissected the River Stow.
The land happened to be council owned, and had been levelled during the 1950's, to be used as an Athletics track. But the transformation of it becoming a more recognised stadium began during 1956, and would take almost two years to complete. The excessive time scale of construction had been down to problems with the concrete base on which the 600 seater main stand was to be built on, seeing the foundation pylons driven some 60 feet in to the earth for stability.
Along with athletics, the local football club Canterbury City became tenants, with their first match being played against Ashford Town on the 30th of August 1958. Yet it was football that set Kingsmead's record attendance of 4,100, when England met Wales in a Schoolboy International Match during March 1960. In May 1968, and due to its unpopularity, the Athletics track gave way to a shale Speedway track, with Canterbury Crusaders staging home matches there.
Yet it would take until the latter end of the 1980's before a greyhound track was laid, developing within the circuit of the speedway track, and became only the second venue, other than Exeter, to find a greyhound track inside a cinder circuit. Opening up as an NGRC Permit track, Canterbury staged its inaugural meeting on the 28th of August 1987, with 1500 patrons witnessing the event. During 1987 the Speedway team disbanded after the council had refused to renew the lease, the reason down to constant complaints from local resident's regarding noise levels, and staged their final meeting in October of that year.
The removal of the Speedway track had seen the greyhound track relayed and widened, with more improvements coming in the way of a new kennel block and a 150 seater restaurant. Kingsmead soon found financial rewards by being offered a BAGS meetings contract in 1989. But in March 1992, the contract was immediately withdrawn, after doping tests on a number of greyhounds had proved positive, along with all their samples being mixed up.
In 1992 eight dog racing featured, but the move proved a total flop, as tote betting figures plummeted well below that of six dog events. Another problem with eight dog racing, was that there were simply not enough greyhounds to fill the card. Kingsmead staged six dog races over distances of 245,450 and 645 metres, with the greyhounds chasing an outside Swaffham type hare. Its most attractive event was The Silver Salver, once named The Thames Silver Salver after it had been originally contested at the defunct Southend Stadium.
In 1995 the future of Greyhound Racing looked bleak when the council refused Kingsmead a betting license, but a protest by trainers and owners towards the council, switched their decision and racing continued. But more bad news became apparent during October 1997, after plans had been approved for the redevelopment of the venue. Within two years of this announcement, the council refused to renew the lease, meaning the end of the Greyhound Racing was clearly in sight.
As Canterbury staged its final meeting on the 30th of October 1999, the kennel strength had been reduced to just eighty greyhounds, with Saucy Sid making a name for himself by winning the very last race. The football club was to last for another two years before they folded too, and by 2001 the stadium had closed its gates for good.
Soon after, all structures and outbuildings were demolished, and steps were made to redevelop the site. By 2010, the site of the Kingsmead Stadium had totally disappeared, with its foundations being covered by luxurious apartments found along Stonebridge Road, Ambleside Place and Westwood Drive, leaving no remnants behind of the venue ever existing.
A photograph or memorabilia for this track is required for this page, if you can help please contact me.