Reading Stadium, Oxford Road, Tilehurst, Nr Reading, Berkshire.
POSTCODE———————————-RG30 6BX
LOCATED————————————One mile south west of Tilehurst Railway station along Oxford Road.
ORIGINAL SITE—————————–.Farm grazing land.
DATE CONSTRUCTED——————–1931
DATE VENUE OPENED——————-1931
Meaning other sports may have taken place prior to the arrival of Greyhound Racing.
FIRST MEETING—————————--November 14th 1931.
Greyhound Racing only.
LICENSED OR INDEPENDENT———-NGRC.
All venues covered would have to be licensed with the government, licensed suggested in this section would refer to tracks operating under NGRC Rules.
INSIDE OR OUTSIDE HARE TYPE——Don't know.
Please note that the Electric Hare suggested is only a guidance and would have been in operation for a certain amount of time at this venue. Although it is not necessarily guaranteed that it was operational all the time, as other types of lure may have been used and updated as time progressed.
DISTANCES———————————–460, 525 and 600 yards.
Please note that most racing venues distances had become varied throughout the years, the ones given above were at once point set and offers only a guidance to the track size.
CIRCUMFERENCE—————————526 yards.
Please note that alterations at most racing venues throughout its existence would see that the circumference of the track would vary, the one shown above offers only a guidance to the track size.
BIG RACE NAMES—————————Reading Hunt Cup.
STADIUM SHARED WITH——————Speedway and Stock Car Racing.
LAST MEETING——————————-November 10th 1973.
Greyhound Racing only.
STADIUM CLOSURE DATE—————-November 1973.
Meaning other sports may have taken place after Greyhound Racing had ceased.
STADIUM DEMOLITION——————-Mid 1970's.
BUILT ON SITE——————————-Industrial units on Stadium Way just north of the roundabout that joins Oxford Road to Wigmore Lane.
In some cases, structure's that originally covered the venue after the stadium had been demolished, may have been themselves demolished too, so the one described is more likely to be the one which now presently covers the site.
EVIDENCE LEFT TODAY——————-Nothing known of.
FURTHER COMMENTS——————-Greyhound Racing continued in the Reading area with a new stadium at Smallmead opening the following year.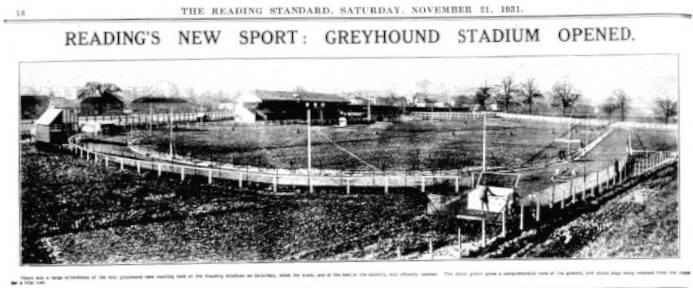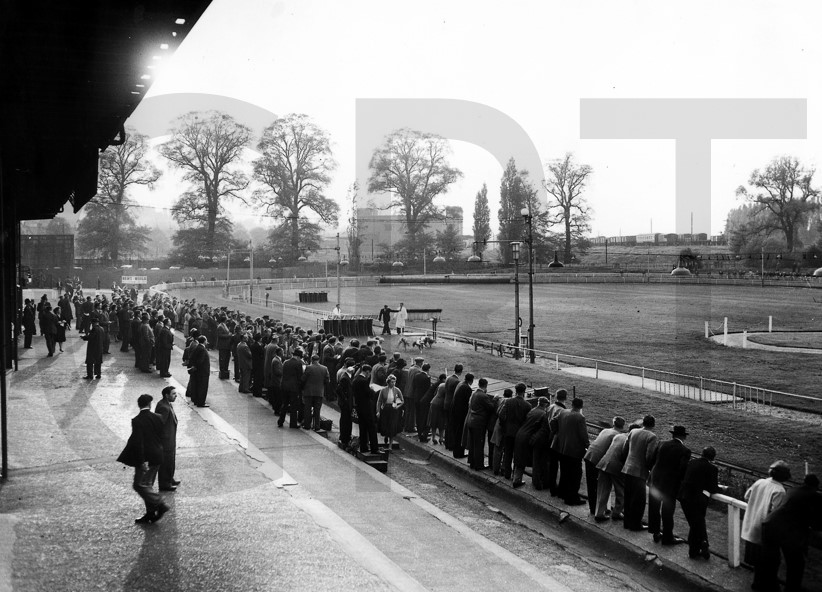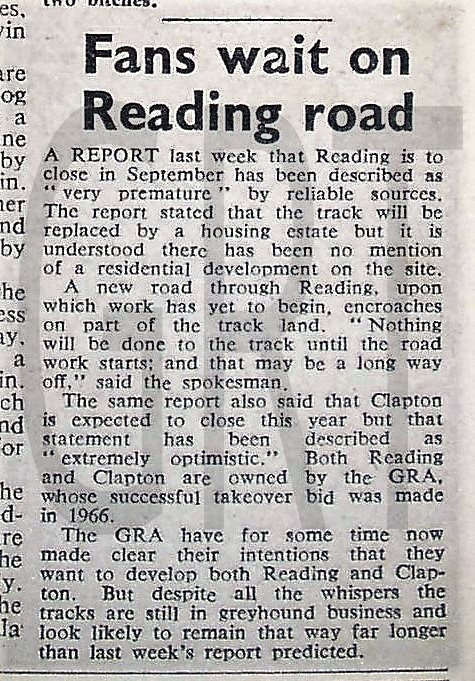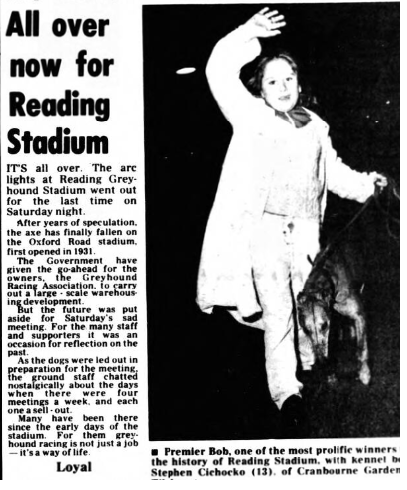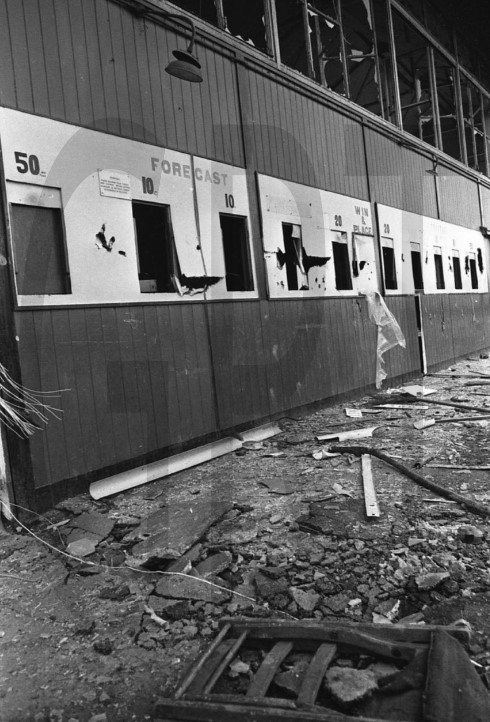 The Berkshire town of Reading added itself to the list of towns that hosted Greyhound Racing at two different venues. The latter one at Smallmead operated for 33 years and closed in 2008 but served as a continuation of the sport in the area after the one at Tilehurst had closed.
The Tilehurst stadium was located in a district known, not surprisingly, as Tilehurst, two miles north of Reading town centre, and had developed during 1931 on farmland adjacent to Oxford Road. It had a main grandstand, and a popular stand opposite, which backed on to a busy railway line. The actual running surface was huge, measuring an amazing 526 yards in circumference, which offered a 400-yard two bend trip. Other distances were over 500 and 600 yards, with the six greyhounds chasing a trackless type of hare.
The venue staged its first meeting on the 14th of November 1931 operating under NGRC Rules, with over 4,000 patrons gathering to witness a greyhound called Symbol win the first event. In 1934 the stadium had new owners, having been purchased by the Clapton Greyhound Racing Company, who still controlled the successful track in East London.
The Second World War hostilities made little impact on operations, seeing the continuation of meetings run in daytime hours just like all the others. Its main big race attraction was The Hunts Cup, run during June over a distance of 500 yards. Yet Tilehurst built up its reputation as being another multi-purpose sports venue, confirmed in 1932, when Grass Track Speedway was introduced, with the more recognised Speedway arriving on a prepared cinder track in 1968, which continued to do so until the stadiums closure five years later.
The 1960's also saw a brief spell of Stock Car Racing at Tilehurst, but surprisingly failed to catch on. The stadium changed hands once again in 1966, with the Greyhound Racing Association purchasing the stadium, yet even that purchase led to rumours of an insecure future at Tilehurst. That insecure feeling came to light seven years later with the stadium staging its final meeting on the 10th of November 1973, yet by the 1st of January 1974 it had new owners, not surprisingly property developers.
Today, no evidence remains of the old Tilehurst venue, as the site is covered by industrial units on Stadium Way, just North of a roundabout that links Oxford Road to Wigmore Lane.
A programme, photograph or even memorabilia for this track is required for this page, if you can help please contact me.