Clapton Greyhound Racecourse, Millfields Road, Clapton, London
POSTCODE———————————-E5 0DJ
LOCATED————————————-In the Borough of Hackney about six miles north east of London city centre next to Lee Valley Park on Millfields Road.
ORIGINAL SITE——————————The demolished site of a Fireworks Company.
DATE CONSTRUCTED——————–Land levelled during 1896 to create a recreational ground known as Whittles Athletics Ground which hosted Athletics, football and Whippet Racing.
DATE VENUE OPENED——————-1905 as home to Clapton Orient Football Club.
Meaning other sports may have taken place prior to the arrival of Greyhound Racing.
FIRST MEETING—————————–April 7th 1928.
Greyhound Racing only.
LICENSED OR INDEPENDENT———-NGRC.
All venues covered would have to be licensed with the government, licensed suggested in this section would refer to tracks operating under NGRC Rules.
INSIDE OR OUTSIDE HARE TYPE——Outside Scott-McKee type.
Please note that the Electric Hare suggested is only a guidance, and would have been in operation for a certain amount of time at this venue. Although it is not necessarily guaranteed that it was operational all the time, as other types of lure may have been used and updated as time progressed.
DISTANCES———————————–400, 550, 575 and 760 yards.
Please note that most racing venues distances had become varied throughout the years, the ones given above were at once point set and offers only a guidance to the track size.
CIRCUMFERENCE—————————360 yards.
Please note that alterations at most racing venues throughout its existence would see that the circumference of the track would vary, the one shown above offers only a guidance to the track size.
BIG RACE NAMES—————————Scurry Gold Cup, 30,000 racegoers attended the 1949 fixture.
STADIUM SHARED WITH—————–Clapton Orient Football Club. 1905-1930.
LAST MEETING——————————January 1st 1974.
Greyhound Racing only.
STADIUM CLOSURE DATE—————1974
Meaning other sports may have taken place after Greyhound Racing had ceased.
STADIUM DEMOLITION——————Early 1980's.
BUILT ON SITE——————————Millfield Housing Estate, with Orient Way dissects the venue in half.
In some cases, structure's that originally covered the venue after the stadium had been demolished, may have been themselves demolished too, so the one described is more likely to be the one which now presently covers the site.
EVIDENCE LEFT TODAY——————Nothing known of.
FURTHER COMMENTS——————-Recognised as one of the fastest tracks in the country due to it being virtually oval with wide bends and the 75 yard long finishing straight being its only straight.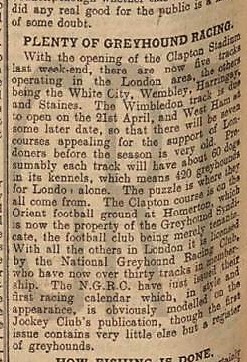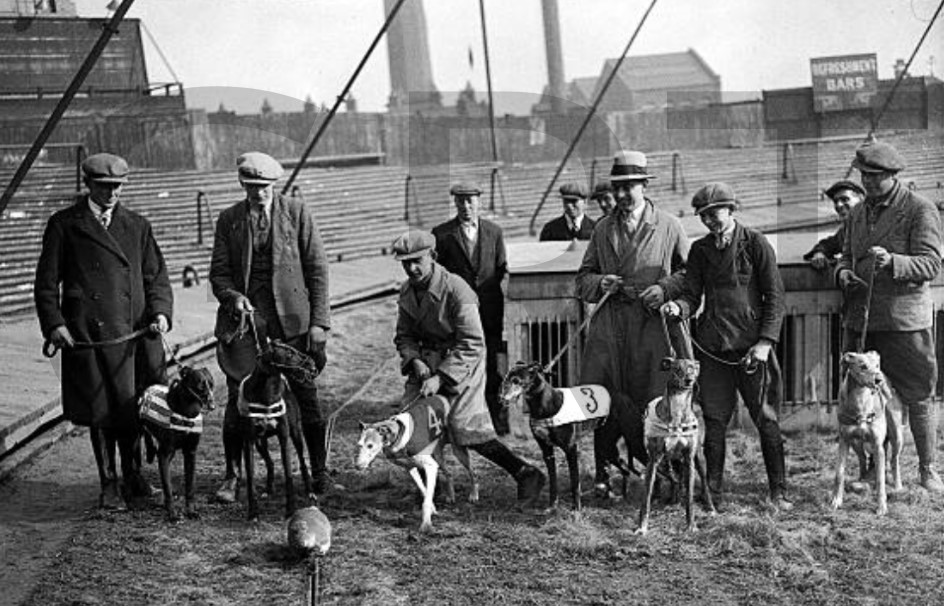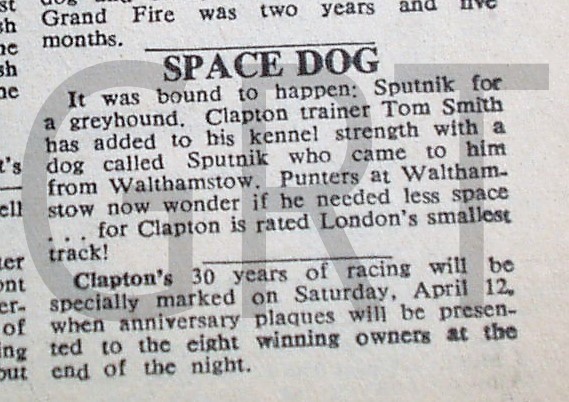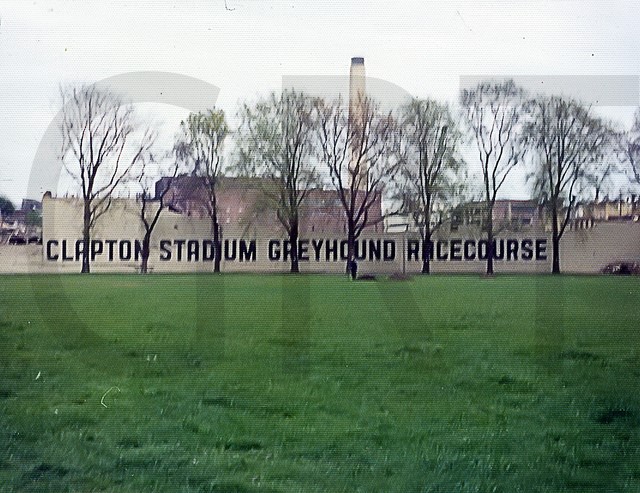 Another of London's once huge Greyhound Racing venues was that of The Clapton Greyhound Stadium, a venue once located on Millfields Road next door to Lea Valley Park. The venue was situated in the Borough of Hackney about six miles north east of London city centre.
Its original grounds had been a fireworks manufacturing company, which had been demolished then landscaped to form a number of football pitches around the turn of the 20th century. The venue soon developed into a football stadium with Clapton Orient making it their new home in 1905. The late 1920's witnessed vast changes, as the football club began to struggle financially due to dwindling attendances, which gave the opportunity for a Greyhound Racing Company to purchase the lease in 1927.
The Greyhound Racing Company invested heavily to promote their sport, ploughing £80,000 on new equipment, and of course laying a brand-new turfed circuit, and became the fourth greyhound stadium to open in the city of London. The circuit was virtually circular in shape, other than a 75-yard straight section, which acted as the start and finishing straight. The design of the track had created long sweeping bends, which gave the track a reputation of being one of the quickest circuits in the country.
Clapton's first meeting came on the 7th of April 1928 and staged events under rules similar to those of the National Greyhound Racing Club. Greyhound Racing at Clapton brought with it much financial reward, unlike Clapton Orient Football Club, who struggled to pay the rent, forcing them to move away to another venue in 1930. It was the Clapton Stadium that became the source of The Scurry Gold Cup, an event run over a distance of 400 yards, and became Clapton's answer to challenge The English Greyhound Derby for attracting Britain's top greyhounds, and wasn't far off either, when in 1949 a crowd of around 30,000 witnessed the final.
Other sports featured at the venue, such as Boxing and Baseball, but it never featured any types of motor sports like most of the other large stadiums in London. Meetings consisted of six dog races over distances of 400 and 550 yards, with the hounds chasing an outside Scott-McKee type hare system. In 1966 the Greyhound Racing Association made a bid to purchase the track, and by the following year it came as no surprise that the deal had been done. It was a period that the GRA took total control, but it was only temporarily as the stadium became sold once again two years later, this time to developers.
Clapton had been an immensely popular track, with the sale of it creating much upset amongst its regulars, knowing that the tracks future lay in the balance. Sadly, Clapton Greyhound Stadium staged its final meeting on the first of January 1974, yet it would remain intact until the early 1980's before it was totally demolished.
Today, its once location is covered by dwellings on the Millfields Housing Estate, with an existing road, known as Orient Way, giving a good indication of where the track once lay, knowing now that it could have dissected the stadium in to two halves.
A photograph or memorabilia for this track is required for this page, if you can help please contact me.