Alcester Lanes End, Kings Heath, Birmingham, West Midlands.
POSTCODE———————————-B14 6EB
LOCATED————————————Four miles south of Birmingham City centre, and about a mile south of King's Heath town centre just off Alcester Road opposite the Kings Arms Public House.
ORIGINAL SITE—————————–A Showground and an Athletics venue.
DATE CONSTRUCTED——————–1923
DATE VENUE OPENED——————-1923 for Athletics.
Meaning other sports may have taken place prior to the arrival of Greyhound Racing.
FIRST MEETING—————————–May 21st 1927.
Greyhound Racing only.
LICENSED OR INDEPENDENT———-NGRC.
All venues covered would have to be licensed with the government, licensed suggested in this section would refer to tracks operating under NGRC Rules.
INSIDE OR OUTSIDE HARE TYPE——Outside Sumner.
Please note that the Electric Hare suggested is only a guidance and would have been in operation for a certain amount of time at this venue. Although it is not necessarily guaranteed that it was operational all the time, as other types of lure may have been used and updated as time progressed.
DISTANCES———————————–495 yards.
Please note that most racing venues distances had become varied throughout the years, the ones given above were at once point set and offers only a guidance to the track size.
CIRCUMFERENCE—————————Don't know.
Please note that alterations at most racing venues throughout its existence would see that the circumference of the track would vary, the one shown above offers only a guidance to the track size.
BIG RACE NAMES—————————The Lincoln, Midland Oaks, The Tradesmans Trophy and The Eclipse now run at Nottingham.
STADIUM SHARED WITH——————Tennis, Football,Flower Shows, Athletics, Cricket and Show Jumping.
LAST MEETING——————————-March 31st 1971.
Greyhound Racing only.
STADIUM CLOSURE DATE—————-March 1971.
Meaning other sports may have taken place after Greyhound Racing had ceased.
STADIUM DEMOLITION——————-Early 1970's.
BUILT ON SITE——————————-Housing located on Wynefield Gardens.
In some cases, structure's that originally covered the venue after the stadium had been demolished, may have been themselves demolished too, so the one described is more likely to be the one which now presently covers the site.
EVIDENCE LEFT TODAY——————-Nothing known of.
FURTHER COMMENTS——————–None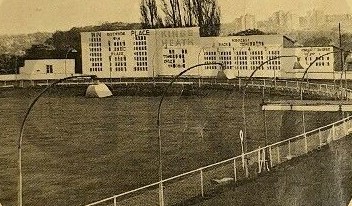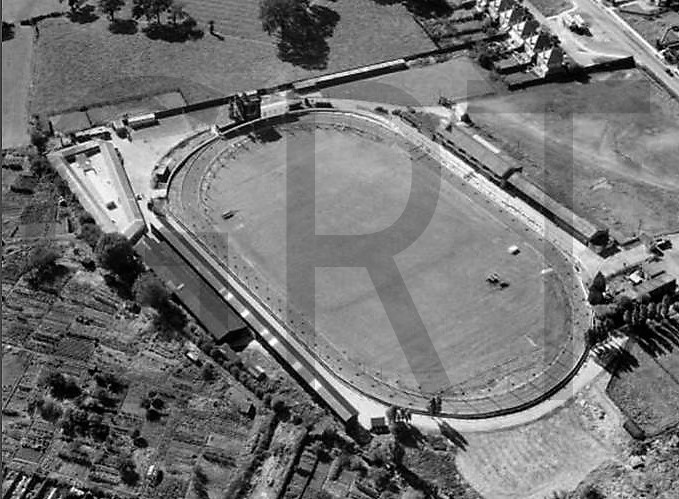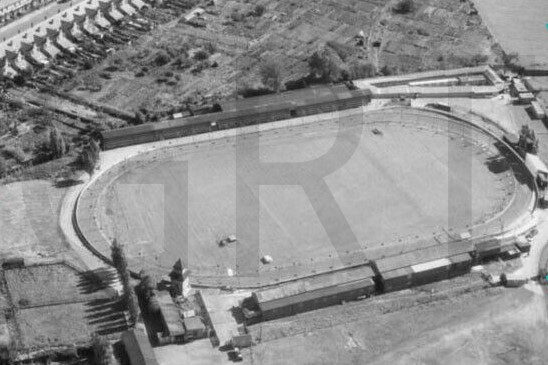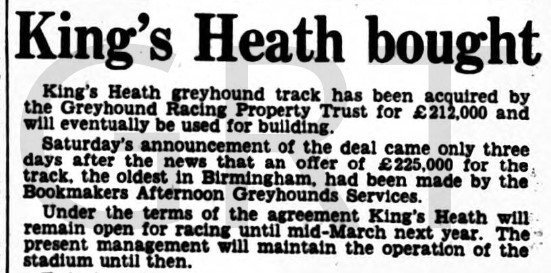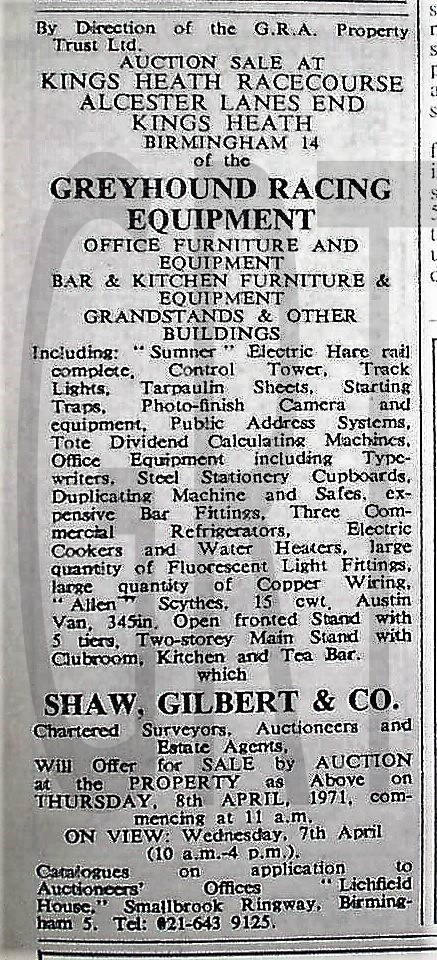 King's Heath Greyhound Stadium was located on Alcester Road, about one mile south of King's Heath town centre, a district situated four miles south of Birmingham city centre. Development of the stadium began in 1926 on recreation land that had been used as a showground, which had already featured sports such as athletics, cricket, football, horse jumping and even flower shows. Even the land itself had been landscaped only three years previous, having taken its shape out of nothing more than grazing land.
It was the success of Britain's newest craze, first seen at Belle Vue, Manchester in July 1926, that inspired a group of businessmen to open another greyhound track in another of England's densely populated cities. The company known as the British Greyhound Sports Club had ambitions to promote the sport of Greyhound Racing across the UK, with Kings Heath becoming their first project before further tracks would develop at Bristol, Hull, Blackpool and Sheffield all of which constructed during 1927.
Behind Belle Vue and Liverpool's Breck Road track, Kings Heath became the third track in Britain to host the sport. Its opening meeting came on the 21st of May 1927, in front of an estimated 5,000 racegoers, with events being run under rules similar to those of the NGRC, who incidentally established themselves the following year.
In 1932 the new South stand at the stadium was opened, but a serious fire in January 1933 totally destroyed the building. Another serious fire at the stadium in July 1939 brought with it even more devastation which created great sadness, when fifteen out of the hundred greyhounds kennelled there perished. Amongst them was a greyhound called Tufted Duck who had been runner up in that years Waterloo Plate. Probably more greyhounds would have lost their lives, but the frantic barking managed to raise the alarm of staff working at the track. Many of the dogs escaped in terror and ran away as they were released, but fortunately all were later recaptured.
After the Second World War, Kings Heath lost its popularity with the Brummy punters, a time which had left the track existing in the shadows of the cities two other tracks, those at Perry Barr and Hall Green. Yet it still hosted some big race events such as The Lincoln Midland Oaks and The Tradesman's Trophy. One attractive fixture that remains on the greyhound calendar today, is The Eclipse, now run at Nottingham, which had a short spell at Kings Heath from 1965 until 1970, having taken over the competition after Coventry's Lythall track had closed in 1964.
In 1967 Kings Heath gained itself some pride by playing a big part in establishing the BAGS meetings, it had become one of the four pioneering tracks to put on afternoon meetings, the others being Oxford, and London's Stamford Bridge and Park Royal. Its meetings consisted of five dog races over distances of 480 then later 495 yards, with the hounds chasing an outside Sumner type hare.
In 1969 the Kings Heath Stadium's owners were approached by a bookmaker who had shown interest in purchasing the track, but the offer had to be withdrawn under the orders of the NGRC, who had seen bookmaker owned tracks classed as taboo around that period. (funny how times have changed!!!). In 1970 an offer to purchase the venue by the GRA was accepted by the stadium's owners, but within twelve months the stadium had been sold once again, this time to developers.
Kings Heath witnessed its final meeting on the 31st March 1971, an Inter-Track event against Leicester, with a hound called Zansy Token winning the last race. Within a matter of days, an advert was placed in the Greyhound Owner newspaper to announce that all fixtures and fittings would be auctioned off on the 8th of April. It is almost fifty years since the Kings Heath venue was demolished, with no evidence remaining of its existence, the site is now covered by housing on The Wynfield Garden Estate just off the Alcester Road South, opposite the King's Arms Public House.
Memorabilia for this track is required for this page, if you can help please contact me.