Powderhall Stadium, Beaverhill Road, Broughton, Edinburgh, Scotland.
POSTCODE———————————-EH7 4GB
LOCATED————————————About one mile north of Edinburgh Railway Station on the southern banks of the Water of Leith.
ORIGINAL SITE—————————–Farm grazing land.
DATE CONSTRUCTED——————–1870
DATE VENUE OPENED——————-1870 opened for Cycling and Athletics.
Meaning other sports may have taken place prior to the arrival of Greyhound Racing.
FIRST MEETING—————————–August 3rd 1927.
Greyhound Racing only.
LICENSED OR INDEPENDENT———-NGRC.
All venues covered would have to be licensed with the government, licensed suggested in this section would refer to tracks operating under NGRC Rules.
INSIDE OR OUTSIDE HARE TYPE——Outside Sumner.
Please note that the Electric Hare suggested is only a guidance and would have been in operation for a certain amount of time at this venue. Although it is not necessarily guaranteed that it was operational all the time, as other types of lure may have been used and updated as time progressed.
DISTANCES———————————–241, 465, 650 and 824 metres.
Please note that most racing venues distances had become varied throughout the years, the ones given above were at once point set and offers only a guidance to the track size.
CIRCUMFERENCE—————————Don't know.
Please note that alterations at most racing venues throughout its existence would see that the circumference of the track would vary, the one shown above offers only a guidance to the track size.
BIG RACE NAMES—————————Scottish Derby between 1987 and 1989, Scottish St Leger, Edinburgh Cup and Scottish Grand National.
STADIUM SHARED WITH——————Football, Speedway plus others.
LAST MEETING——————————-January 8th 1995.
Greyhound Racing only.
STADIUM CLOSURE DATE—————-January 1995.
Meaning other sports may have taken place after Greyhound Racing had ceased.
STADIUM DEMOLITION——————-Began 1995.
BUILT ON SITE——————————-Modern Apartments north of Powderhall Road, along Powderhall Rigg and Powderhall Brae.
In some cases, structure's that originally covered the venue after the stadium had been demolished, may have been themselves demolished too, so the one described is more likely to be the one which now presently covers the site.
EVIDENCE LEFT TODAY——————-Nothing known of.
FURTHER COMMENTS——————–None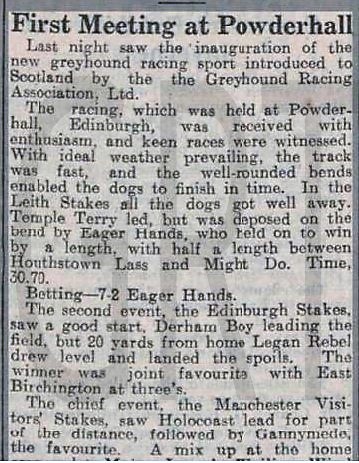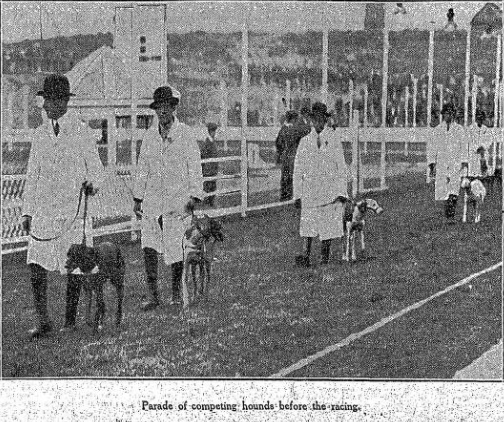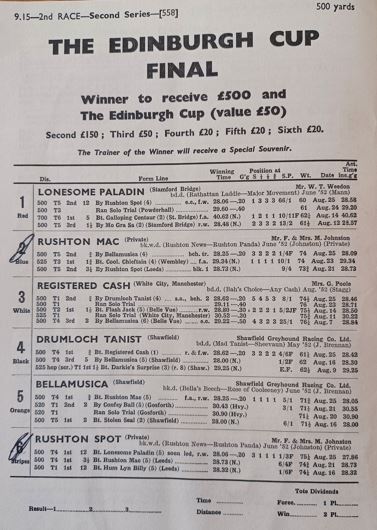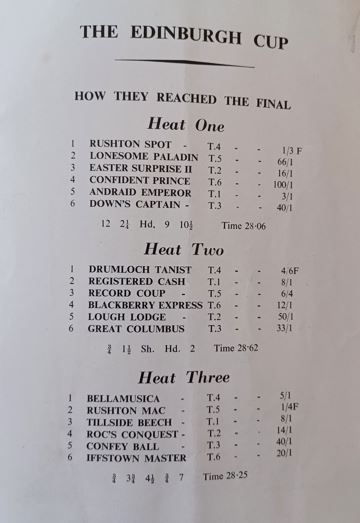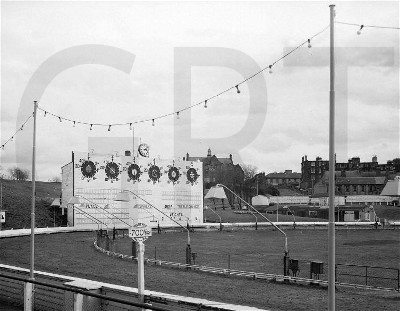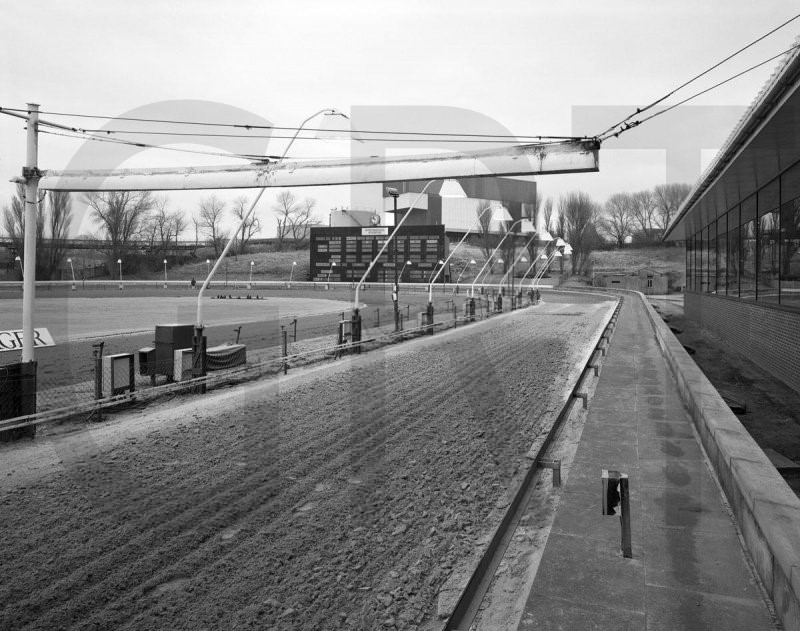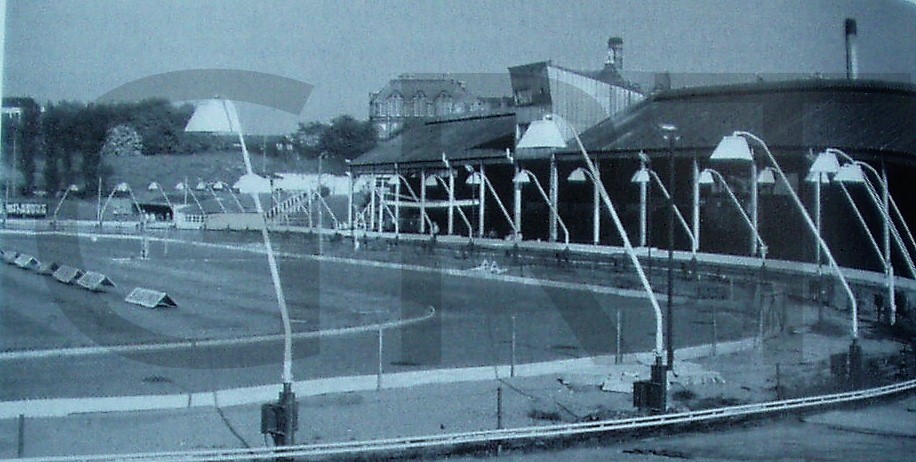 It's quite clear amongst the memories of the older generation, that Edinburgh's best known Greyhound Racing venue was that of Powderhall Stadium. Powderhall Stadium, had always been an ever present NGRC track, and was located roughly one mile north of Edinburgh's main railway station, on the southern banks of a river known as The Water of Leith.
The original site had been nothing more than grazing land, but by 1889 had developed in to an Athletics and Cycling track. The following decade had seen Scottish League Football featuring, with St Bernards FC playing home matches there, and also Edinburgh City who later became tenants during the early 1930's, albeit for just two seasons only. Rugby Union featured also, but it was Greyhound Racing's that Powderhall established itself and became purposely redesigned during early 1927 to host the sport.
Its first meeting came on the 3rd of August 1927, which attracted a very healthy estimated 10,000 crowd, who witnessed a greyhound called Eager Hands win the first ever event. By the 1940's Powderhall had gained the reputation of being The Pride of Scottish Greyhound Racing, featuring some of the richest races on the Scottish Greyhound Racing Calendar, such as The Edinburgh Cup run in July over 500 yards, The Scottish St Leger run in June run over 700 yards, and The Scottish Grand National run in April over the 500 yards hurdles trip. No doubt Powderhall could pride itself as a multi sports venue, with another sport joining the ranks in 1977, that of Speedway Racing who continued to feature for the next eighteen seasons up until its closure in 1995. The then Edinburgh Monarchs left to perform at another Greyhound Racing venue, twenty miles away at the Armadale Stadium, a venue now closed for Greyhound Racing, yet it is still operational with The Monarchs still staging meetings there.
Like most other stadiums, Powderhall suffered from mishaps throughout the years, its close proximity to a river often found that the track would submerge under water during winter months, caused generally by poor drainage. But the poor drainage could not be blamed for what happened in 1949, when the whole stadium became engulfed by a serious flood, which contributed to 19 greyhounds drowning at the kennels housed next to the track. A much needed boost arrived in 1979, with undersoil heating being installed beneath the tracks surface, no doubt to fend off the fierce Scottish Winters. Events seemed to begin to improve even more, when a new grandstand costing £400,000 was opened in time for its 60th Anniversary, with another £350,000 spent on upgrading other facilities.
More good news was to follow, with the announcement confirming that due the temporary closure of Glasgow's Shawfield venue, Powderhall would host the 1987 Scottish Greyhound Derby, with also the 1988 and 1989 events to follow. By the late 1980's, the tracks luck was about to run out, as troubled times lay ahead. A fire during late 1987, caused £25,000 worth of damage, leaving the track unable to fund repairs. The decline of punters through the turnstiles, and the deteriorating stadium, had contributed to Powderhall being sold by the GRA, then sold again to Corals the Bookmakers, both deals being done during 1988.
In 1992 the stadium was sold again, this time to a night club owner named Eddie Ramsey for an estimated 3.6 million pounds. At this point the stadium's future looked much brighter, but by the mid 1990's the hard work put in by Mr Ramsey and his family began to suffer. The escalating costs and dwindling crowds witnessed by many other greyhound racing venues during this period was taking its toll, which contributed to Powderhall staging its final meeting on the 8th of January 1995.
Speedway Racing continued to be staged at the venue during the summer, but by October 1995 the bikes had ceased also, only to see the bulldozers move in by the end of the year. During the late 1990's, Powderhall's foundations disappeared beneath modern housing and luxurious flats, all of which can now be found on Powderhall Road, and even more disappointing is that they leave no evidence at all of Scotland's once most proudest greyhound stadium.
A programme, photograph or even memorabilia for this track is required for this page, if you can help please contact me.