The home of March Town United Football Club, G.E.R. Sports Ground, Robingoodfellows Lane, March, Cambridgeshire.
POSTCODE———————————-PE15 8HS
LOCATED————————————About a Quarter of a mile north west of March town centre.
ORIGINAL SITE—————————–A sports ground called Shepperson's Fields.
DATE CONSTRUCTED——————–Around 1923.
DATE VENUE OPENED——————-Around 1923 as a football ground from an earlier football club called March GER United.
Meaning other sports may have taken place prior to the arrival of Greyhound Racing.
FIRST MEETING—————————–Special meetings arranged during 1941. Also, evidence of racing on this site from 31st January 1931.Main period of racing started on 30th March 1960.
Greyhound Racing only.
LICENSED OR INDEPENDENT———-Independent
All venues covered would have to be licensed with the government, licensed suggested in this section would refer to tracks operating under NGRC Rules.
INSIDE OR OUTSIDE HARE TYPE——Inside Sumner.
Please note that the Electric Hare suggested is only a guidance and would have been in operation for a certain amount of time at this venue. Although it is not necessarily guaranteed that it was operational all the time, as other types of lure may have been used and updated as time progressed.
DISTANCES———————————–325, 550 and 760 yards.
Please note that most racing venues distances had become varied throughout the years, the ones given above were at once point set and offers only a guidance to the track size.
CIRCUMFERENCE—————————450 yards.
Please note that alterations at most racing venues throughout its existence would see that the circumference of the track would vary, the one shown above offers only a guidance to the track size.
BIG RACE NAMES—————————Nothing known of.
STADIUM SHARED WITH——————Still home to March Town United Football Club, although Speedway had featured prior to Greyhound Racing.
LAST MEETING——————————-1984
Greyhound Racing only.
STADIUM CLOSURE DATE—————-Still home to March Town United Football Club.
Meaning other sports may have taken place after Greyhound Racing had ceased.
STADIUM DEMOLITION——————-N/A
BUILT ON SITE——————————-N/A
In some cases, structure's that originally covered the venue after the stadium had been demolished, may have been themselves demolished too, so the one described is more likely to be the one which now presently covers the site.
EVIDENCE LEFT TODAY——————-The Judges Box that housed the photo finish equipment.
FURTHER COMMENTS——————–The management had a spell were that every race winner would receive a box of chocolates.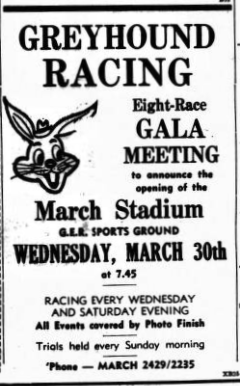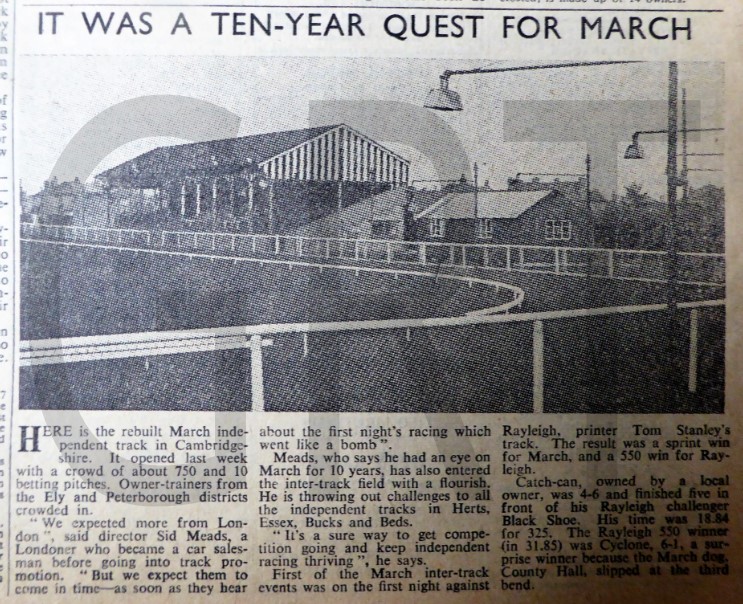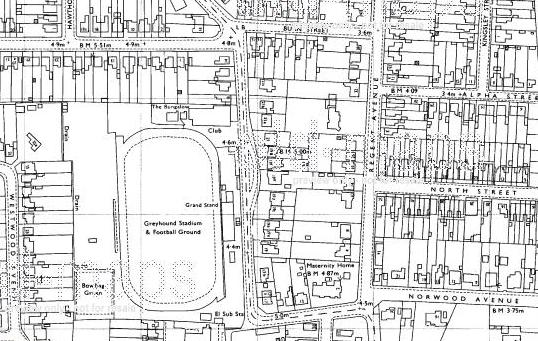 The Cambridgeshire town of March lies approximately 15 miles east of Peterborough, and roughly four miles south of the busy A47. The once named GER Sports Ground lies along the side of Robingoodfellows Lane, about a quarter of a mile northwest of March's town centre.
The venue had developed on farmland known as Shepperson's Fields prior to the turn of the twentieth century, having been purchased by the Great Eastern Railway Company to act as a sports ground for their company employees. First evidence of Greyhound Racing in the town of March, began on the 31st of January 1931 on a recreation park just off Estover Road, albeit this was a brief spell only as the sport failed to attract significant support.
The years prior to the declaration of The Second World War had seen the GER. Stadium stage Speedway meetings, along with local football club March Town making it their home. Yet it was during 1944 that further greyhound racing gatherings became more regular and once hostilities had ceased The G.E.R Sports Ground was now classed a regular Greyhound Racing venue.
1946 and 1947 had also witnessed the return of Speedway Racing, with nearby Peterborough making use of its facilities, although the venture was only a brief stay. The 1950's proved a prosperous time for the football club, seeing its record attendance of 7,500 set against King's Lynn in an FA cup tie in 1956.
The post war years witnessed further Greyhound Racing, with a permanent track constructed around the outside of the football pitch. This new venture was not at all welcomed by its football supporters, because the main stand had to be moved further away from the football pitch to accommodate the 450-yard turfed greyhound track. Other fixtures were added to aid the sport, such as a new kennel block to accommodate the hounds, with a judge's box being constructed to house the photo finish equipment, and also act as the hare control room.
The Greyhound Company operated independently from all governing bodies, and staged events consisting of six greyhounds, who would contest over distances of 325, 550 and 760 yards, all of which would chase an electric inside Sumner type hare. Although prize money was minimal, it did have a period where every race winner received a box of chocolates.
Due to the sports dwindling popularity Greyhound Racing ceased in 1984, which left the venue to continue as home to amateur football once the track and its facilities had been removed. Yet the financial hardship of the late 1980's and early nineties had seen the club sell part of the land on the south side to developers. It was this transaction that would see the football pitch being moved further North and confirmed today by the main stand being offset to the centre of the pitch. Following this alteration little else has changed over the years, with the ground taking more of a rectangular shape, and the main stand changing only by different paint décor.
Yet luckily enough today, evidence of those Greyhound Racing days still remains, with the judge's box still overlooking the football pitch, having since acted as a sponsor's lounge for the selected few. The bungalows to the south of the ground located on Hobart Court, now covers to the southern bends of the greyhound track.
A programme, photograph or even memorabilia for this track is required for this page, if you can help please contact me.