Lanarkshire Sports Stadium, Milton Street, Motherwell, Lanarkshire.
POSTCODE———————————-ML1 1DL
LOCATED————————————Half a mile north of Motherwell town centre.
ORIGINAL SITE—————————–Land once occupied by Parkneuk Colliery.
DATE CONSTRUCTED——————–1949
DATE VENUE OPENED——————-October 1949.
Meaning other sports may have taken place prior to the arrival of Greyhound Racing.
FIRST MEETING—————————–October 15th 1949.
Greyhound Racing only.
LICENSED OR INDEPENDENT———-Independent
All venues covered would have to be licensed with the government, licensed suggested in this section would refer to tracks operating under NGRC Rules.
INSIDE OR OUTSIDE HARE TYPE—— Inside McKee.
Please note that the Electric Hare suggested is only a guidance and would have been in operation for a certain amount of time at this venue. Although it is not necessarily guaranteed that it was operational all the time, as other types of lure may have been used and updated as time progressed.
DISTANCES———————————–320 and 520 yards.
Please note that most racing venues distances had become varied throughout the years, the ones given above were at once point set and offers only a guidance to the track size.
CIRCUMFERENCE—————————Don't know
Please note that alterations at most racing venues throughout its existence would see that the circumference of the track would vary, the one shown above offers only a guidance to the track size.
BIG RACE NAMES—————————Nothing known of.
STADIUM SHARED WITH——————Amateur football, Stock Car Racing, Speedway and also acted as a Trotting Circuit.
LAST MEETING——————————-To be confirmed…. late 1960s or early 1970s.
Greyhound Racing only.
STADIUM CLOSURE DATE—————-1979 with Stock Car Racing taking place even after all buildings had been removed.
Meaning other sports may have taken place after Greyhound Racing had ceased.
STADIUM DEMOLITION——————-Late 1960's
BUILT ON SITE——————————-The Cathedral Primary School.
In some cases, structure's that originally covered the venue after the stadium had been demolished, may have been themselves demolished too, so the one described is more likely to be the one which now presently covers the site.
EVIDENCE LEFT TODAY——————-Nothing known of.
FURTHER COMMENTS——————–None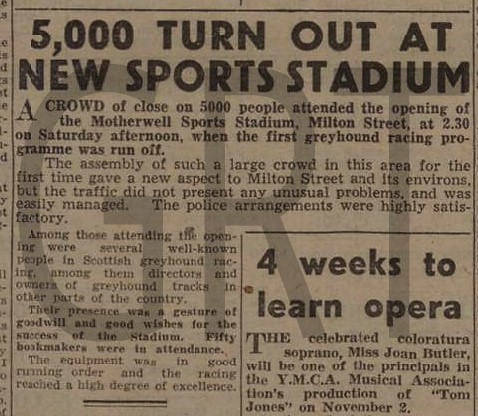 The Milton Street Greyhound Stadium was found about half a mile north of Motherwell town centre and had developed on land left behind by The Parkneuk Colliery, a site which had been derelict since its closure in 1945. The venue had been designed especially for Greyhound Racing and Junior Football, with also Speedway in mind, and in time would cost over £100,000 to construct.
Development began during the post years of the Second World War, with the venue taking shape after old pit shafts had been filled in, and then creating spectator viewing areas, all done by dumping thousands of tons of waste material on the site. The stadium's main feature was 80 feet long 2,000 all seated grandstand, strangely erected on its southern bend, which had a kennelling area to its immediate left.
On the 15th of October 1949, an impressive crowd of 5,000, along with fifty bookmakers, witnessed its grand opening. It would take until the following July before Speedway made its first appearance, but disappointingly lasted for no more than four seasons, its failure being blamed on dwindling attendances.
In 1954 the venue changed its name to The Lanarkshire Sports Stadium, becoming the first venue to promote the new sport of Stock Car Racing in Scotland, but this sport again failed miserably, lasting for just one season only. Greyhound racing at Milton Street operated only as an independent flapping track, promoting races for six greyhounds contesting over distances of 320 and 520 yards, with the hounds chasing an inside Mckee type hare. Yet Greyhound Racing at Milton Street became another casualty of the 1960's, seeing the venue close down before becoming totally demolished before the end of the decade.
Although it became a flattened site, other sports began to take full advantage of stadiums 18-acre huge layout, with Harness Racing featuring in 1971, and also the introduction of Long Track Speedway in 1972. Stock Car Racing made another return, but this time became a success, lasting throughout the seventies until the tracks closure in 1979.
Evidence of The Lanarkshire Sport Stadium still remained up to until as recent as 2010, with the deteriorating concrete Stock Car track still clearly evident in the centre of a recreation park. Presently no evidence of the venue remains, as the site has seen total redevelopment with The Cathedral Primary School, which opened in August 2011, totally covering the site.
New on sale A Speedway Publication offering further info at Motherwell.
A programme, photograph or even memorabilia for this track is required for this page, if you can help please contact me.