Boundary Road, Hellesden, Norwich, Norfolk.
POSTCODE———————————-NR6 5JS
LOCATED————————————About two miles north of Norwich city centre just off the A140 in the district of Hellesden.
ORIGINAL SITE—————————–Farm grazing land.
DATE CONSTRUCTED——————–1932
DATE VENUE OPENED——————-October 1932.
Meaning other sports may have taken place prior to the arrival of Greyhound Racing.
FIRST MEETING—————————–October 15th 1932.
Greyhound Racing only.
LICENSED OR INDEPENDENT———-NGRC.
All venues covered would have to be licensed with the government, licensed suggested in this section would refer to tracks operating under NGRC Rules.
INSIDE OR OUTSIDE HARE TYPE——Inside Sumner.
Please note that the Electric Hare suggested is only a guidance and would have been in operation for a certain amount of time at this venue. Although it is not necessarily guaranteed that it was operational all the time, as other types of lure may have been used and updated as time progressed.
DISTANCES———————————–300 and 500 yards.
Please note that most racing venues distances had become varied throughout the years, the ones given above were at once point set and offers only a guidance to the track size.
CIRCUMFERENCE—————————Don't know.
Please note that alterations at most racing venues throughout its existence would see that the circumference of the track would vary, the one shown above offers only a guidance to the track size.
BIG RACE NAMES—————————Nothing known of.
STADIUM SHARED WITH——————Norwich City Football Club had a spell of using the venue for training purposes.
LAST MEETING——————————-December 1st 1962.
Greyhound Racing only.
STADIUM CLOSURE DATE—————-December 1962.
Meaning other sports may have taken place after Greyhound Racing had ceased.
STADIUM DEMOLITION——————-Mid 1960's
BUILT ON SITE——————————-Once closed the Electricity Board transformed in to a storage Depot, but that too has gone as a B & Q Store now covers the site of were the stadium once lay.
In some cases, structure's that originally covered the venue after the stadium had been demolished, may have been themselves demolished too, so the one described is more likely to be the one which now presently covers the site.
EVIDENCE LEFT TODAY——————-Nothing known of.
FURTHER COMMENTS——————–None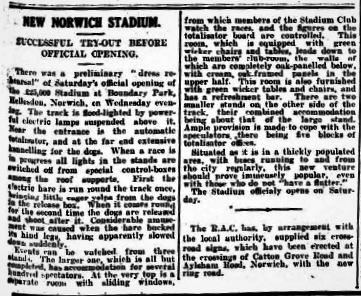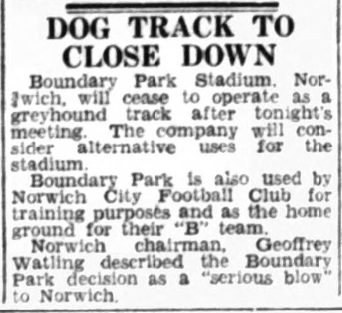 Boundary Park Greyhound Stadium developed on open farmland in the district of Hellesden, two miles north of Norwich city centre. Construction work began during the early months of 1932, with the greyhound company describing the venue as a wonder stadium, which had cost £25,000 to construct, and would be ready for its first meeting In October of that year.
It was to be the second of four tracks to open in the city, after "The Firs" Stadium had began staging meetings in July, just ten weeks earlier. The Boundary Park Stadium had been designed solely for greyhound racing, but the area inside the track had also been levelled to be used as a rugby and football pitch, with football league side Norwich City using the pitch for training purposes.
In 1934 due to ever increasing attendances at Norwich City's original ground, "The Nest", The Football Association had raised concerns regarding safety at some matches, and had demanded that Norwich City should either upgrade "The Nest" or look elsewhere for a new venue. An approach by the football club to purchase Boundary Park was rejected by the greyhound company, knowing that the income turned over by greyhound racing was sufficient enough to continue. The football club did eventually find another site, that of their present home Carrow Road, and began playing matches there from 1935 onwards.
Greyhound Racing at Boundary Park had always operated under NGRC rules, staging five dog race meetings, over distances of 300 and 500 yards, with the hounds chasing an inside hare. During its time, Boundary Park had been arguably Norwich's most popular greyhound track, but its latter years had seen the greyhound company operating at a loss.
Eventually the 15 acre site was sold to the Electricity Board, which in turn witnessed Boundary Park stage its final meeting on the 1st of December 1962. After its closure most of the stadium became demolished, although some of the outer buildings still remained as part of a works maintenance depot.
By the 1990's the site had been sold again this time to developers, who in turn built a B & Q Store that continues to do business today along the side of Boundary Road, just one and a half miles South of Norwich Airport.
A programme, photograph or even memorabilia for this track is required for this page, if you can help please contact me.