The Cornish Stadium, Par Moor Road, St Austell, Cornwall.
POSTCODE———————————-PL25 3RP
LOCATED————————————About two and hal miles east of St Austell town centre just off the A390, heading east towards St Blazey.
ORIGINAL SITE—————————–A 14 acre site that could be classed as marshland.
DATE CONSTRUCTED——————–1946-48.
DATE VENUE OPENED——————-May 1949 for Speedway.
Meaning other sports may have taken place prior to the arrival of Greyhound Racing.
FIRST MEETING—————————--July 11th 1958, although a series of temporary meetings had been staged in a few years prior to this.
Greyhound Racing only.
LICENSED OR INDEPENDENT———-Independent
All venues covered would have to be licensed with the government, licensed suggested in this section would refer to tracks operating under NGRC Rules.
INSIDE OR OUTSIDE HARE TYPE——Inside Sumner.
Please note that the Electric Hare suggested is only a guidance and would have been in operation for a certain amount of time at this venue. Although it is not necessarily guaranteed that it was operational all the time, as other types of lure may have been used and updated as time progressed.
DISTANCES———————————–250, 458, 650 and 860 metres.
Please note that most racing venues distances had become varied throughout the years, the ones given above were at once point set and offers only a guidance to the track size.
CIRCUMFERENCE—————————Don't know
Please note that alterations at most racing venues throughout its existence would see that the circumference of the track would vary, the one shown above offers only a guidance to the track size.
BIG RACE NAMES—————————Cornish Derby.
STADIUM SHARED WITH——————St Austell Gulls Speedway team from 1949 until 1963. Also other motor sports such as Stock Car Racing, Midget and Banger Racing and also Go-Karts.
LAST MEETING——————————-1986 / 1987
Greyhound Racing only.
STADIUM CLOSURE DATE—————-Stock Car meeting 1987.
Meaning other sports may have taken place after Greyhound Racing had ceased.
STADIUM DEMOLITION——————-Late 1980's.
BUILT ON SITE——————————-Kidz World on Stadium Retail Park located just off Par Moor Road.
In some cases, structure's that originally covered the venue after the stadium had been demolished, may have been themselves demolished too, so the one described is more likely to be the one which now presently covers the site.
EVIDENCE LEFT TODAY——————-Nothing known of.
FURTHER COMMENTS——————–Cornwall's only official licensed Greyhound Stadium.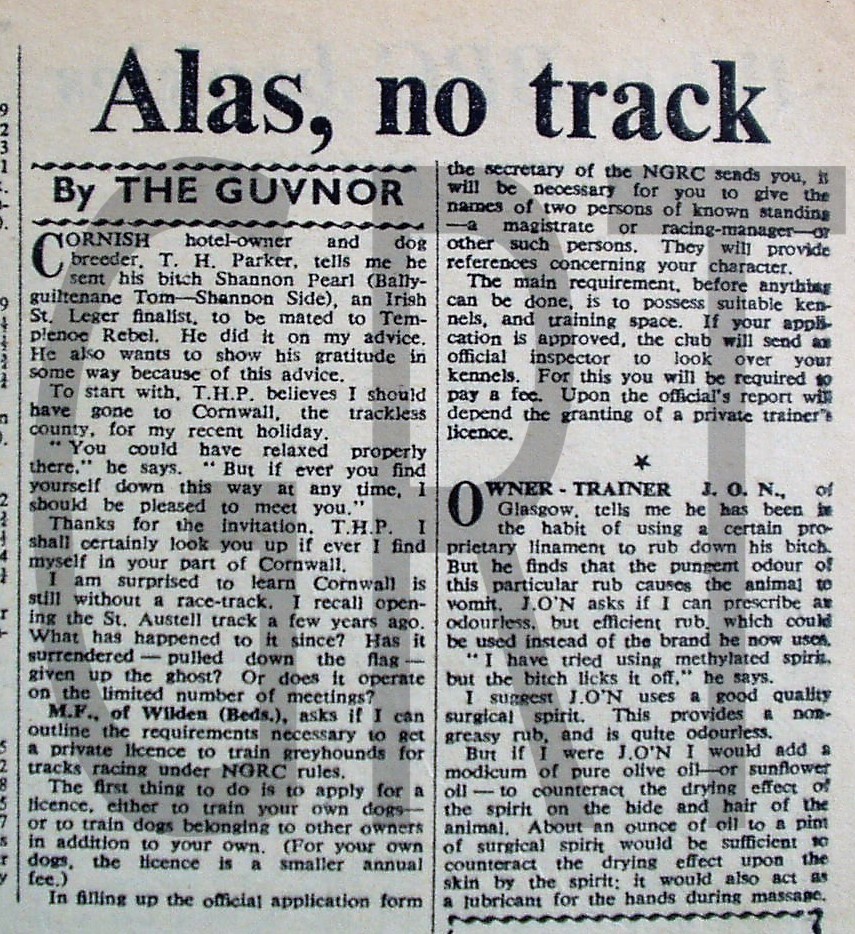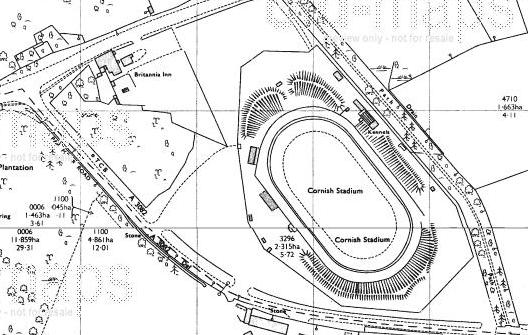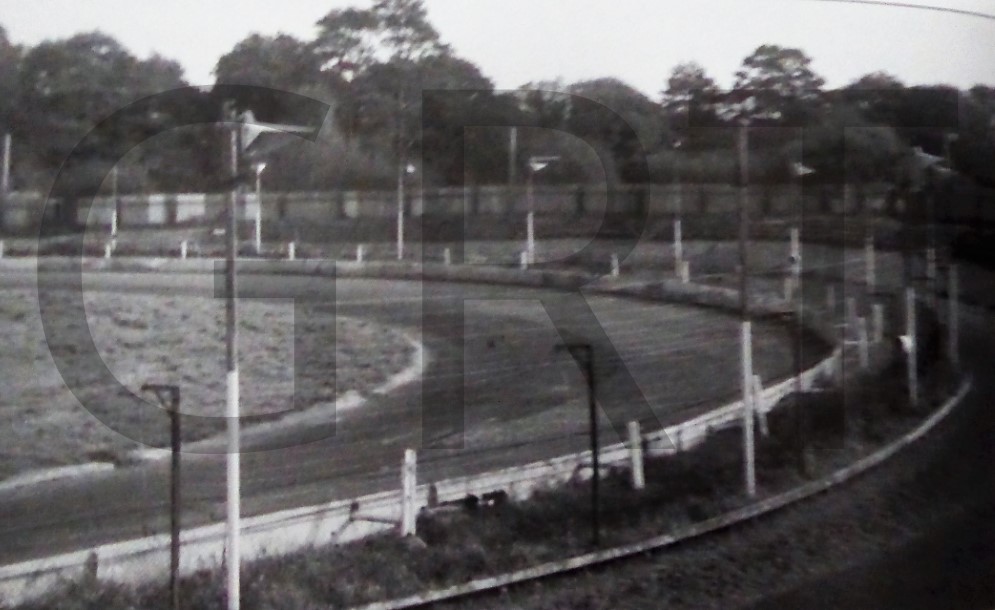 What may come as a surprise to many, is that Cornwall became the home to only one licensed Greyhound Stadium, although the county had experienced Greyhound Racing at a number of temporary venues known as pirate or flip tracks. The Greyhound Stadium in question was located in St Austell, situated about two and a half miles east of its town centre, heading out towards St Blazey on the A390.
It was known to its regulars as The Cornish Stadium, having developed on a 14 acre section of marshland between 1946 and 1948, with the original idea of promoting Speedway. It opened in 1949 with the St Austell Gulls becoming its tenants, a team that would virtually race there every season up until their final one in 1963. It is known that during the 1950's the venue staged Greyhound Racing on a temporary license prior to its inaugural meeting, which came on the 11th of July 1958, a gathering which consisted of eight races with ten bookmakers standing. It is known that during the 1950's the venue staged Greyhound Racing on a temorary license
The Cornish Stadium operated as an independent flapping track, racing distances over 250, 458, 650 and 860 metres, with the greyhounds chasing an inside Sumner type hare. Its main attraction was The Cornish Derby, run in August over the 458 metre trip. Although the Speedway had ceased in 1963, Greyhound Racing continued with regular weekly meetings, yet the inner track became tarmacked to host other motor sports, such as Sidecar Racing, Midget Racing, Stock Cars and also Go Karts during its twilight years.
By the late 1980's the stadium had become the target for developers, with Greyhound Racing coming to a close during the latter end of 1986. Stock Cars continued up until late 1987, before the venue became bulldozed during the late 1980's. Today the site of the old Cornish Stadium is covered by Kidz World, an outlet found on The Stadium Retail Park along Park Moor Road on the outskirts of the town, and leaves no evidence at all of a greyhound track ever being there.