Perry Barr Stadium, Birchfield Road, Perry Barr, Birmingham, West Midlands.
POSTCODE———————————-B42 1AA
LOCATED————————————About three miles north of Birmingham city centre, opposite Perry Barr Railway Station just off the A34, and a couple of hundred yards south west of todays Perry Barr Stadium.
ORIGINAL SITE—————————–Built on grazing land belonging to Gough Farm.
DATE CONSTRUCTED——————–1927
DATE VENUE OPENED——————-April 1928.
Meaning other sports may have taken place prior to the arrival of Greyhound Racing.
FIRST MEETING—————————–April 7th 1928.
Greyhound Racing only.
LICENSED OR INDEPENDENT———-NGRC.
All venues covered would have to be licensed with the government, licensed suggested in this section would refer to tracks operating under NGRC Rules.
INSIDE OR OUTSIDE HARE TYPE——Outside McKee.
Please note that the Electric Hare suggested is only a guidance and would have been in operation for a certain amount of time at this venue. Although it is not necessarily guaranteed that it was operational all the time, as other types of lure may have been used and updated as time progressed.
DISTANCES———————————–310, 475, 500, 650, 725, 830, 890 and 915 metres.
Please note that most racing venues distances had become varied throughout the years, the ones given above were at once point set and offers only a guidance to the track size.
CIRCUMFERENCE—————————462 yards.
Please note that alterations at most racing venues throughout its existence would see that the circumference of the track would vary, the one shown above offers only a guidance to the track size.
BIG RACE NAMES—————————Birmingham Cup and The Lasbrokes 1000 Guineas.
STADIUM SHARED WITH——————Stock Car Racing and Speedway.
LAST MEETING——————————-April 14th 1984.
Greyhound Racing only.
STADIUM CLOSURE DATE—————-April 1984.
Meaning other sports may have taken place after Greyhound Racing had ceased.
STADIUM DEMOLITION——————-1985
BUILT ON SITE——————————-A Retail Park known as One Stop Shopping Precinct which was opened during 1994.
In some cases, structure's that originally covered the venue after the stadium had been demolished, may have been themselves demolished too, so the one described is more likely to be the one which now presently covers the site.
EVIDENCE LEFT TODAY——————-Nothing known of.
FURTHER COMMENTS——————–This venue could be easily mistaken for the present Perry Barr Greyhound Stadium which opened in 1990.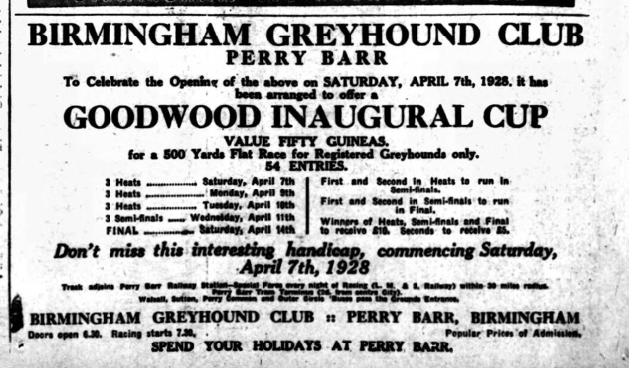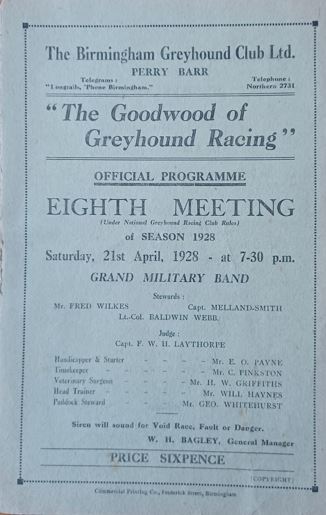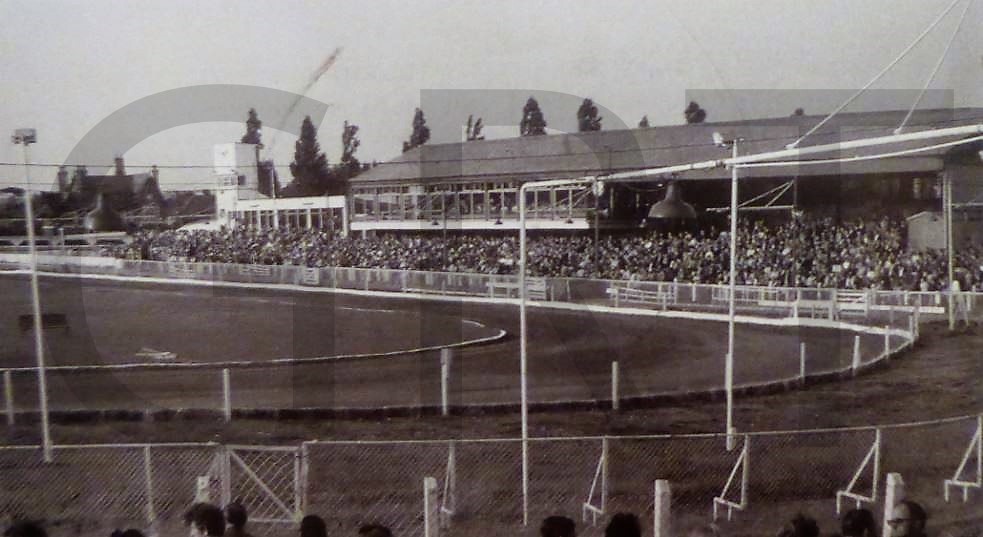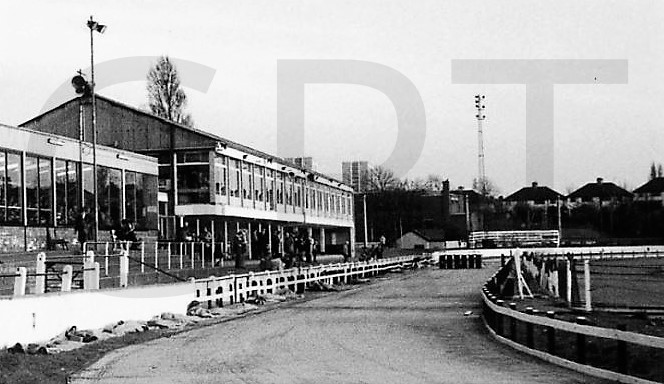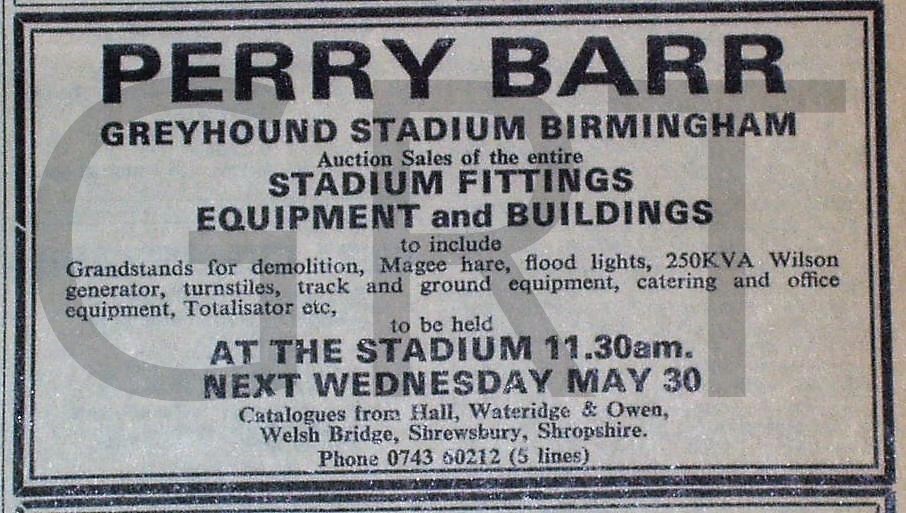 The original Perry Bar Greyhound Stadium was situated some three miles north of Birmingham city centre, and had become the third licensed Greyhound Racing venue to open in the city, after Kings Heath and Hall Green had opened during 1927.
It was during 1927 that the Birmingham Greyhound Company purchased some farmland that had been originally owned by the Gough family. Construction of a new stadium began immediately, and after an investment of £70,000, the original Perry Bar Stadium was ready to stage its first meeting on the 7th of April 1928. This period was a boom time for Greyhound Racing as crowds flocked through the turnstiles of most tracks across the UK, and it seemed as though their efforts were had been rewarded. But that was not the case at this venue, as poor management had seen profits turn into losses, forcing the company to drift into liquidation within seven months of opening, after it had accumulated debt of over £95,000.
The following year had seen Greyhound Racing return once more, but this time under a new company, who brought with them new ideas of introducing the new sport of Dirt Track Speedway, which made its first appearance in April 1929. Disappointingly, the new idea never really took off, with the bikes lasting for just two seasons only. It would take another 40 years before Speedway featured once again at Perry Barr, with a return during May 1971, and continued uninterrupted for the next twelve seasons before its final show in October 1983.
It was Greyhound Racing that laid the foundations of Perry Barr, making it their home for the next fifty years or so, with all events being staged under NGRC rules. Yet the venue failed to avoid troubled times, notably in 1937 when a fire gutted the stadiums main stand, causing £12,000 worth of damage, a huge amount of cash in those days.
The Declaration of the Second World War, also brought on some changes, seeing all meetings switched to operating during daylight hours. In 1971 a newly constructed grandstand and restaurant was opened after another fire had totally gutted the previous one in 1970, an incident which had seen the stadium close for a few months. In its earlier days, racing distances were staged over 525, 550 and 700 yards, with the more modern metric distances calibrated over 310, 475, 500, 650, 725, 830, 890 and 915 metres, with the hounds chasing an outside McKee type hare.
Perry Barr staged big race events such as The Ladbrokes 1000 Guineas, and also The Birmingham Cup, which had been its main attraction since it was first staged in 1939. In 1976 the stadium had new owners, with bookmakers Ladbrokes purchasing the stadium, after they had failed in their attempts to purchase Romford and Hove, both tracks incidentally being snapped up by Corals.
During the latter years of the 1970's, The Ladbrokes Group invested over £150,000 on new facilities over a three-year period, but it wasn't enough to halt the downward trend that was beginning to happen at Perry Barr. The early 1980's had witnessed a reduction in numbers through the turnstiles, which in effect contributed to a considerable drop in the tote's turnover. Overheads at the stadium were ever increasing and became no surprise when it was announced that the stadium was operating at a loss. But this period seemed to coincide with developers trying to purchase the derelict Alexander Athletics Stadium, which was situated less than half a mile away. Their interest had suffered a setback, after the council had refused to sell the land, with a clause in the lease, saying that the site could only be used for recreational purposes only.
It was at this point that the developers switched their attention to purchase the deteriorating Perry Barr Stadium, and after negotiations, the venue changed hands in 1983. The old Perry Barr track ran its final meeting on the 14th of April 1984, its last sporting event before the stadium was demolished the following year. The site was left idle for a good number of years following, before construction work began of a new shopping complex during the early 1990's, before eventually opening in 1994.
The site of the old greyhound stadium disappeared beneath the eastern half of the car park belonging to The One Stop Shopping Precinct, which presently lies adjacent to the A34 trunk road virtually opposite Perry Bar Railway Station.
Memorabilia for this track is required for this page, if you can help please contact me.