Home of Armadale Football Club, Volunteer Park, Armadale, West Lothian, Scotland.
POSTCODE———————————-EH48 3QB
LOCATED————————————About 150 yards north of Armadale town centre, opposite Arnold Clarke's Citroen garage.
ORIGINAL SITE—————————–Armadale Football Clubs ground.
DATE CONSTRUCTED——————–Around 1880.
DATE VENUE OPENED——————-Around 1880 for football.
Meaning other sports may have taken place prior to the arrival of Greyhound Racing.
FIRST MEETING—————————–February 16th 1934, although racing was staged during 1932, but at a temporarily level only.
Greyhound Racing only.
LICENSED OR INDEPENDENT———-Independent
All venues covered would have to be licensed with the government, licensed suggested in this section would refer to tracks operating under NGRC Rules.
INSIDE OR OUTSIDE HARE TYPE——Trackless lure system.
Please note that the Electric Hare suggested is only a guidance and would have been in operation for a certain amount of time at this venue. Although it is not necessarily guaranteed that it was operational all the time, as other types of lure may have been used and updated as time progressed.
DISTANCES———————————–225 and 380 yards.
Please note that most racing venues distances had become varied throughout the years, the ones given above were at once point set and offers only a guidance to the track size.
CIRCUMFERENCE—————————Don't know.
Please note that alterations at most racing venues throughout its existence would see that the circumference of the track would vary, the one shown above offers only a guidance to the track size.
BIG RACE NAMES—————————Nothing known of.
STADIUM SHARED WITH——————Armadale FC then Armadale Thistle as they are known today.
LAST MEETING——————————-February 16th 1939.
Greyhound Racing only.
STADIUM CLOSURE DATE—————-Still operating as a football stadium.
Meaning other sports may have taken place after Greyhound Racing had ceased.
STADIUM DEMOLITION——————-N/A
BUILT ON SITE——————————-N/A
In some cases, structure's that originally covered the venue after the stadium had been demolished, may have been themselves demolished too, so the one described is more likely to be the one which now presently covers the site.
EVIDENCE LEFT TODAY——————-I would class this venue as a time warp, other than the main stand that has been replaced since, there are many features that date back to the dog racing days, e.g the decaying terracing, the old bricked up turnstiles and the perimeter wall of course.
FURTHER COMMENTS——————–None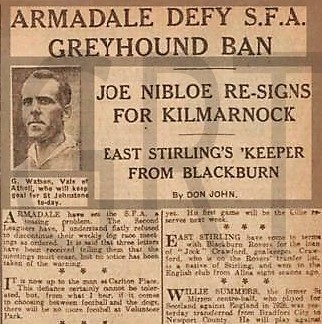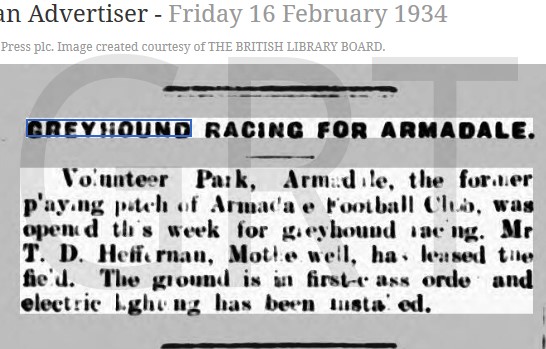 The West Lothian town of Armadale triggers the thoughts of an ex Greyhound Racing venue situated on the eastern fringes of town along Bathgate Road, that has only recently ceased operations.. Yet little is known of an earlier greyhound track that was found within a stones throw of the town centre, and reached the headlines for all the wrong reasons. That venue was known as Volunteer Park, a football ground that once hosted Scottish League football and amazingly, still exists today.
The history of Volunteer Park stretches back to 1880 when a football pitch developed on open land and became the home to a local amateur football. Armadale Football Club made it their home in 1889, and success at amateur level had seen them progress into the Scottish Football League in 1921. But the unrest at Volunteer Park began in 1931 when Whippet Racing featured on a 130 yard long straight along the side of the pitch. It was a period of the great depression, and Armadale Football Club had found themselves in financial hardship, yet it also clashed with the boom time of Greyhound Racing.
It was during the early months of 1932 that the football club accepted an offer from enthusiasts to stage Whippet Racing. A temporary track was laid beside the perimeter of the pitch and soon greyhound racing also played its part during the Summer of 1932. Information regarding race distances have yet to be revealed, but it is presumed that the hounds would have chased a trackless type lure. But the condition of the pitch around the corner flag areas was creating some concern, with the issue becoming worse as a number of visiting clubs complained about the state of the pitch, and reported it to the Scottish League.
In September 1932 the football ground received an unexpected visit from the officials of the Scottish Football League, who instantly ordered Greyhound and Whippet Racing to stop immediately. Yet the football club ignored warnings and continued to host both sports as it was clearly proving itself a profitable business, knowing well that the regular 800 fans that attended football matches was not enough to keep the club afloat. Further warnings from the SFL were ignored, and after 17 league matches of the 1932-33 season, Armadale Football Club was expelled from the Scottish Football League. It had become a bitter blow to the town and its football followers, yet if it wasn't for the financial rewards returned from Dog Racing, the football club would have gone out of business anyway.
The financial rewards from Greyhound Racing had witnessed a more permanent track laid during early 1934, seeing its opening meeting staged on February 16th 1934. Racing continued throughout the 1930's, but its new promoter had seen another option, and built another greyhound track on the outskirts of the town. It was the birth of the Bathgate Road Stadium that eventually would see the end of Greyhound Racing at Volunteer Park, with its final meeting being staged on the 16th of February 1939.
Today, Volunteer Park continues to host Scottish junior football, with Armadale Thistle, a totally different club from the troubled club of the 1930's, playing home matches there. The present ground lies about 150 yards north of Armadale's town centre traffic lights, situated behind Arnold Clarks Citroen Garage. When visiting Volunteer Park your mind instantly senses a time warp, when looking down across the venue, there does not seem to be anything new at all except for a lick of paint here and there. Its main feature, and only spectator cover is an old dilapidated main stand, with the rest of the pitch surrounded by earth filled terraces that is held together by countless rotting railway sleepers that once acted as terracing, but nowadays acts as nothing more than a trip hazard. A disused red bricked turnstile block remains in its south eastern corner, which has now been bricked up, and when you look around the place, most of its fixtures may have witnessed Greyhound Racing back in the thirties.
It is more than eighty years since Greyhound Racing thrived at Volunteer Park, yet nothing really convinces you that it was ever there, although the slightly curved brickwork behind each goal may be its only clue.
A programme, photograph or even memorabilia for this track is required for this page, if you can help please contact me.