Aldridge Road, Great Barr, Birmingham, West Midlands.
POSTCODE———————————-B42 2ET
LOCATED————————————Three miles north of Birmingham city centre, and about a quarter of a mile north east of Perry Barr Railway Station, sandwiched between the A34 and A435 roads.
ORIGINAL SITE—————————–The site was originally used for dumping ash from a local Power Station, before the old Alexander Athletics Stadium was built on it. After its demolition the present Perry Barr Stadium was built on the site. The old Alexander Athletics Stadium must not be mistaken for the present Alexander Athletics Stadium located elsewhere in Birmingham
.
DATE CONSTRUCTED——————–1990
DATE VENUE OPENED——————-October 16th 1990.
Meaning other sports may have taken place prior to the arrival of Greyhound Racing.
FIRST MEETING—————————–October 16th 1990.
Greyhound Racing only.
LICENSED OR INDEPENDENT———-NGRC.
All venues covered would have to be licensed with the government, licensed suggested in this section would refer to tracks operating under NGRC Rules.
INSIDE OR OUTSIDE HARE TYPE——Outside Swaffham.
Please note that the Electric Hare suggested is only a guidance and would have been in operation for a certain amount of time at this venue. Although it is not necessarily guaranteed that it was operational all the time, as other types of lure may have been used and updated as time progressed.
DISTANCES———————————–275, 460, 500 and 660 metres.
Please note that most racing venues distances had become varied throughout the years, the ones given above were at once point set and offers only a guidance to the track size.
CIRCUMFERENCE—————————435 metres.
Please note that alterations at most racing venues throughout its existence would see that the circumference of the track would vary, the one shown above offers only a guidance to the track size.
BIG RACE NAMES—————————Nothing known of.
STADIUM SHARED WITH——————Speedway 2007.
LAST MEETING——————————-Still going.
Greyhound Racing only.
STADIUM CLOSURE DATE—————-Still operating as a Greyhound Stadium.
Meaning other sports may have taken place after Greyhound Racing had ceased.
STADIUM DEMOLITION——————-N/A
BUILT ON SITE——————————-N/A
In some cases, structure's that originally covered the venue after the stadium had been demolished, may have been themselves demolished too, so the one described is more likely to be the one which now presently covers the site.
EVIDENCE LEFT TODAY——————-N/A
FURTHER COMMENTS——————–None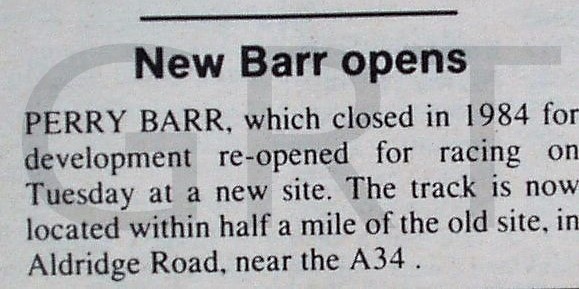 The present day Perry Barr Greyhound Stadium is one of the most recent additions to the list of greyhound stadiums found in the UK, even though it is almost 30 years old. But when describing today's Perry Bar venue, it seems that it could quite easily be mistaken for an earlier Perry Barr Stadium that closed in 1984, which had once functioned on a different site half a mile south.
It was during 1990 that construction of this modern greyhound track began on the site of the old Alexander Athletics Stadium, a venue which had been left abandoned for a good number of years, after the Birchfield Harriers Athletics Club had moved to brand new stadium further up the road during 1977. Construction of the old Alexander Stadium began in 1926, and was ready for its opening ceremony in July 1929, and became host to National Athletics and Cycling events throughout the years prior to the outbreak of the Second World War. But it was around this period that the venue began to change, firstly becoming the headquarters for the Home Guard, and then transformed in 1942 to become a prison camp for captured Italian soldiers.
After hostilities had ceased, the venue returned to hosting Athletics and Cycling once more, with Aston Villa Football Club using the facilities as a training ground also. The stadium had built a reputation as one of the best Athletics tracks in the country and became the first stadium in the UK to hold Athletics meetings under floodlights in 1948. After Athletics had moved on during the late 1970's, the site lay idle for a good number of years, and during this period, efforts were made to purchase the site for the construction of a shopping precinct, but those efforts became rejected by the council, due to a clause in the lease saying that the site could only be used for recreational purposes. This refusal had made developers look elsewhere for another site to continue their project, and swiftly switched their attention to the earlier Perry Barr Greyhound Stadium, further down the road. In the early 1980's a deal was struck to purchase the venue, forcing its closure in April 1984.
The words Perry Bar disappeared off the greyhound tracks radar for more than six years before the sport returned once again this time to the district of Great Barr. Today's Perry Barr's staged its first meeting on the 16th of October 1990, and has continued uninterrupted ever since, promoting all events under NGRC rules.
During its earlier years it hosted top events such as The Scurry Gold Cup and The Birmingham Cup, but surprisingly enough today Perry Barr fails to host a top event. The track circumference is 435 metres, which creates distances of 275, 460, 500 and 660 metres, with six greyhounds chasing an outside Swaffham type hare. Refurbishment of the main stand took place in 2004, which saw its glass fronted restaurant extend its accommodation to five hundred and contributed to a total crowd capacity of around 1500, with room for 400 vehicles on its car park.
The venue has also played a big part towards the BAGS service, serving bookmakers shops across the UK. In 2007, the Speedway team Birmingham Brummies reformed, and began staging meetings on a shale track constructed within the infield of the greyhound track and has featured there ever since. Todays, Perry Barr Stadium is located about three miles north of Birmingham city centre, situated along Aldridge Road sandwiched between the A34 and A435, about a quarter of a mile northeast of Perry Barr's Railway Station.
Memorabilia for this track is required for this page, if you can help please contact me.