Foleshill Stadium, Lythalls Lane, Holbrook, Coventry, Warwickshire.
POSTCODE———————————-CV6 6GB
LOCATED————————————About three miles north of Coventry city centre, in a district called Holbrook, less than half a mile of the recently built Recoh Arena, the home of Coventry City Football Club.
ORIGINAL SITE—————————–Built on a Munitions Factory rubbish dump, which had been garden allotments previously.
DATE CONSTRUCTED——————–1927-28.
DATE VENUE OPENED——————-April 1928.
Meaning other sports may have taken place prior to the arrival of Greyhound Racing.
FIRST MEETING—————————–April 7th 1928.
Greyhound Racing only.
LICENSED OR INDEPENDENT———-Early years as an independent track before swtching to NGRC during 1936.
All venues covered would have to be licensed with the government, licensed suggested in this section would refer to tracks operating under NGRC Rules.
INSIDE OR OUTSIDE HARE TYPE——Outside McWhirter
Please note that the Electric Hare suggested is only a guidance and would have been in operation for a certain amount of time at this venue. Although it is not necessarily guaranteed that it was operational all the time, as other types of lure may have been used and updated as time progressed.
DISTANCES———————————–310 and 525 yards.
Please note that most racing venues distances had become varied throughout the years, the ones given above were at once point set and offers only a guidance to the track size.
CIRCUMFERENCE—————————Don't know.
Please note that alterations at most racing venues throughout its existence would see that the circumference of the track would vary, the one shown above offers only a guidance to the track size.
BIG RACE NAMES—————————The Eclipse Stakes.
STADIUM SHARED WITH——————Speedway from 1928-30.
LAST MEETING——————————-September 25th 1964.
Greyhound Racing only.
STADIUM CLOSURE DATE—————-September 1964.
Meaning other sports may have taken place after Greyhound Racing had ceased.
STADIUM DEMOLITION——————-Mid 1960's.
BUILT ON SITE——————————-A Housing estate called Stadium Estate, with roads called Stadium Close, Compton Road and Branstree Drive.
In some cases, structure's that originally covered the venue after the stadium had been demolished, may have been themselves demolished too, so the one described is more likely to be the one which now presently covers the site.
EVIDENCE LEFT TODAY——————-Nothing known of.
FURTHER COMMENTS——————–None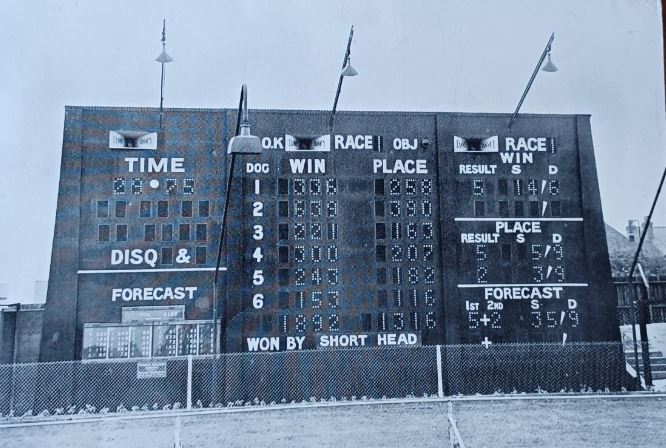 The first thoughts of greyhound racing enthusiasts when mentioning Coventry, immediately brings to mind the track at Brandon which closed as recently as January 2016. But unknown to many, Coventry did experience the sport at a more earlier venue which was situated more nearer the city centre, known as Foleshill Greyhound Stadium.
Foleshill Greyhound Stadium was on Lythalls Lane, located in the district of Holbrook, approximately three miles north of Coventry's city centre. During the early part of the nineteenth century, the original site had been used as garden allotments, but due the events leading up to the outbreak of the First World War, the land became the property of The Ministry Of Defence. The site became used as a dumping ground for waste materials from a close by munitions factory and became totally abandoned once The Great War was over.
The neglected area began to change after a greyhound company purchased the land in 1927 and began constructing a greyhound track on the site. But as excavation of the stadium's foundations unfolded, it came as a pleasant surprise to the greyhound company, that the excavated soil contained an immense amount of scrap brass segments.
By Springtime 1928 the Foleshill Stadium was complete and could now boast that it had three impressive grandstands, all ready for its grand opening on the 7th of April 1928. Although early meetings of greyhound racing were proving a success, another sport joined its sporting ranks, when a dirt track speedway team held their first meeting in July 1928. Although speedway became less of an attraction than the greyhounds, some meetings attendances amazingly exceeded the 10,000 mark, yet surprisingly, the sport lasted for just two seasons only before the cinder track became redundant.
But like so many other tracks the venue experienced hard times, firstly in 1929, when the stadium's racing manager committed suicide at the track, then in 1933 when a serious fire totally destroyed the main stand. A temporary closure came during 1936, but new owners took control soon after and switched from independent racing to NGRC rules. But another serious mishap occurred during the Second World War as the City of Coventry suffered under intense bombing raids from German Aircraft. It was during the early hours of November 15th 1940, that a cluster of incendiary bombs landed on the stadium, an incident which caused extensive fire damage to its stands and enclosures. The damage had caused a temporary closure, yet greyhound racing did continue to operate during the war, albeit in day light hours only.
The Foleshill track hosted big race events, such as The Invitations Stakes, and The Eclipse Stakes, now run at Nottingham's Colwick Park Stadium, having been firstly contested at Coventry in 1938, when Demotic Mick and Catherine of Waterhall shared the honours in a dead heat. Due to the track's narrow width, events were staged with just five greyhounds only, with the majority of the events being run over distances of 310 and 525 yards, with the hounds chasing an outside type hare.
But like so many other greyhound tracks during the early 1960's, the decline in attendances were being felt at the Foleshill Stadium and came as no surprise as that too was sold to developers in 1963. Its final meeting coming on the 25th of September 1964, when a dog named Old Berry Spondulics was triumphant in the final event.
Sadly, no evidence of the old stadium remains today, as housing situated on the Stadium Estate now covers the site, with Stadium Close, Compton Road and Branstree Drive, marking its location, in an area which is less than half a mile from Coventry City's modern Ricoh Football Stadium.
A programme, photograph or even memorabilia for this track is required for this page, if you can help please contact me.