Nutts Lane, Hinckley, Leicestershire
POSTCODE———————————-LE10 0FY
LOCATED————————————One and a half miles south west of Hinckley town centre, close to the A5, just north of railway line on Nutts Lane.
ORIGINAL SITE—————————–Farm grazing land.
DATE CONSTRUCTED——————–1936
DATE VENUE OPENED——————-1936
Meaning other sports may have taken place prior to the arrival of Greyhound Racing.
FIRST MEETING—————————–1935 or 1936
Greyhound Racing only.
LICENSED OR INDEPENDENT———-Independent
All venues covered would have to be licensed with the government, licensed suggested in this section would refer to tracks operating under NGRC Rules.
INSIDE OR OUTSIDE HARE TYPE——Inside Sumner.
Please note that the Electric Hare suggested is only a guidance and would have been in operation for a certain amount of time at this venue. Although it is not necessarily guaranteed that it was operational all the time, as other types of lure may have been used and updated as time progressed.
DISTANCES———————————–260, 460 and 680 metres.
Please note that most racing venues distances had become varied throughout the years, the ones given above were at once point set and offers only a guidance to the track size.
CIRCUMFERENCE—————————Don't know.
Please note that alterations at most racing venues throughout its existence would see that the circumference of the track would vary, the one shown above offers only a guidance to the track size.
BIG RACE NAMES—————————Nothing known of.
STADIUM SHARED WITH——————Stock Car and Banger Racing.
LAST MEETING——————————-March 31st 2007.
Greyhound Racing only.
STADIUM CLOSURE DATE—————-March 2007.
Meaning other sports may have taken place after Greyhound Racing had ceased.
STADIUM DEMOLITION——————-Around 2010.
BUILT ON SITE——————————-New houses on Greyhound Croft and Paddock Way now covers the site.
In some cases, structure's that originally covered the venue after the stadium had been demolished, may have been themselves demolished too, so the one described is more likely to be the one which now presently covers the site.
EVIDENCE LEFT TODAY——————-Nothing really evident but a line of small trees near the children's play area, pinpoints were the car park was.
FURTHER COMMENTS——————–The venue once featured on the television programme All Creatures Great and Small.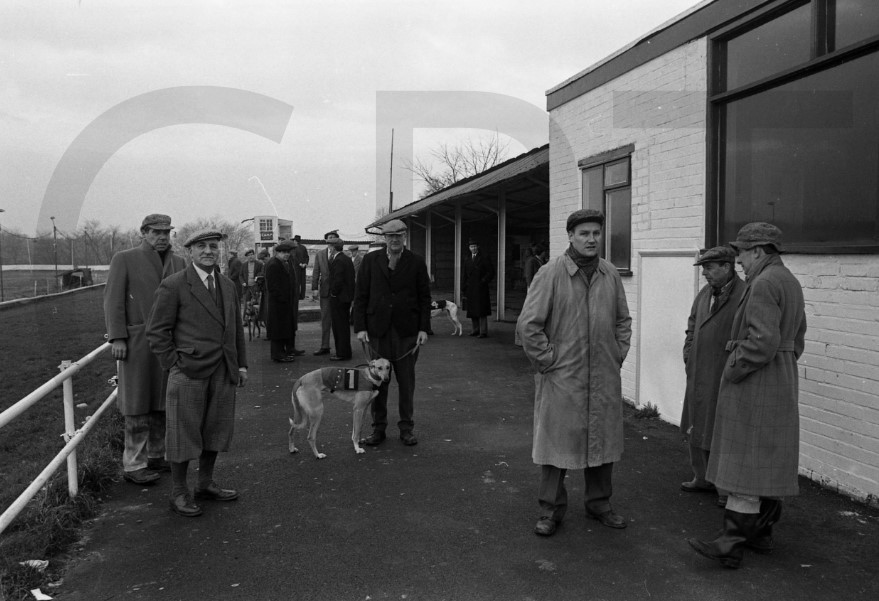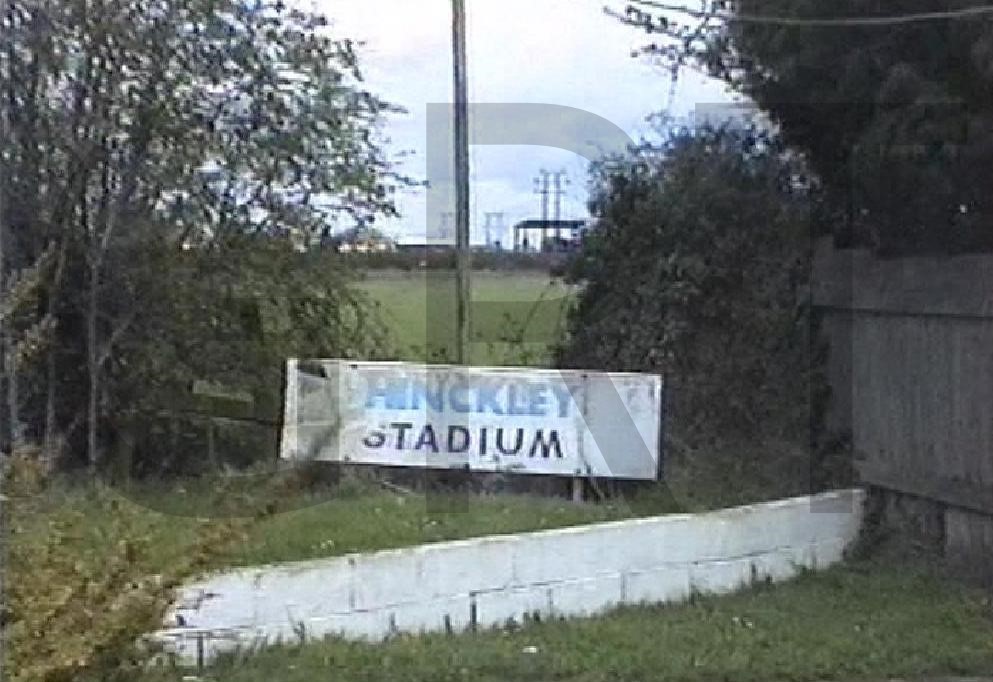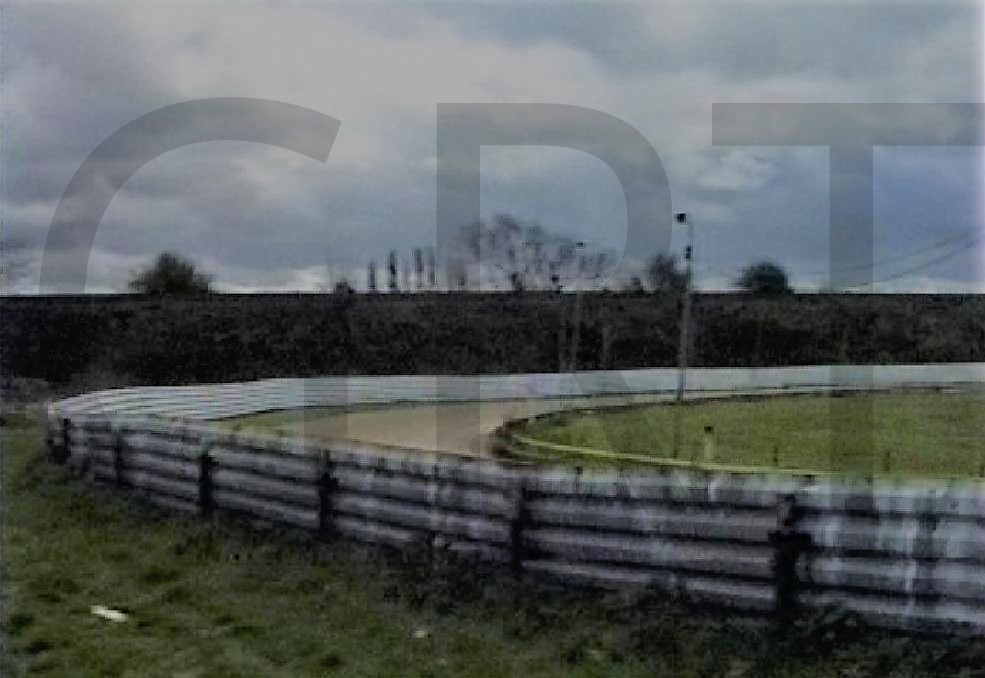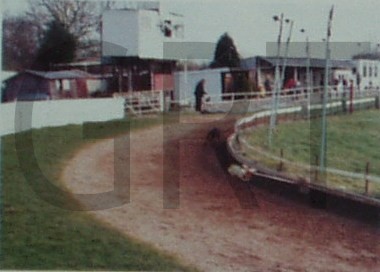 The last of all Leicestershire venues to stage greyhound racing was the one at Hinckley situated just south of the town on Nutts Lane. The Nutts Lane venue was not the first track to host greyhound racing in the town, as it had featured for a brief spell during the 1930's at the town's football ground on Middlefield Lane.
The track was located about a mile and a half south of Hinckley and had been constructed on farm grazing land during 1936. The land lay adjacent to a busy railway line, which ran virtually parallel with the A5 trunk road which lay further south. It opened up as a flapping track and would continue to do so throughout its existence until its closure in 2007. A basic drag hare was used during its pioneering days, with Mr John Benedict describing it as follows.
A sledge hare, I used to race there every week in the late 60s. The 'hare' was a section of tyre with sticks or pegs for ears, painted white, mounted on a sledge.
Yet the more commonly known inside Sumner hare type would replace this system by the early 1970's. Handicapped six dog race events were contested over distances of 300, 500 and 710 yards, on a grass circuit that would serve Hinckley from the beginning right up until the end. Sanded bends were added later, but Hinckley could claim that it was the last track in England to run on a turf circuit, albeit the Swansea track could claim to be the last in the UK.
The death of the original promoter in 1972 changed little as the business was taken over by his son, who continued to manage the track right up until its closure. In 1976 Hinckley became host to Stock Car Racing, and later featured Banger Racing, but it was during the early 1990's that the Hinckley dog track obtained its moment of fame. The track was chosen to become the centre stage of an hour-long fictional programme that would feature on national television. The popular TV series, known as "All Creatures Great And Small" starred a vet played by Peter Davison, whose job it was to investigate why racing greyhounds were becoming ill before and after races. Regarding this matter the less said the better, but the programme does feature on youtube and is well worth a watch, so I will leave it up to yourselves to make your own mind up.
The inside Sumner hare continued to serve the track for over forty years, but distances did eventually change to metric with races being run over 260m, 460m and 680 metres. Its later days had seen a decrease of numbers through the turnstiles and fewer greyhound entrants, along with other undisclosed issues contributed to the venue being sold to developers.
Hinckley announced its closure and ran its final meeting on the 31st of March 2007. Over the last few years, the expansion of new housing has overwhelmed the site, leaving virtually no evidence at all of the venue, although a line of small trees near a children's play area once bordered the car park. New houses on Greyhound Croft and Paddock Way now covers the site.
A programme, photograph or even memorabilia for this track is required for this page, if you can help please contact me.