Bannister Court, Court Road, Southampton, Hampshire.
POSTCODE———————————-SO15 2TG
LOCATED————————————About one and a half miles north of Southampton city centre once situated next to the now gone County Cricket Ground.
ORIGINAL SITE—————————–Bannister Court Manor and its grazing land.
DATE CONSTRUCTED——————-1927 after the land was purchased by local business man and Fishmonger Charlie Knott.
DATE VENUE OPENED——————-August 1928.
Meaning other sports may have taken place prior to the arrival of Greyhound Racing.
FIRST MEETING—————————–August 6th 1928.
Greyhound Racing only.
LICENSED OR INDEPENDENT———-NGRC.
All venues covered would have to be licensed with the government, licensed suggested in this section would refer to tracks operating under NGRC Rules.
INSIDE OR OUTSIDE HARE TYPE——Don't know.
Please note that the Electric Hare suggested is only a guidance and would have been in operation for a certain amount of time at this venue. Although it is not necessarily guaranteed that it was operational all the time, as other types of lure may have been used and updated as time progressed.
DISTANCES———————————–440 and 525 yards.
Please note that most racing venues distances had become varied throughout the years, the ones given above were at once point set and offers only a guidance to the track size.
CIRCUMFERENCE—————————394 yards.
Please note that alterations at most racing venues throughout its existence would see that the circumference of the track would vary, the one shown above offers only a guidance to the track size.
BIG RACE NAMES—————————Nothing known of.
STADIUM SHARED WITH——————Speedway Stock Car Racing and sometimes Boxing bouts.
LAST MEETING——————————-October 19th 1963.
Greyhound Racing only.
STADIUM CLOSURE DATE—————-1963
Meaning other sports may have taken place after Greyhound Racing had ceased.
STADIUM DEMOLITION——————-Mid 1960's.
BUILT ON SITE——————————–Housing found on Charlie Knott Gardens built during the mid 1980's.
In some cases, structure's that originally covered the venue after the stadium had been demolished, may have been themselves demolished too, so the one described is more likely to be the one which now presently covers the site.
EVIDENCE LEFT TODAY——————-Nothing known of.
FURTHER COMMENTS——————–None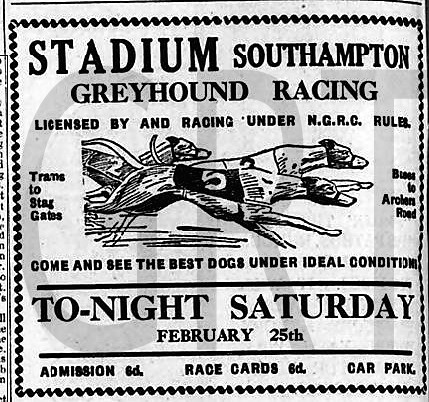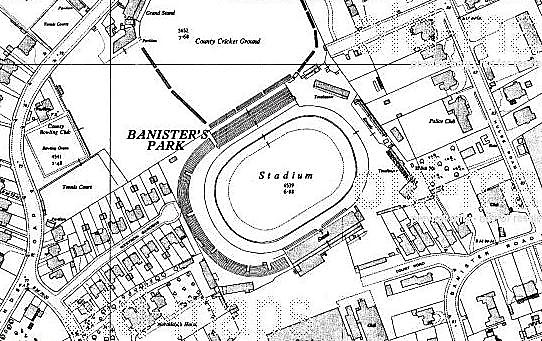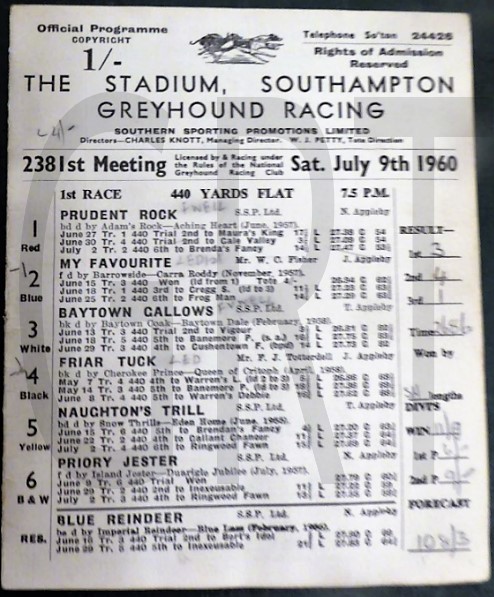 The late 1920's had seen the city of Southampton's respond to the new rising sport of Greyhound Racing with the construction of a new track known as The Bannister Court Stadium, The venue was situated one and half miles north of Southampton's city centre virtually next door to the now defunct Hampshire County Cricket Ground, having been built on a section of grazing land that was connected to Bannister Court Manor, a private school who's occupants had been relocated elsewhere in Southampton.
The land had been purchased during 1927, by a well known Businessman called Charlie Knott, a man who had created his wealth as a Fishmonger. Construction of new venue began during the latter months of 1927, and when completed the following year the venue consisted of two large stands and standing area that could easily accommodate 20,000 people, with a huge results board set back behind the north bend. The greyhound track itself had a circumference of 394 yards, creating racing distances of 440 and 525 yards, and wide enough for six dog racing.
The greyhounds were provided by the greyhound company, who were housed in kennels six miles away at Netley Marsh. Opening up as an NGRC licensed venue, its inaugural meeting came on the 6th of August 1928, with a greyhound called Glengormley's Pride winning the first event. The venue also accommodated Dirt Track Speedway Racing, with a temporary circuit laid around the outside of the greyhound track. In October 1928 Dirt Track Racing featured for the first time, but by the end of 1930 the Speedway track had been transferred to the inside of the greyhound track, with a more permanent cinder type circuit being laid.
The venue also became host to Hockey and Tennis, but during the Second World War Greyhound Racing was the only sport that would feature regularly. The post war years witnessed the return of motor sports along with Boxing, with Stock Car Racing featuring for the first time in September 1954. During the early 1960's, an approach was made by developers to purchase the stadium, although an offer had been accepted, it was later refused knowing that the land would be used for houses and not recreational purposes. Yet with declining crowds at meetings at both Greyhounds and Speedway, it came as no surprise when a further sale had been agreed.
The last greyhound meeting to be staged was on the 19th of October 1963, nineteen days after the Speedway riders had staged theirs. Today no evidence remains of the Southampton venue, as the site is now covered by housing on not surprisingly named Charles Knott Gardens, which began to cover the site during the mid 1980's. The county cricket ground next door continued to host County Cricket for a good number of years after before that too closed during 2001.
A programme, photograph or even memorabilia for this track is required for this page, if you can help please contact me.