Saxby Road, Melton Mowbray, Leicestershire.
POSTCODE———————————-LE13 1BS
LOCATED————————————Melton Mowbray is located fifteen miles north east of Leicester, with the track itself situated about one mile east of Melton Mowbray town centre on the B676 Saxby Road.
ORIGINAL SITE—————————–Farm grazing land.
DATE CONSTRUCTED——————–1946
DATE VENUE OPENED——————-July 1946.
Meaning other sports may have taken place prior to the arrival of Greyhound Racing.
FIRST MEETING—————————–July 4th 1946.
Greyhound Racing only.
LICENSED OR INDEPENDENT———-Independent.
All venues covered would have to be licensed with the government, licensed suggested in this section would refer to tracks operating under NGRC Rules.
INSIDE OR OUTSIDE HARE TYPE——Inside Sumner.
Please note that the Electric Hare suggested is only a guidance and would have been in operation for a certain amount of time at this venue. Although it is not necessarily guaranteed that it was operational all the time, as other types of lure may have been used and updated as time progressed.
DISTANCES———————————–300 and 510yards.
Please note that most racing venues distances had become varied throughout the years, the ones given above were at once point set and offers only a guidance to the track size.
CIRCUMFERENCE—————————Don't know.
Please note that alterations at most racing venues throughout its existence would see that the circumference of the track would vary, the one shown above offers only a guidance to the track size.
BIG RACE NAMES—————————Nothing known of.
STADIUM SHARED WITH——————Just three meetings of Speedway during 1949.
LAST MEETING——————————-July 12th 1969.
Greyhound Racing only.
STADIUM CLOSURE DATE—————-July 1969.
Meaning other sports may have taken place after Greyhound Racing had ceased.
STADIUM DEMOLITION——————-Early 1970's.
BUILT ON SITE——————————-Grange Packaging Company on Saxby Road Industrial Estate.
In some cases, structure's that originally covered the venue after the stadium had been demolished, may have been themselves demolished too, so the one described is more likely to be the one which now presently covers the site.
EVIDENCE LEFT TODAY——————-Nothing known of.
FURTHER COMMENTS——————–Racing ended due to owner of track retiring in his 70's.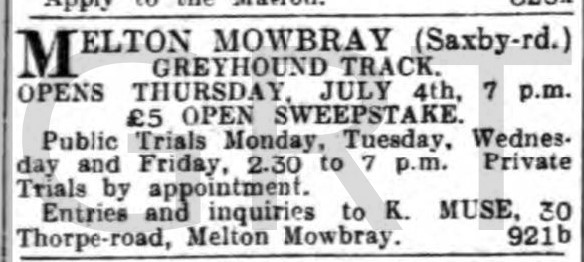 The Leicestershire town of Melton Mowbray lies fifteen miles northeast of the city of Leicester and had found itself added to the list of Greyhound Racing venues that developed during the post war years. It was during the early months of 1946, that a partnership of an ex-publican and a grocer, gained permission to construct a basic greyhound track on an eight-acre section of farmland, one mile east of Melton Mowbray's town centre.
Early days were primitive, with greyhounds chasing a drag hare across a field, with the lure fixed to a rope that was pulled by a winch fixed to a 1926 Bull Nosed Morris motor car engine. Things gradually improved and became more recognised as a flapping track after the field became enclosed and a main stand and a clubhouse being erected soon after. The hounds chased a McWhirter electric hare, although the lure became upgraded later, when a more regular Sumner type system was installed.
Melton Mowbray's first meeting came on the 4th of July 1946, with six dog events being contested over distances of 300 and 525 yards, a distance later reduced to 510 yards, with the hope of attracting more greyhounds. A handful of Speedway Racing events took place at the venue during 1949, after its promoters had laid over 200 tons of cinder to construct a dirt track within the infield of the greyhound track.
Over the years, the track established itself as a popular Greyhound Racing venue, but failed in reaching its Silver Jubilee celebrations, and closed due to not the developers demands, but with the owner now in his 70's, retiring. The final meeting came on the 12th of July 1969, with the track and its equipment being put up for sale by public auction soon after.
It was during the early 1970's that the stadium became demolished, being replaced by The Grainger Packaging Company, which today is found on The Saxby Road Industrial Estate, set back just off the B676.
A programme, photograph or even memorabilia for this track is required for this page, if you can help please contact me.