Pennycross Stadium, Peverell, Plymouth, Devon.
POSTCODE———————————-PL2 3NX
LOCATED————————————About two and a half mile nrth of Plymouth city centre and one mile north of Plymouth Argyle Football Club's Stadium.
ORIGINAL SITE—————————–Built on grazing land near Pennycross Vicarage.
DATE CONSTRUCTED——————–1927-28
DATE VENUE OPENED——————-May 1928.
Meaning other sports may have taken place prior to the arrival of Greyhound Racing.
FIRST MEETING—————————–May 28th 1928.
Greyhound Racing only.
LICENSED OR INDEPENDENT———-NGRC during its early years but by the outbreak of the Second World War it had reverted to flapping.
All venues covered would have to be licensed with the government, licensed suggested in this section would refer to tracks operating under NGRC Rules.
INSIDE OR OUTSIDE HARE TYPE——Inside Sumner.
Please note that the Electric Hare suggested is only a guidance and would have been in operation for a certain amount of time at this venue. Although it is not necessarily guaranteed that it was operational all the time, as other types of lure may have been used and updated as time progressed.
DISTANCES———————————–500, 525 and 750 yards.
Please note that most racing venues distances had become varied throughout the years, the ones given above were at once point set and offers only a guidance to the track size.
CIRCUMFERENCE—————————Dont know.
Please note that alterations at most racing venues throughout its existence would see that the circumference of the track would vary, the one shown above offers only a guidance to the track size.
BIG RACE NAMES—————————Nothing known of.
STADIUM SHARED WITH——————Speedway, Stock Car Racing and a Golf Range.
LAST MEETING——————————-August 1972.
Greyhound Racing only.
STADIUM CLOSURE DATE—————-1972
Meaning other sports may have taken place after Greyhound Racing had ceased.
STADIUM DEMOLITION——————-Early 1970's.
BUILT ON SITE——————————-The Factory Business Park situated on Pennycross Close now covers the site.
In some cases, structure's that originally covered the venue after the stadium had been demolished, may have been themselves demolished too, so the one described is more likely to be the one which now presently covers the site.
EVIDENCE LEFT TODAY——————-Nothing known of, although a curvature of trees viewed only by satellite views does pinpoint its once location.
FURTHER COMMENTS———————None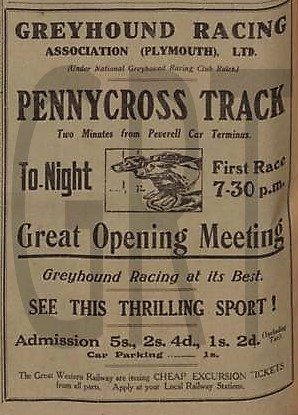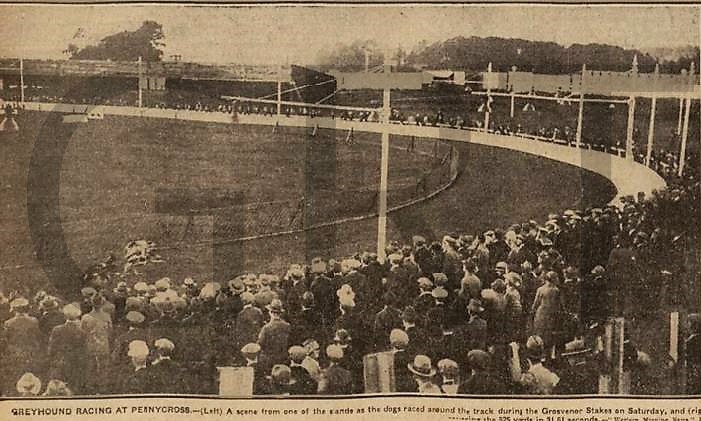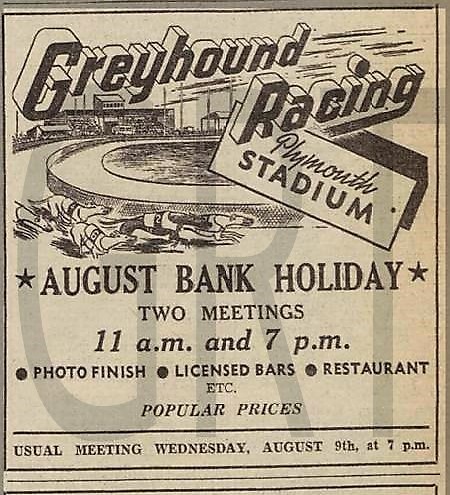 Arguably the most prestigious of all Devon Greyhound Racing venues was the one found in Plymouth, which became known as the Pennycross Greyhound Stadium. It was situated in the district of Peverell, two and a half miles north of Plymouth city centre, and became the first of three recognised greyhound tracks to operate in the city. In early 1927 The Greyhound Racing Association purchased a section of grazing land at the rear of Pennycross Vicarage, their aim was to construct a stadium which would hopefully attract good crowds from the densely populated area of Plymouth.
Construction began later that year, but a dreadful Winter contributed towards the delaying of its opening, which had been scheduled for the following April. It had taken almost six months to build and had cost over £30,000, but by the end of May the stadium was up and ready for action. Pennycross staged its first meeting on the 28th of May 1928, its grand opening consisting of a seven race programme, four of which were run on the flat, the other three contested over hurdles, all of which were challenged over 525 yards, with the first race being won by a greyhound called Tabifa.
Races were run under the newly introduced NGRC rules, with hounds contesting over distances of 525 and 725 Yards and chasing an outside Metro-Vickers type electric hare. Four figure crowds regular attended meetings, with some special gala day events featuring two meetings in a day. On top of that, the venue also staged five meetings per week, but that was reduced drastically once the new Betting Legislation of 1934 came in to force. All greyhounds were provided by the management, all of which were kennelled at the track, with strict rules against any privately owned greyhounds racing there.
In 1931 the introduction of Speedway Racing made no effect at all to the success of Greyhound Racing, as Plymouth Tigers would share the stadium for virtually the next forty years, before staging their final meeting on the 17th of July 1970. Additional features began to appear within the stadium grounds, firstly with a Sports and Social Club being built in 1932, and then a huge totalisator and results board being erected seeing it fully operational by July 1935. The outbreak of The Second World War affected little at The Pennycross Stadium, as by then racing had opted out of NGRC rules and was then operating as an independent track, although in the earlier months of hostilities all racegoer's were refused entry, unless that individual had a gasmask in their possession. War Regulations had banned the usage of trackside lighting, so racing could only be run in daylight hours, meaning that during winter months only afternoon meetings could be staged .
Pennycross also became home to Stock Car Racing, and also a golf driving range, again set out on the infield of the greyhound track. The venue also became home to Pop Festivals, more famously when Fleetwood Mac and The Herd performed there back in 1969, packing the stadium along with an estimated 2,000 gatecrashers who had found access through local residents back gardens.
By the early 1970's the stadium was operating as a flapping track with six dog races being run over 500 and 525 yards, with the hounds chasing an inside Sumner type hare. During that period it was also owned by Plymouth Council who had no plans to invest in the run down venue, but more interested in redeveloping the site and therefore refused to renew the lease.
Greyhound Racing ceased during August 1972, yet the golfing range did continue for a few more months following. During an auction in February 1973, most of the track equipment became sold, which in turn distinguished any hopes of Greyhound Racing ever returning to Pennycross. Demolition followed soon after, with the foundations levelled to make way for a brand new industrial site.
Today, no evidence remains of The Pennycross Stadium at all, although a curvature of trees evident from satellite views does pinpoints its position, with the majority of the site now covered by factory business's along Pennycross Close. A little of Pennycross's history did continue later, as the hare rail system was eventually returned to full working order, after being installed at the nearby Newton Abbot track, but sadly that too closed in 2005.