ex home of Cambridge City Football Club, Milton Road, Chesterton, Cambridge.
POSTCODE———————————-CB4 1UY
LOCATED————————————One mile north of Cambridge city centre set back off the A1134Milton Road set behind the Rand Europe Building on The Westbrook Centre.
ORIGINAL SITE—————————–Gravel Pit site.
DATE CONSTRUCTED——————–Early 1920's.
DATE VENUE OPENED——————-A football match between Cambridge Town and Merton on the 22nd of April 1922.
Meaning other sports may have taken place prior to the arrival of Greyhound Racing.
FIRST MEETING—————————–1967 but that was straight runs only its official first meeting was on the 6th of October 1968.
Greyhound Racing only.
LICENSED OR INDEPENDENT———-Had spells of both Independent and NGRC.
All venues covered would have to be licensed with the government, licensed suggested in this section would refer to tracks operating under NGRC Rules.
INSIDE OR OUTSIDE HARE TYPE——Outside McKee.
Please note that the Electric Hare suggested is only a guidance and would have been in operation for a certain amount of time at this venue. Although it is not necessarily guaranteed that it was operational all the time, as other types of lure may have been used and updated as time progressed.
DISTANCES———————————–222, 400, 565 and 742 metres.
Please note that most racing venues distances had become varied throughout the years, the ones given above were at once point set and offers only a guidance to the track size.
CIRCUMFERENCE—————————Don't know.
Please note that alterations at most racing venues throughout its existence would see that the circumference of the track would vary, the one shown above offers only a guidance to the track size.
BIG RACE NAMES—————————Nothing known of.
STADIUM SHARED WITH——————Cambridge City Football Club.
LAST MEETING——————————-April 14th 1984.
Greyhound Racing only.
STADIUM CLOSURE DATE—————-1984
Meaning other sports may have taken place after Greyhound Racing had ceased.
STADIUM DEMOLITION——————-1985
BUILT ON SITE——————————-Cambridge City's new stadium and offices belonging to Rand Europe.
In some cases, structure's that originally covered the venue after the stadium had been demolished, may have been themselves demolished too, so the one described is more likely to be the one which now presently covers the site.
EVIDENCE LEFT TODAY——————-Nothing known of.
FURTHER COMMENTS——————–None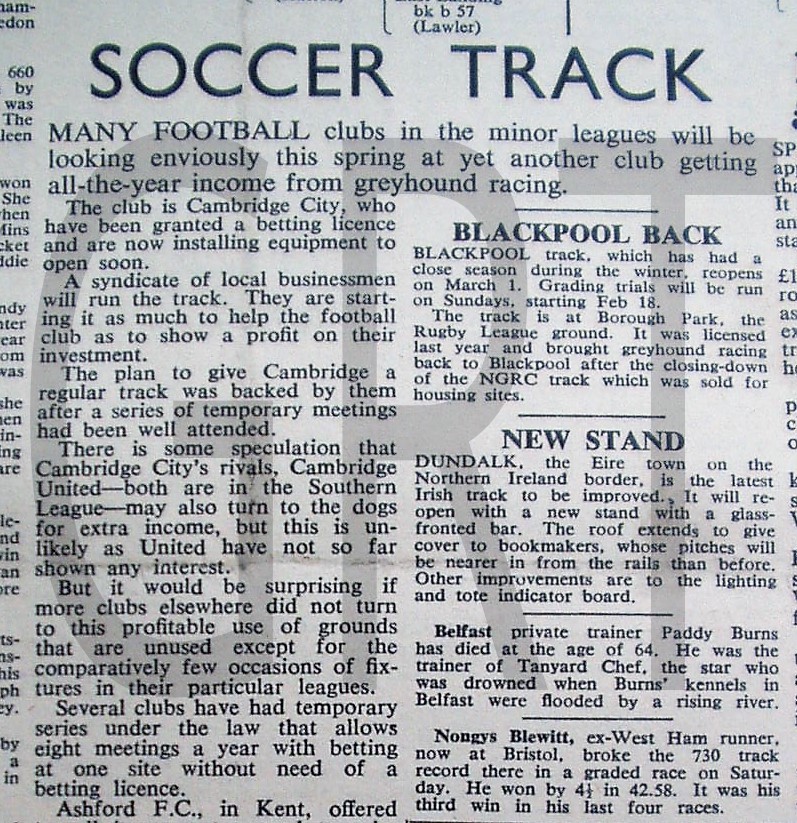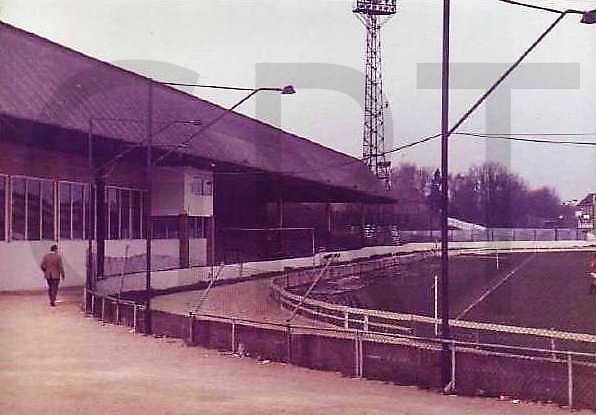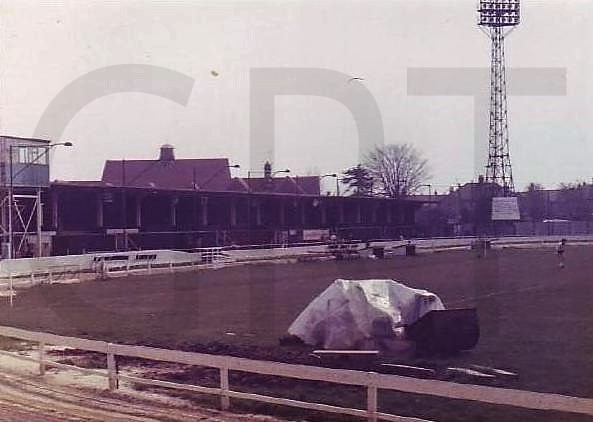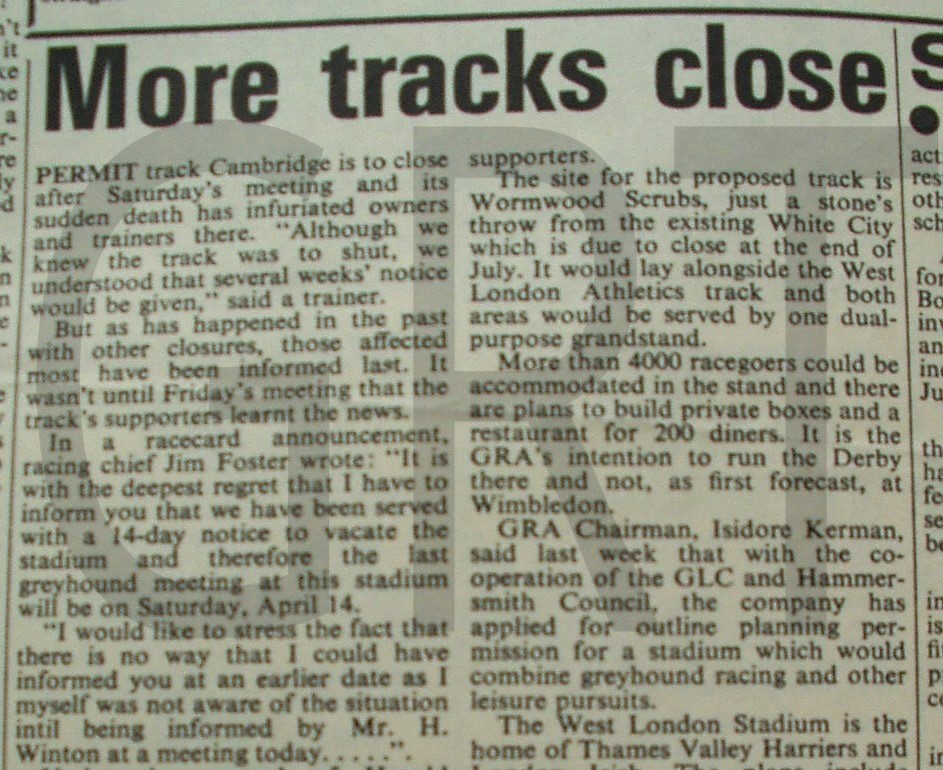 The Cambridge Greyhound Stadium was located on Milton Road in the district of Chesterton, one mile north of Cambridge City Centre. The stadium had originally been constructed to host amateur football, for the local amateur side Cambridge Town, later City. Construction began in the early months of 1922 on the site of an old gravel pit, and once complete was ready to stage Cambridge's first match against Merton on the 29th of April 1922. Although Cambridge City as a football club had been a force in non-league football, they were always just that little bit short of challenging for a Football League slot, even having a strong fan base, proved in 1950 when a crowd of 12,078 witnessed Milton Roads record attendance.
Yet it would be another seventeen years before Milton Road witnessed the arrival of Greyhound Racing, even though it was a trial period only, when spot grading races were run over 280 yards, with events taking place during the football club's closed summer season. The following year of 1968 had seen the greyhound promoters invest over £12,000 on Greyhound Racing equipment, firstly by laying a permanent grass circuit around the outskirts of the football pitch. A Mckee type outside hare system was installed at a cost of £4,000, along with track lighting, all ready for its inaugural meeting on the 6th of October 1968.
Although the track had opened four months behind schedule, early crowds were healthy indeed, easily outnumbering the football clubs faithful. Opening up as an independent track, Milton Road staged six dog races over distances of 260, 460 and 660 yards, and by 1974 had switched to operating under NGRC rules. After five months racing under rules, the track reverted back to operating as an independent track, the management's reasons announcing that running costs had increased way out of proportion.
More changes arrived during 1978, mainly to the total refurbishment of the venue, which also saw the track reshaped with metric distances now being run over 222, 400, 565 and 742 metres. In November of that year, the management switched again to NGRC rules, this time as a full member, but within weeks further changes saw trainers offered contracts that would see them race under The Permit License Scheme.
In December 1981 Cambridge became the first permit track to promote BAGS meetings, but the contract had been a trial period only, with the idea being abandoned after just less than three months. More changes came in 1983 when its NGRC membership was terminated, seeing the track reverting back to independent racing once again. These changes may have been minimal only compared the change that was to about to follow in1984, when it was announced that the venue had been sold to developers for a figure of around ten million.
It had come as no surprise that after 20 years of Greyhound Racing, Milton Road would stage its final meeting on the 14th of April 1984. The new plans for development had shown that part of the site would be transformed into new business premises, with still enough land to construct a new football stadium, relocated 70 yards northwest of its original position, along with the playing surface turned 90 degrees. It may have been good news for the football club, but what was more disappointing was that the plans did not include a greyhound track.
The old Milton Road Stadium became demolished in early 1985, with the transition taking place almost immediately. The site of the old stadium now lies partly under the new stadium but most of it lies underneath The Rand Europe Building which is just set back off the A1134 Milton Road.
Memorabilia for this track is required for this page, if you can help please contact me.