South Bridge Wharf Greyhound Track, South Bridge Road, Cotton End, Northampton.
POSTCODE———————————-NN4 8GS is nearest.
LOCATED————————————One mile south west of Northampton town centre, on New South Bridge Road, just south of the River Nene.
ORIGINAL SITE—————————–Built on a disused Sulphate Works.
DATE CONSTRUCTED——————–1928
DATE VENUE OPENED——————-April 1928.
Meaning other sports may have taken place prior to the arrival of Greyhound Racing.
FIRST MEETING—————————–April 7th 1928.
Greyhound Racing only.
LICENSED OR INDEPENDENT———-Independent
All venues covered would have to be licensed with the government, licensed suggested in this section would refer to tracks operating under NGRC Rules.
INSIDE OR OUTSIDE HARE TYPE——Don't know.
Please note that the Electric Hare suggested is only a guidance and would have been in operation for a certain amount of time at this venue. Although it is not necessarily guaranteed that it was operational all the time, as other types of lure may have been used and updated as time progressed.
DISTANCES———————————–525 yards.
Please note that most racing venues distances had become varied throughout the years, the ones given above were at once point set and offers only a guidance to the track size.
CIRCUMFERENCE—————————Don't know.
Please note that alterations at most racing venues throughout its existence would see that the circumference of the track would vary, the one shown above offers only a guidance to the track size.
BIG RACE NAMES—————————Nothing known of.
STADIUM SHARED WITH——————Dirt Track Speedway between 1929 and 1930.
LAST MEETING——————————-October 31st 1964.
Greyhound Racing only.
STADIUM CLOSURE DATE—————-1964
Meaning other sports may have taken place after Greyhound Racing had ceased.
STADIUM DEMOLITION——————-1965
BUILT ON SITE——————————-Originally a Wallpaper Depot but now that has been replaced by a car park for a large Industrial buildings possibly Avon Cosmetics.covers the site.
In some cases, structure's that originally covered the venue after the stadium had been demolished, may have been themselves demolished too, so the one described is more likely to be the one which now presently covers the site.
EVIDENCE LEFT TODAY——————-Nothing known of.
FURTHER COMMENTS——————–None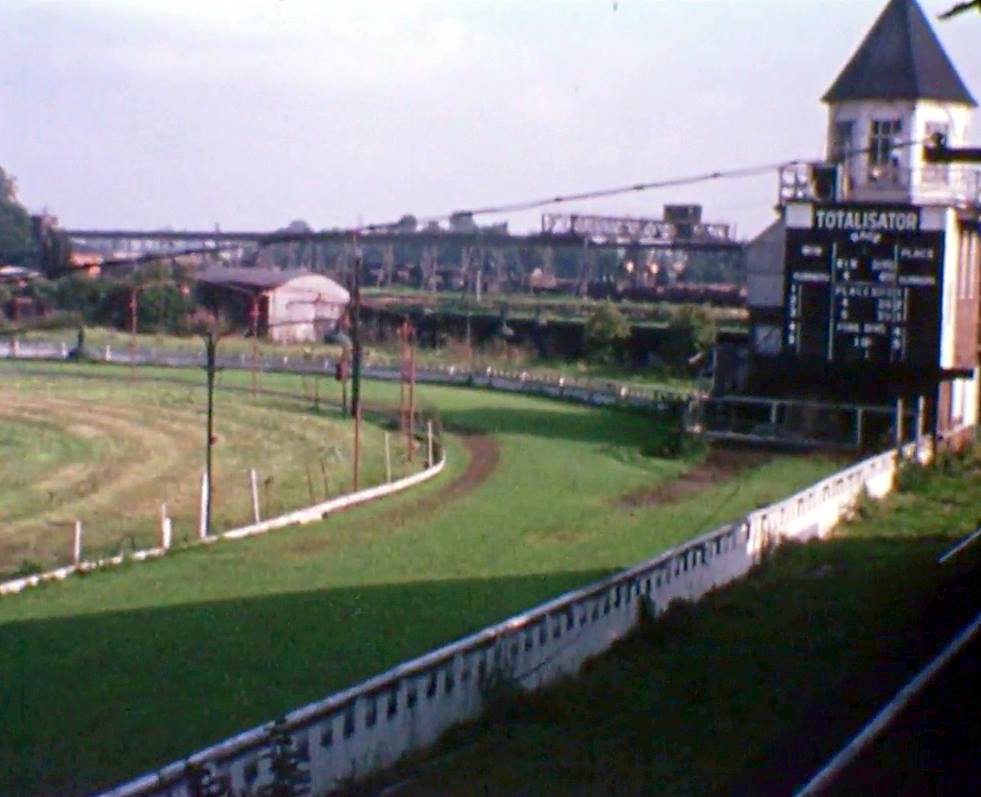 It would be unfair to say that Northamptonshire had been blessed with Greyhound Racing venues over the years, but the track at Northampton, that of the South Bridge Wharf Greyhound Stadium could been classed as its most successful one. It was situated one mile southeast of Northampton town centre, in the district known as Cotton End, and had developed on a six-acre section of land that had once been the site of an old sulphur works.
Construction began during the early months of 1928, and once completed could boast that it could accommodate around 23,000 racegoers, with up to 3,000 seated in a splendid grandstand. Another noticeable structure was a hare control tower, erected within the infield of the track, which could control a miniature bogie on a tramway, which of course would be used to tow the electric hare of up to speeds of around 55 miles per hour.
The stadiums Kennels were situated beneath the main stand, and yet had enough space to accommodate 90 greyhounds. But one of the venue's flaws was the access to the track, as it had been restricted due to its location on the banks of the River Nene, but it was flaw that was soon overcome, as a barge type footbridge came into use to ferry patrons to meetings. Operating as an independent track, advertisements were put in the local press to encourage locals to come and race their greyhounds at the track.
Its first meeting came on the 7th of April 1928, with eight races consisting of six greyhounds competing over a distance of 500 yards. By September 1929 the venue had seen the introduction of Dirt Track Speedway Racing, with a floodlit track being laid within the infield of the greyhound track. Unfortunately, the sport became short lived, having lasted for no more than twelve months, it's premature end coming due to local residents complaining about excessive noise.
During October 1936, the management installed a new type of totalisator system, describing it as the only one of its kind in Northamptonshire and its surrounds. But like many other flapping tracks during the early 1960's, Northampton became another casualty of the tracks struggling to pay its way, dwindling attendances brought on by the new betting shops legislation clearly contributed towards its sale and closure.
On the 31st of October 1964 and after 36 years of Greyhound Racing, Northampton staged its final meeting. The following year saw the stadium bulldozed, leaving the site to be covered by a wallpaper depot.
Today, nothing remains of the South Bridge Wharf track, even the wallpaper depot has now long gone, having been smothered by a car park which presently serves the Avon Cosmetics Industry, located at the end of New South Bridge Road.
A programme, photograph or even memorabilia for this track is required for this page, if you can help please contact me.