The home of Mansfield Town Football Club, Field Mill Stadium, Quarry Lane, Mansfield, Nottingham.
POSTCODE———————————-NG18 5DA
LOCATED————————————Half a mile south of Mansfield town centre.
ORIGINAL SITE—————————–Grazing land belonging to the Duke of Portland.
DATE CONSTRUCTED——————–Around 1905 as a Rugby ground.
DATE VENUE OPENED——————-1905 for rugby but Mansfield Town took over in 1919.
Meaning other sports may have taken place prior to the arrival of Greyhound Racing.
FIRST MEETING—————————–May 26th 1928.
Greyhound Racing only.
LICENSED OR INDEPENDENT———-NGRC then switched to Independent for its last two seasons.
All venues covered would have to be licensed with the government, licensed suggested in this section would refer to tracks operating under NGRC Rules.
INSIDE OR OUTSIDE HARE TYPE——Motor powered Drag lure.
Please note that the Electric Hare suggested is only a guidance and would have been in operation for a certain amount of time at this venue. Although it is not necessarily guaranteed that it was operational all the time, as other types of lure may have been used and updated as time progressed.
DISTANCES———————————–260 and 440 yards.
Please note that most racing venues distances had become varied throughout the years, the ones given above were at once point set and offers only a guidance to the track size.
CIRCUMFERENCE—————————Don't know.
Please note that alterations at most racing venues throughout its existence would see that the circumference of the track would vary, the one shown above offers only a guidance to the track size.
BIG RACE NAMES—————————Nothing known of.
STADIUM SHARED WITH——————Mansfield Town Football Club.
LAST MEETING——————————-October 17th 1931.
Greyhound Racing only.
STADIUM CLOSURE DATE—————-Still the home to Mansfield Town Football Club.
Meaning other sports may have taken place after Greyhound Racing had ceased.
STADIUM DEMOLITION——————-N/A
BUILT ON SITE——————————-N/A
In some cases, structure's that originally covered the venue after the stadium had been demolished, may have been themselves demolished too, so the one described is more likely to be the one which now presently covers the site.
EVIDENCE LEFT TODAY——————-Nothing regarding Greyhound Racing.
FURTHER COMMENTS——————–None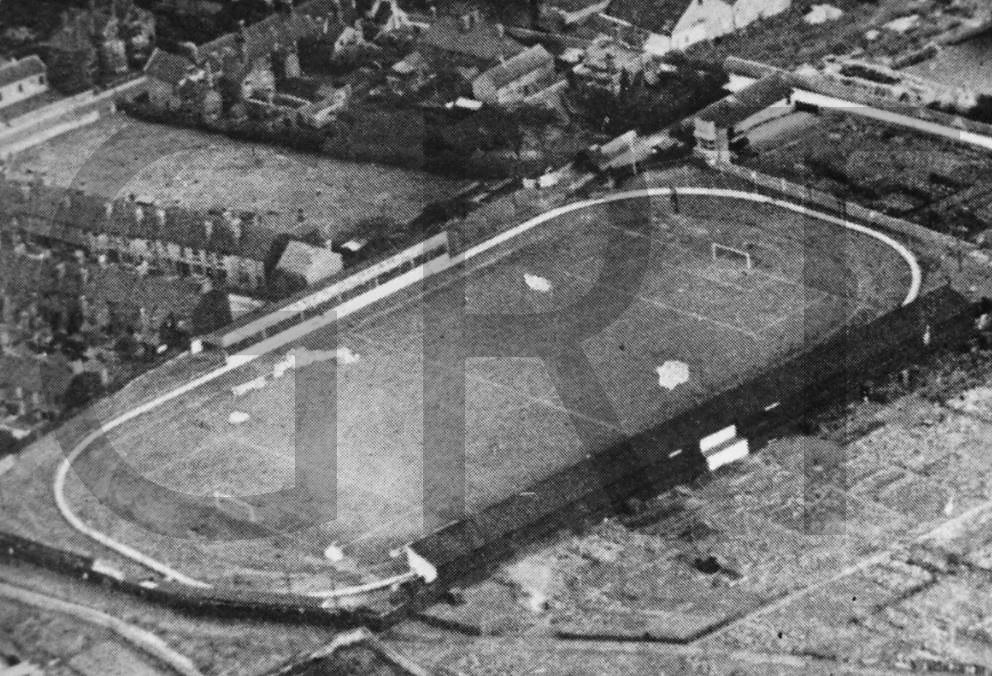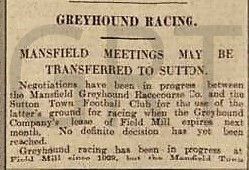 Another of the Football League stroke Greyhound Racing venues that may come as a surprise to many, is the one at Field Mill, the home of Mansfield Town Football Club. Field Mill hosted the sport for just a handful of years during the late 1920's and early 30's, yet what is more surprising is that it operated under NGRC Rules.
Although Mansfield Town had hovered amongst the lower divisions of the football league, who would have known that if it wasn't for the introduction of Greyhound Racing around this period, that Mansfield Town may never have survived at all. The Field Mill football ground is located roughly half a mile south of Mansfield's town centre, situated just off Quarry Lane.
The original site was nothing more than a well-kept grazing meadow and had been purchased by the council from The Duke of Portland in 1905, with the agreement stating that it must be used for sporting purposes only. Small stands and terracing were constructed around the sports pitch, and soon the venue became host to football, cricket and rugby matches. But it wasn't until 1919 that Field Mill became the official home of Mansfield Town Football Club, whose popularity had risen due to the success gained at amateur level, and its new home would become an advantage to help them progress to join the Football League. In 1921 their efforts were rewarded as The Stags were invited to join the newly formed Division Three North. After a number of successful seasons during the mid-1920's, the great depression of late twenties was bringing financial hardships to a good number of football league clubs, with Mansfield being no different.
After a successful approach from a greyhound company to stage racing at Field Mill, a track was laid around the football pitch during springtime of 1928. The first meeting came on the afternoon of the 26th of May 1928, with five dog events chasing a hare driven by a motor-powered winch, over a distance of 440 yards. The Mansfield Greyhound Racing Company also controlled another NGRC track further north at Doncaster, and the link between the two tracks caused both Doncaster and Mansfield having their licenses withdrawn by the NGRC in May 1929. The reason had been due to a breach of the rules that happened at the Doncaster track, when warnings by the NGRC stewards had been ignored against running a competition known as The Yorkshire Sweepstakes.
After the withdrawal from the NGRC, both tracks did continue their business as flapping tracks only. More concerns grew in the summer of 1929 after Mansfield finished bottom of the league, which meant that the club would have to apply for re-election to The Football League. With the Football League totally against Greyhound Racing at league venues, the future of the sport at Field Mill was in grave doubt. Fortunately, racing did continue, but in 1931 the lease to the greyhound company ran out. With the football club looking to improve and enlarge Field Mill, the greyhound company found themselves in a position to look elsewhere to stage their sport. But an arrangement with nearby Sutton Town Football Club, meant that the company would continue to support the sport locally.
Field Mill staged its final meeting on the 17th of October 1931, and soon all the fixtures and fittings for Greyhound Racing had been transferred to the newly prepared track just a few miles away. Field Mill continued to host league football, and in more recent times had a spell of staging Rugby League for a number of seasons.
Today, the Field Mill venue is a total contrast from the days of Greyhound Racing, so if you do visit the stadium, don't expect any remnants of a sport that once took place their ninety years ago.
A programme, photograph or even memorabilia for this track is required for this page, if you can help please contact me.