Belle Vue Greyhound Stadium, Norton Road, Mount Pleasant, Stockton, Teeside
POSTCODE———————————-TS20 2EJ
LOCATED————————————About one mile north east of Stockton Railway Station, just off Windmill Terrace behind the Broown Jug Public House.
ORIGINAL SITE—————————–Belle Vue Gardens, but had been host amateur football and Whippet Racing.
DATE CONSTRUCTED——————–1946
DATE VENUE OPENED——————-1946
Meaning other sports may have taken place prior to the arrival of Greyhound Racing.
FIRST MEETING—————————–June 1st 1946.
Greyhound Racing only.
LICENSED OR INDEPENDENT———-Independent
All venues covered would have to be licensed with the government, licensed suggested in this section would refer to tracks operating under NGRC Rules.
INSIDE OR OUTSIDE HARE TYPE——Inside Sumner.
Please note that the Electric Hare suggested is only a guidance and would have been in operation for a certain amount of time at this venue. Although it is not necessarily guaranteed that it was operational all the time, as other types of lure may have been used and updated as time progressed.
DISTANCES———————————–270, 440 and 600 yards.
Please note that most racing venues distances had become varied throughout the years, the ones given above were at once point set and offers only a guidance to the track size.
CIRCUMFERENCE—————————Approximately 330 yards.
Please note that alterations at most racing venues throughout its existence would see that the circumference of the track would vary, the one shown above offers only a guidance to the track size.
BIG RACE NAMES—————————Nothing known of.
STADIUM SHARED WITH——————Possibly Whippet Racing.
LAST MEETING——————————-June 25th 1973
Greyhound Racing only.
STADIUM CLOSURE DATE—————-June 1973
Meaning other sports may have taken place after Greyhound Racing had ceased.
STADIUM DEMOLITION——————-Late 1970's.
BUILT ON SITE——————————-Houses on Belle Vue Court pinpoints the spine of the stadium.
In some cases, structure's that originally covered the venue after the stadium had been demolished, may have been themselves demolished too, so the one described is more likely to be the one which now presently covers the site.
EVIDENCE LEFT TODAY——————-Nothing known of.
FURTHER COMMENTS——————–The three coloured cast iron greyhounds found on the High Street is a reminder that owners used to parade their hounds up and down the street prior to the evenings meeting.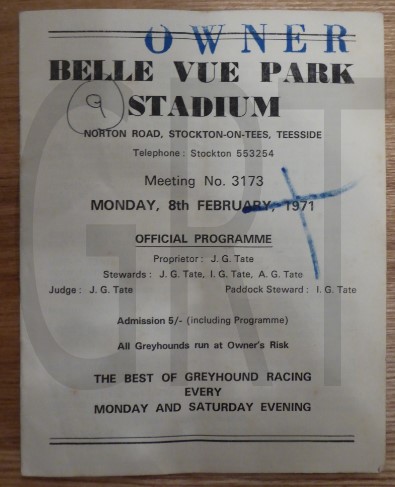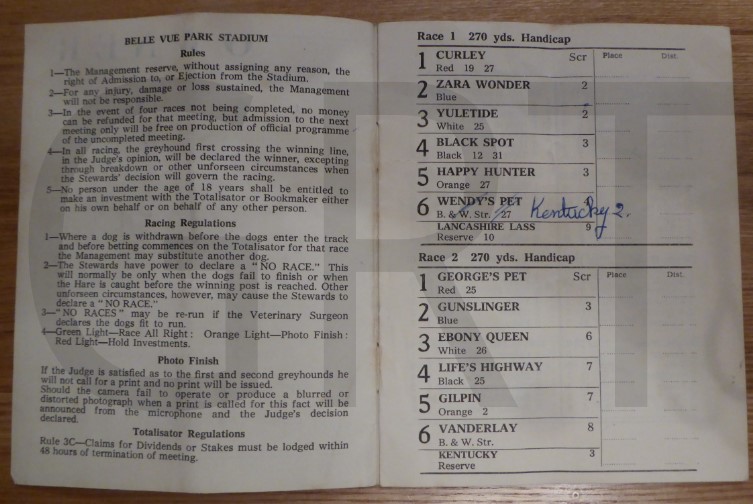 A greyhound track known as Belle Vue Park may automatically trigger the mind associating it with the GRA track in Manchester. But this is not the case when reading this section, as this Greyhound Racing venue was known as Belle Vue Park, located in the north eastern industrial town of Stockton On Tees in County Durham.
Belle Vue Park inherited its name having been constructed on an eight acre section of recreation land known as Belle Vue Gardens, which had been the home to other sporting events as early as the late 1890's. Although the Belle Vue Park track developed during the post months of the Second World War, the site had previously witnessed dog racing during the early 1930's, with a 130 yard long straight hosting handicap events for mainly whippets, and was known then as Portrack Park.
Belle Vue Park was constructed during 1945 around the perimeter of a football pitch, it had an inside Sumner type hare system, which was controlled from a hut situated within the infield of the greyhound track, so the hare driver could have a more panoramic view of controlling the hare, similar to other tracks found at Swansea and Auchinleck.
Opening up as a flapping track, its first meeting came on the on 1st of June 1946, offering six dog race events being run over distances of 440 yards. The venue became popular with locals instantly, so popular that the greyhounds were found often seen paraded by their owners, up and down Stockton's High Street, hours prior to a meeting, just to show punters the condition of the dog, whether good or bad which would hope to influence the betting on the track later. These events are still remembered today on High Street, with statues of three different coloured cast iron greyhounds clearly on view on the main pavement.
The Stadium's success lasted for almost thirty years, but by the early 1970's had become another target for developers, and closed around 1974. Eventually the site was bulldozed and disappeared under housing now known as Belle Vue Court, who's access road does act as were the spine of the track once lay. The Site of the old track is situated roughly one mile north east of Stockton Railway Station along Norton Road behind The Brown Jug Public House, which guides you down along Windmill Terrace and into Belle Vue Court.
A programme, photograph or even memorabilia for this track is required for this page, if you can help please contact me.