Southend Stadium, Grainger Road, Southend, Essex.
POSTCODE———————————-SS2 5BZ
LOCATED————————————Less than a mile north of Southen Pier and walking distance north east of Southend's Railway Station.
ORIGINAL SITE—————————–Built on the site of the old Milton Hall Brickworks.
DATE CONSTRUCTED——————–Began during 1932.
DATE VENUE OPENED——————-April 1933.
Meaning other sports may have taken place prior to the arrival of Greyhound Racing.
FIRST MEETING—————————–April 15th 1933.
Greyhound Racing only.
LICENSED OR INDEPENDENT———-NGRC.
All venues covered would have to be licensed with the government, licensed suggested in this section would refer to tracks operating under NGRC Rules.
INSIDE OR OUTSIDE HARE TYPE——Outside McGee.
Please note that the Electric Hare suggested is only a guidance and would have been in operation for a certain amount of time at this venue. Although it is not necessarily guaranteed that it was operational all the time, as other types of lure may have been used and updated as time progressed.
DISTANCES———————————–277, 484, 647 and 913 metres.
Please note that most racing venues distances had become varied throughout the years, the ones given above were at once point set and offers only a guidance to the track size.
CIRCUMFERENCE—————————425 metres.
Please note that alterations at most racing venues throughout its existence would see that the circumference of the track would vary, the one shown above offers only a guidance to the track size.
BIG RACE NAMES—————————The Thames Silver Salver.
STADIUM SHARED WITH——————Southend United Football Club between 1934-1935, Cycling, Boxing and Stock Car Racing.
LAST MEETING——————————-December 26th 1985.
Greyhound Racing only.
STADIUM CLOSURE DATE—————-December 1985.
Meaning other sports may have taken place after Greyhound Racing had ceased.
STADIUM DEMOLITION——————-Began during March 1986.
BUILT ON SITE——————————–The Greyhound Way runs directly across the middle of were the old stadium once lay, with Martins Court Care Home, Matalan and Mecca Bingo, built on its northern point, with the Retail Park and its car parks on the south.
In some cases, structure's that originally covered the venue after the stadium had been demolished, may have been themselves demolished too, so the one described is more likely to be the one which now presently covers the site.
EVIDENCE LEFT TODAY——————-Nothing known of.
FURTHER COMMENTS——————–None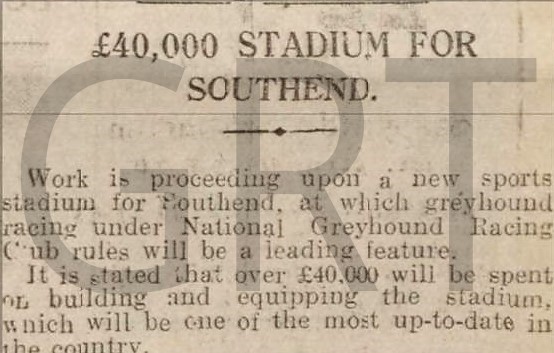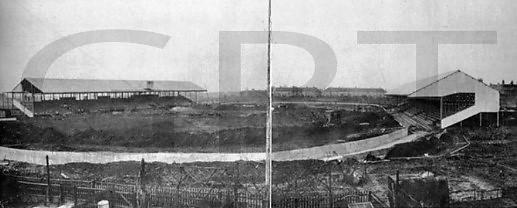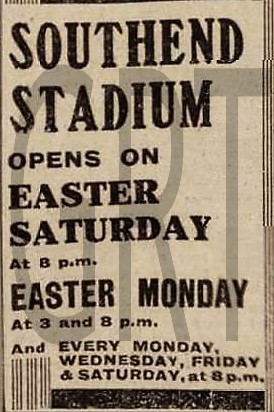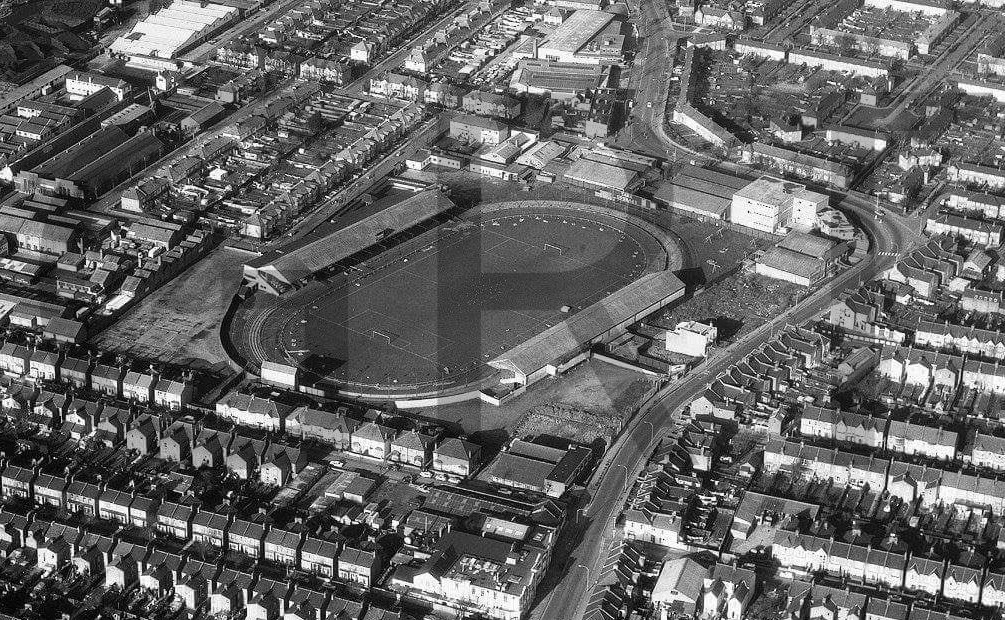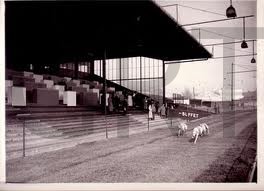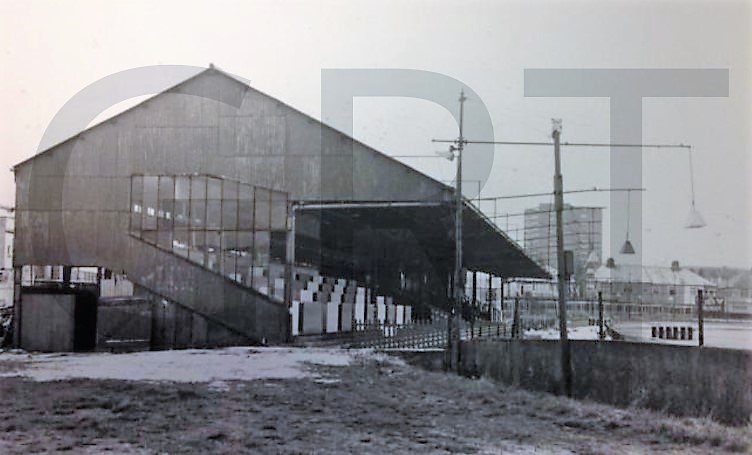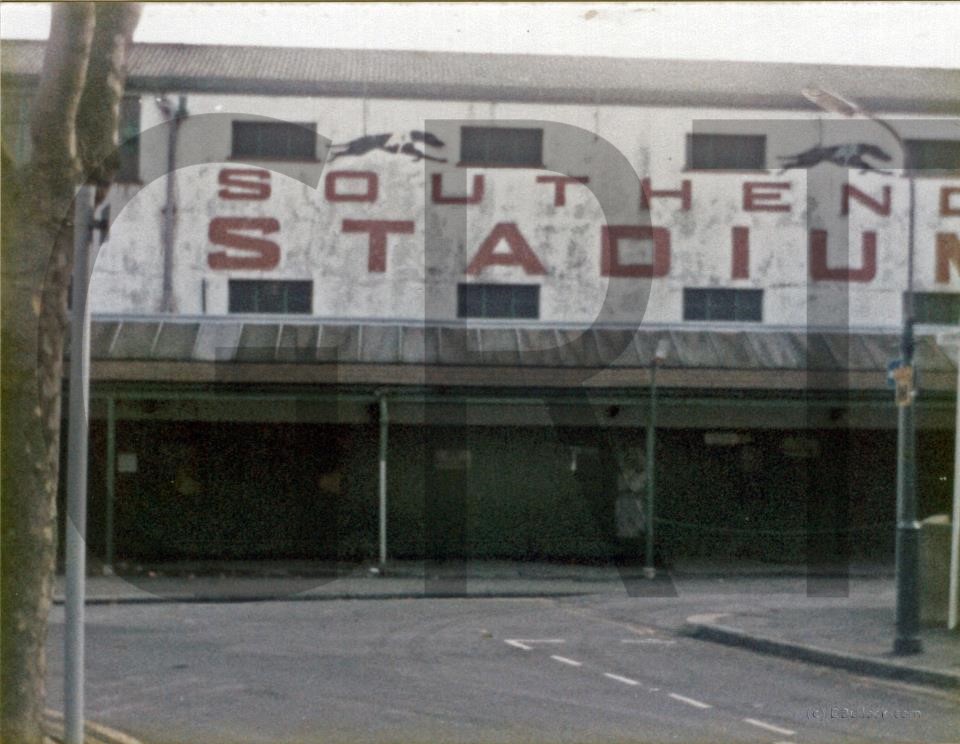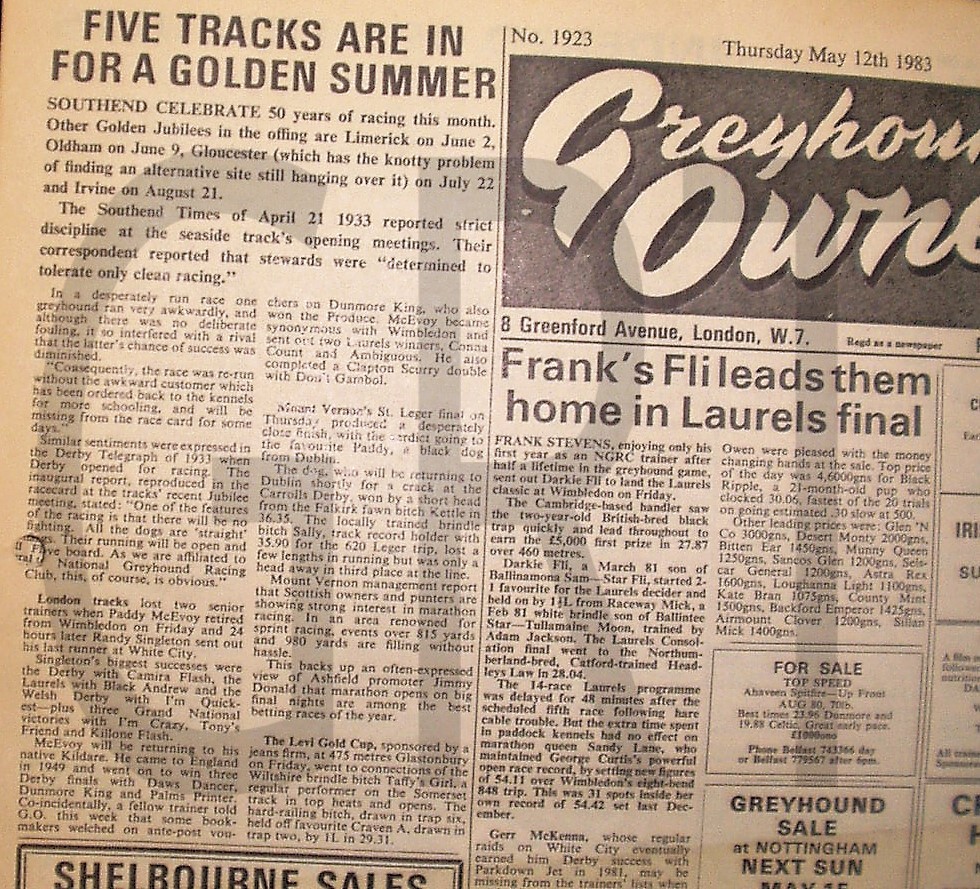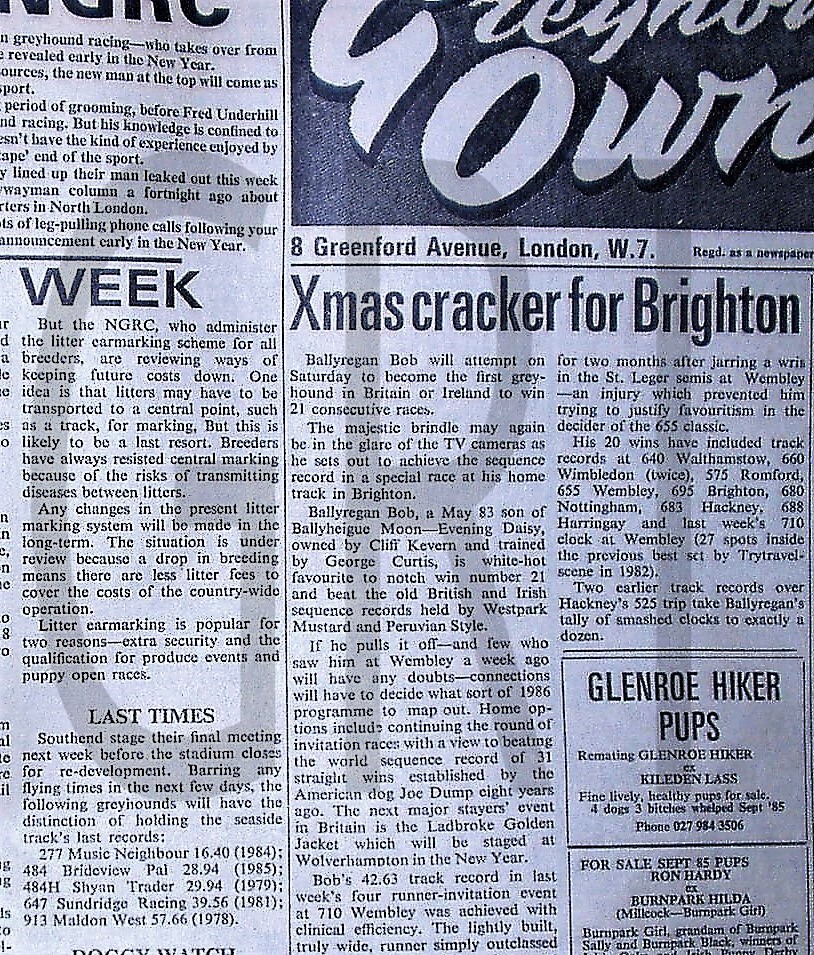 The coastal town of Southend-On-Sea had become one of the earliest towns to host greyhound racing, with a brief spell of the sport around a track built within the then popular Kursaal grounds. The failure at Kursaal in 1928 had been political and was certainly not down to its unpopularity, but in fact quite the opposite, as crowds had flocked to witness the sport during its twelve month existence.
The town could now prove itself that it was ready and capable to stage the booming sport, all it needed was the right place to hold it, and came as no surprise when an announcement came that a new track would open on Grainger Road. It was during 1932 that a new stadium began to develop on the site of the disused Milton Hall Brickworks, a site situated less the half a mile north of Southend town centre.
It was estimated that it would cost around £40,000 to build, spacious enough to accommodate 25,000 paying spectators, with its main feature, a large grandstand that would comfortably seat 2,000. Early suggestions announced that the track had been specifically designed to be the fastest greyhound circuit in Britain, with long straights and a slight gradient.
Operating under NGRC Rules Southend's first meeting came on the 15th of April 1933 an Easter Saturday, with 3,380 racegoers paying three shillings each to witness the event. The sport soon began to prove itself a success, but the future of the stadium looked more secure as Southend United Football Club signed a tenancy agreement meaning the venue would stage league football from the 1934-35 season onwards.
Grainger Road became one of only two purpose built greyhound racing venues that would stage league football, the other being the West Ham Stadium where Thames FC became tenants for just two seasons during the early 1930's. Incidentally Grainger Road was never filled it to its capacity, its closest effort came when 22,862 fans crammed in to witness an FA Cup tie against Tottenham in 1936. The Shrimpers continued to play home matches there up until 1955 before eventually moving in to their present day stadium at Roots Hall.
The arrival of the Second World War had witnessed all sporting events coming to a halt, even greyhound racing, as the stadium had been taken over by the Army Officer Training Corps. Greyhound Racing resumed once again after hostilities had ceased, with the reopening of business on the 6th of April 1946, having seen the stadium come through the war unscathed. Yet more amazingly a reminder of the war was unearthed a quarter of a century later when an unexploded landmine was discovered beneath the third and fourth bend, left behind possibly by the training corps.
Other than football, Grainger Road staged various sports, such as Cycling, Boxing and then later Stock Car Racing. Another activity almost joined the list of motor sports was that of Speedway Racing, but noise tests carried out prior to any events being staged were soon quashed by the council, saying that local residents had complained about the excessive noise.
Southend continued throughout its lifetime offering greyhound racing under NGRC Rules, and was never short of staging attractive competitions, with possibly 'The Thames Silver Salver' being its most popular. Earlier distances were set at 300, 500, 525 and 700 yards, before converting to the metric versions of 277, 484, 647 and 913 metres during its latter days. The track had circumference of 425 metres wide enough to stage six dog racing and an outside McGee type hare used as the lure.
Grainger Road's moment of fame came during 1970 when it featured on National Television, hosting the heats of the BBC Television Trophy being broadcasted live in colour, a first for greyhound racing. Like a number of seaside Greyhound Racing venue's, Southend would close down during the winter months, mainly due to the absence of holidaymakers reducing crowd figures, but benefitted during the summer by holding extra weekly meetings.
The early 1980's was proving to be difficult times for Southend, as the venue began to operate at a loss, mainly due to falling attendances, and further more, concerns were being shown regarding the poor condition of the stadium, as it was desperately in need of some serious repairs. In 1985 it was announced that Greyhound Racing could no longer support itself, due to the rising costs of running the stadium, and that the venue would be sold to developers.
Southend staged its final meeting on Boxing Day 1985, and by the end of February 1986, the whole site had been flattened. Today, The Greyhound Way runs directly across the middle of were the old stadium once lay, with Martins Court Care Home, Matalan and Mecca Bingo, built on its northern point, with the Retail Park and its car parks on the south, yet leaves no trace at all of a greyhound stadium ever having been there
A photograph or even memorabilia for this track is required for this page, if you can help please contact me.