Deer Park, Fazeley, Tamworth, Staffordshire.
POSTCODE———————————-B78 3SU
LOCATED————————————Two miles south west of Tamworth town centre, just south of the A5404 off Fallow Road in the district of Fazeley.
ORIGINAL SITE—————————–Built on an old cricket ground.
DATE CONSTRUCTED——————–1946-47
DATE VENUE OPENED——————-April 30th 1947 for Speedway.
Meaning other sports may have taken place prior to the arrival of Greyhound Racing.
FIRST MEETING—————————–August 30th 1947.
Greyhound Racing only.
LICENSED OR INDEPENDENT———-NGRC between 1947-50, then indepenent until its closure.
All venues covered would have to be licensed with the government, licensed suggested in this section would refer to tracks operating under NGRC Rules.
INSIDE OR OUTSIDE HARE TYPE——Outside Sumner.
Please note that the Electric Hare suggested is only a guidance and would have been in operation for a certain amount of time at this venue. Although it is not necessarily guaranteed that it was operational all the time, as other types of lure may have been used and updated as time progressed.
DISTANCES———————————–300, 500 and 700 yards.
Please note that most racing venues distances had become varied throughout the years, the ones given above were at once point set and offers only a guidance to the track size.
CIRCUMFERENCE—————————Don't know.
Please note that alterations at most racing venues throughout its existence would see that the circumference of the track would vary, the one shown above offers only a guidance to the track size.
BIG RACE NAMES—————————Nothing known of.
STADIUM SHARED WITH——————Speedway and Stock Cars.
LAST MEETING——————————-Friday June 7th 1963
Greyhound Racing only.
STADIUM CLOSURE DATE—————-June 1963.
Meaning other sports may have taken place after Greyhound Racing had ceased.
STADIUM DEMOLITION——————-Mid 1960's.
BUILT ON SITE——————————-Houses on Reindeer Road, Dama Road and Yorksand Road.
In some cases, structure's that originally covered the venue after the stadium had been demolished, may have been themselves demolished too, so the one described is more likely to be the one which now presently covers the site.
EVIDENCE LEFT TODAY——————-Nothing known of.
FURTHER COMMENTS——————–The Speedway riders wore the emblem of a Greyhound on their bibs.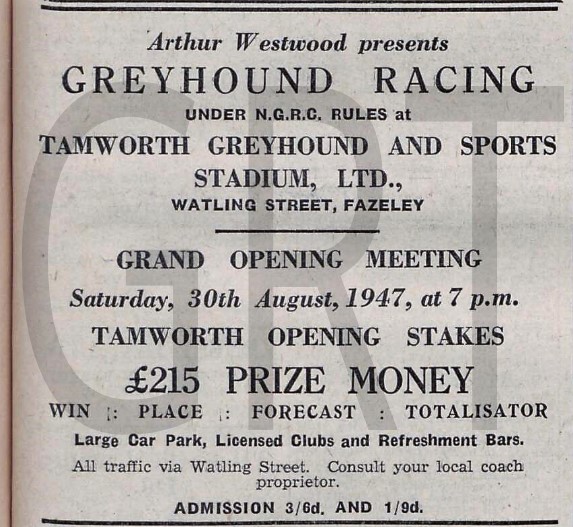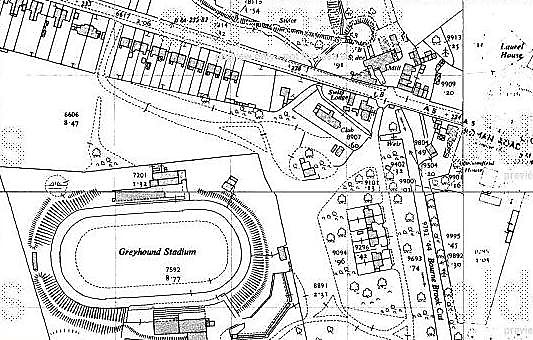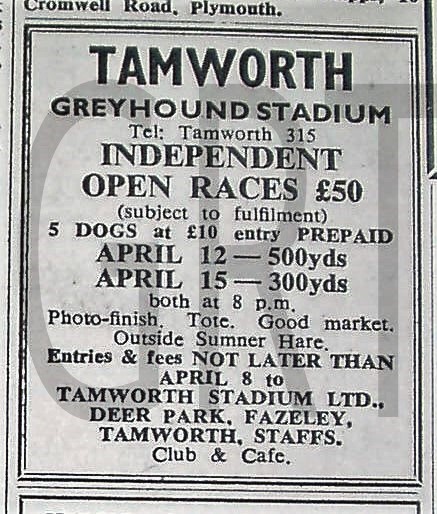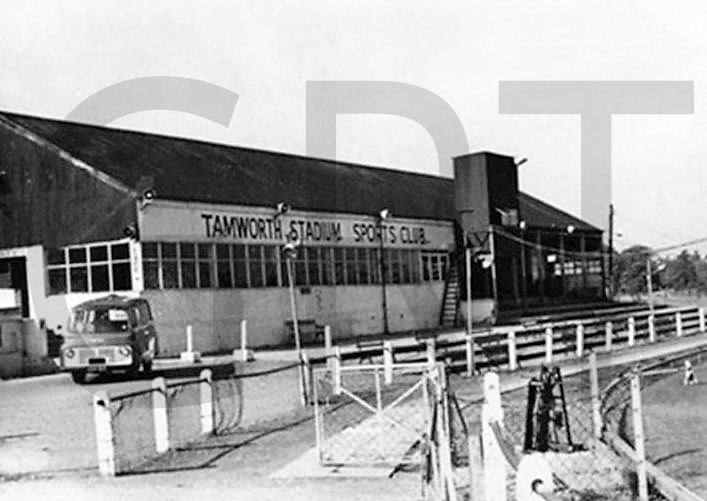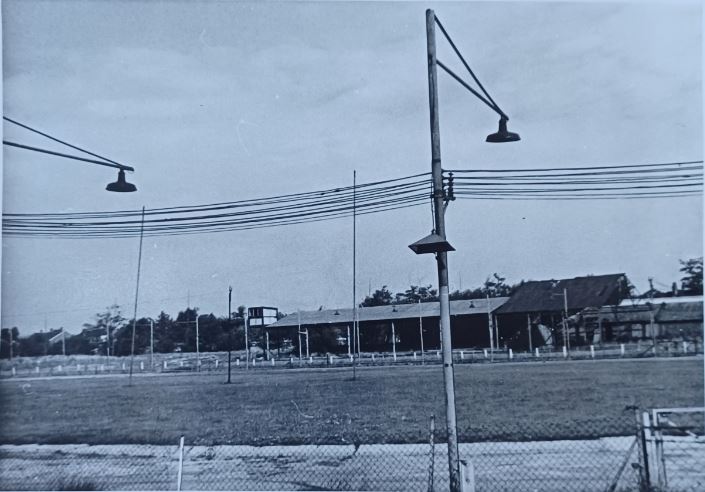 Tamworth Greyhound Stadium, or Deer Park as it was sometimes known, was situated in the district of Fazeley, a rural area found two miles south west of Tamworth town centre, just off the A5404 trunk road. Shortly after the demise of The Second World War, construction began of a Speedway Stadium on the site of a former cricket pitch just off Fallow Road.
Although the stadium was to be purposely built for Speedway Racing, its design was also to incorporate a greyhound track that would be hoped to feature in time. The speedway promoter employed ex-servicemen to build the stadium, with materials used from surplus stock acquired from army dumping grounds around the country, along with tons of cheap coal mining waste, readily available close by.
Once complete the stadium consisted of two covered stands, with enough viewing space to accommodate 5,000 people, with 10,000 tons of coal clinkers having been used to create viewing points for spectators around the bends. A giant tote board was erected behind the West side bend, and new track lighting installed, along with a judge's box that would house the photo finish equipment. Speedway Racing began on the 30th of April 1947, with the event being opened by the popular entertainer George Formby along with his wife Beryl, who himself was a very keen Speedway follower.
But it would take another four months before Greyhound Racing would make its debut, with its inaugural meeting being staged on the 30th of August 1947, with the opening race christened "The Tamworth Opening Stakes", with the eventual race winner receiving £175 prize money, plus a silver trophy valued at forty pounds. But by December 1950 financial hardship had seen the promoters going into voluntary liquidation therefore it seemed the end of Greyhound Racing at Tamworth. During 1951 and most of 1952 the venue lay idle after Speedway Racing had ceased at the stadium during 1950 also, but a new independent Greyhound Racing Company moved in and re-introduced the greyhounds in October 1952.
Greyhound Racing continued to become the venue's main source of income, although Stock Car Racing did feature during the mid-1950's and briefly again in June 1960. Greyhound Racing at Tamworth began under NGRC Rules, but the re-opening after its almost two-year closure had seen them switch to operate to independent racing. Races consisted of six greyhounds contesting over distances of 300, 500 and 700 Yards, with the hounds chasing an outside Sumner type hare.
But by the early 1960's the Tamworth venue was struggling to survive, the new betting laws which had seen the introduction of Bookmakers shops to the high street of Britain had taken its toll by seeing less racegoers clicking through the turnstiles, and by 1963 Greyhound Racing had ceased.
The final being staged on a Friday night June 7th 1963 , a greyhound called Swan Lake won the final event. The stadium lay idle for a while with no other sporting activities taking place, and soon Tamworth became another statistic added to the property developers list that would make way for new housing.
Sadly, no evidence remains of The Tamworth Greyhound Stadium, with The Deer Park Housing Estate now covering the site, its location found just northeast of Drayton Manor Theme Park. The cluster of houses found on Dama Road and Yorksand Road, more or less pinpoints the position of where the stadium once was, yet Reindeer Road actually covers the start and finish straight.
A programme, photograph or even memorabilia for this track is required for this page, if you can help please contact me.