St Annes Road, Willenhall, West Midlands.
POSTCODE———————————-WV13 1EG
LOCATED————————————About half a mile north east of Willenhall town centre.
ORIGINAL SITE—————————–Originally known as The Spring Bank Stadium the home of Willenhall Football Club, who folded in 1930 due to financial reasons.
DATE CONSTRUCTED——————–1904-05
DATE VENUE OPENED——————-September 1905 for Amateur football.
Meaning other sports may have taken place prior to the arrival of Greyhound Racing.
FIRST MEETING—————————–March 26th 1932.
Greyhound Racing only.
LICENSED OR INDEPENDENT———-Originally independent then switched to NGRC during 1935.
All venues covered would have to be licensed with the government, licensed suggested in this section would refer to tracks operating under NGRC Rules.
INSIDE OR OUTSIDE HARE TYPE——Inside Sumner then switched to outside Sumner during 1938.
Please note that the Electric Hare suggested is only a guidance and would have been in operation for a certain amount of time at this venue. Although it is not necessarily guaranteed that it was operational all the time, as other types of lure may have been used and updated as time progressed.
DISTANCES———————————–400 and 565 yards.
Please note that most racing venues distances had become varied throughout the years, the ones given above were at once point set and offers only a guidance to the track size.
CIRCUMFERENCE—————————330 yards.
Please note that alterations at most racing venues throughout its existence would see that the circumference of the track would vary, the one shown above offers only a guidance to the track size.
BIG RACE NAMES—————————The Midland Sprint Championship.
STADIUM SHARED WITH——————Nothing known of.
LAST MEETING——————————-March 31st 1980.
Greyhound Racing only.
STADIUM CLOSURE DATE—————-March 1980.
Meaning other sports may have taken place after Greyhound Racing had ceased.
STADIUM DEMOLITION——————-1980
BUILT ON SITE——————————-During the early 1980's Barret Homes built around 100 houses on Stadium Close and Circuit Close which now covers the site.
In some cases, structure's that originally covered the venue after the stadium had been demolished, may have been themselves demolished too, so the one described is more likely to be the one which now presently covers the site.
EVIDENCE LEFT TODAY——————-Nothing known of.
FURTHER COMMENTS——————–None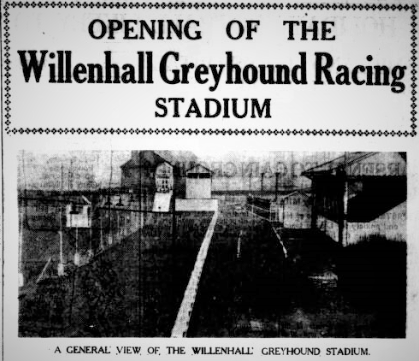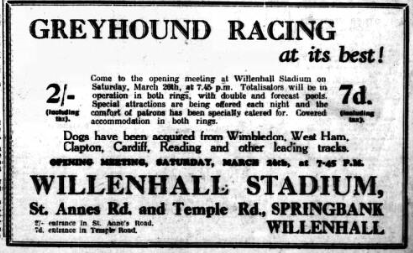 Willenhall is a town located in the West Midlands, situated between Walsall and Wolverhampton, roughly twelve miles north of Birmingham city centre. Willenhall Greyhound Racecourse was situated just off St Annes Road, its actual postal address, but access to the track was just off Temple Road, half a mile northeast of its town centre.
The first signs of any sporting activities happening on the site was in 1905, when a football pitch became marked out on a section of grazing land. Dressing rooms and small outbuildings were added shortly after, with the venue becoming known as The Spring Bank Stadium. During the early years, the stadium became home to numerous amateur football teams, right up until the late 1920's when Willenhall Football Club became the last club to host football there. But due to poor attendances and lack of interest, the club found themselves in financial difficulties and folded in 1930.
The football ground lay unoccupied until the following year, it was then that The Midland Greyhound Racing Company showed interest and decided to purchase the site. The Spring Bank Stadium had become the second track to be purchased by the greyhound company, having already taking control at the nearby Monmore track, just three miles away. Once the deal had been completed, work on the stadium began, and soon the original rectangular shape began to transform into a more oval one required by a greyhound track. With all trackside requirements installed,
Willenhall Greyhound Racecourse staged its inaugural meeting on the 26th of March 1932. The track was a smallish circuit, just 330 yards in circumference, but still became very popular with the punters. Although the venue began as an independent track, it wasn't until August 1935 that it switched to operate under NGRC rules. Each meeting consisted of eight races, each featuring five greyhounds, with the trap three constantly vacant. Races were contested over distances of 400 and 565 yards, yet up until 1938 the hounds chased an inside hare, before switching to the more familiar outside Sumner type.
The outbreak of the Second World War forced the closure of the track, but re-opened again in 1946, with a bumper crowd of over 3,500 supported by 60 bookmakers. Due to regular interruptions throughout winter because of a freezing track undersoil heating being installed during 1967. Willenhall became well known for its 400-yard sprint racing, and staged the classic event, The Midland Sprint Championship annually.
In 1974 the track was sold to Ladbrokes the bookmakers, and by 1977, had signed a contract to stage BAGS meetings. Although these new deals seemed promising at the time, dark clouds began to gather regarding the track's future. It was claimed that falling attendances had contributed to the track operating at a loss, and by 1980 the venue had been sold to developers. Barrett Homes became the new owners, who had already drawn up plans to construct 100 houses on the site.
Willenhall's final meeting came on the 31st of March 1980, with a brindle bitch called Kickham's Choice winning the last race, yet within a matter of months the stadium had been bulldozed. Today, houses on Stadium Close and Circuit Close now occupies the site, leaving no evidence at all of a greyhound stadium ever having been there.
A photograph or even memorabilia for this track is required for this page, if you can help please contact me.