Main Road, Little Waltham, Essex.
POSTCODE———————————-CM3 3PA
LOCATED————————————About four miles north of Chelmsford.
ORIGINAL SITE—————————–Farm grazing land.
DATE CONSTRUCTED——————–Began to develop during 1930.
DATE VENUE OPENED——————-June 1930.
Meaning other sports may have taken place prior to the arrival of Greyhound Racing.
FIRST MEETING————————–Saturday June 14th 1930.
Greyhound Racing only.
LICENSED OR INDEPENDENT———-Independent
All venues covered would have to be licensed with the government, licensed suggested in this section would refer to tracks operating under NGRC Rules.
INSIDE OR OUTSIDE HARE TYPE——Not sure but would expect a Trackless type hare.
Please note that the Electric Hare suggested is only a guidance and would have been in operation for a certain amount of time at this venue. Although it is not necessarily guaranteed that it was operational all the time, as other types of lure may have been used and updated as time progressed.
DISTANCES———————————–Don't know.
Please note that most racing venues distances had become varied throughout the years, the ones given above were at once point set and offers only a guidance to the track size.
CIRCUMFERENCE—————————Don't know.
Please note that alterations at most racing venues throughout its existence would see that the circumference of the track would vary, the one shown above offers only a guidance to the track size.
BIG RACE NAMES—————————Nothing known of.
STADIUM SHARED WITH——————Whippet Racing.
LAST MEETING——————————-June 22nd 1940, Last time seen in press.
Greyhound Racing only.
STADIUM CLOSURE DATE—————-Around 1940.
Meaning other sports may have taken place after Greyhound Racing had ceased.
STADIUM DEMOLITION——————-1940's.
BUILT ON SITE——————————-Housing on Chelmer Avenue, Manor Crescent and Roman Road cintructed in the post years afyter the war.
In some cases, structure's that originally covered the venue after the stadium had been demolished, may have been themselves demolished too, so the one described is more likely to be the one which now presently covers the site.
EVIDENCE LEFT TODAY——————-Nothing known of.
FURTHER COMMENTS——————–None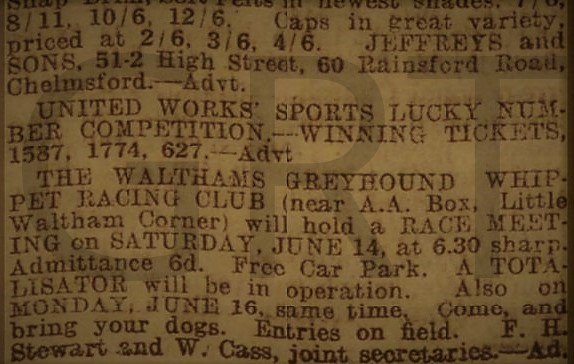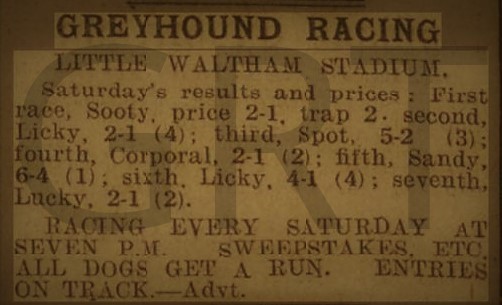 The rural Essex village of Little Waltham lies three miles north of Chelmsford, and becomes just another place that you would drive through when travelling along the busy Braintree-Chelmsford trunk road. It is a quite sleepy village, but hidden amongst its history is that it did once feature Greyhound Racing.
It was during 1930 that a track developed on a four-acre section of farmland near Ash Tree Corner, with the view of staging Whippet and Greyhound Racing. The track was very basic indeed, but it did have a small, covered stand and refreshment bars, with track lighting being installed later.
Opening up as a flapping track, its first meeting came on the 14th of June 1930, with a mixture of events that would accommodate whippets and greyhounds. The track soon attracted good crowds and soon was promoting three meetings per week. In 1936 facilities at the track were upgraded after the owner had purchased more up to date equipment from the nearby Chelmsford track shortly after it had closed.
However, the declaration of the Second World War took its toll on greyhound racing at Little Waltham, as meetings were restricted to daylight hours only, plus the shortage of fuel contributed to lease not being renewed. Little Waltham staged its final meeting during June 1940, although efforts to revive the track after the Second World War failed.
Today, the site is covered by houses which were built during the post war years of the hostilities, with Chelmer Avenue, Manor Crescent and Roman Road pinpointing its once location.
A programme, photograph or even memorabilia for this track is required for this page, if you can help please contact me.