Aylesham Road, Hellesden, Norwich, Norfolk.
POSTCODE———————————-NR6 6XU
LOCATED————————————The venue was situated roughly 3 miles north of Norwich city centre, along Aylesham Road about a quarter of a mile south west of were Norwich Airport is today.The meadow rod housin estate.
ORIGINAL SITE—————————–Farm grazing land.
DATE CONSTRUCTED——————–1932
DATE VENUE OPENED——————-July 1932.
Meaning other sports may have taken place prior to the arrival of Greyhound Racing.
FIRST MEETING—————————–July 30th 1932.
Greyhound Racing only.
LICENSED OR INDEPENDENT———-NGRC.
All venues covered would have to be licensed with the government, licensed suggested in this section would refer to tracks operating under NGRC Rules.
INSIDE OR OUTSIDE HARE TYPE——Not known.
Please note that the Electric Hare suggested is only a guidance and would have been in operation for a certain amount of time at this venue. Although it is not necessarily guaranteed that it was operational all the time, as other types of lure may have been used and updated as time progressed.
DISTANCES———————————–Not known.
Please note that most racing venues distances had become varied throughout the years, the ones given above were at once point set and offers only a guidance to the track size.
CIRCUMFERENCE—————————Don't know.
Please note that alterations at most racing venues throughout its existence would see that the circumference of the track would vary, the one shown above offers only a guidance to the track size.
BIG RACE NAMES—————————None found.
STADIUM SHARED WITH——————Speedway 1937-1964.
LAST MEETING——————————-14th January 1935.
Greyhound Racing only.
STADIUM CLOSURE DATE—————-November 1964.
Meaning other sports may have taken place after Greyhound Racing had ceased.
STADIUM DEMOLITION——————-1965
BUILT ON SITE——————————-Housing and a landscaped play ground on the Meadow Road Housing Estate now occupies the site of the old stadium.
In some cases, structure's that originally covered the venue after the stadium had been demolished, may have been themselves demolished too, so the one described is more likely to be the one which now presently covers the site.
EVIDENCE LEFT TODAY——————-Nothing known of.
FURTHER COMMENTS——————–None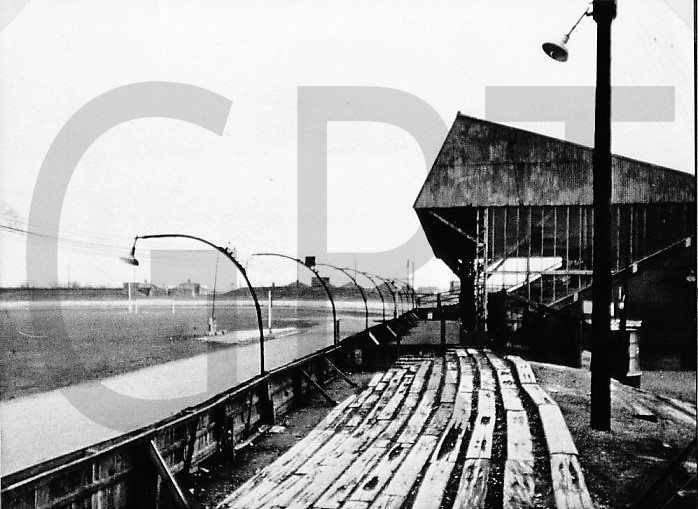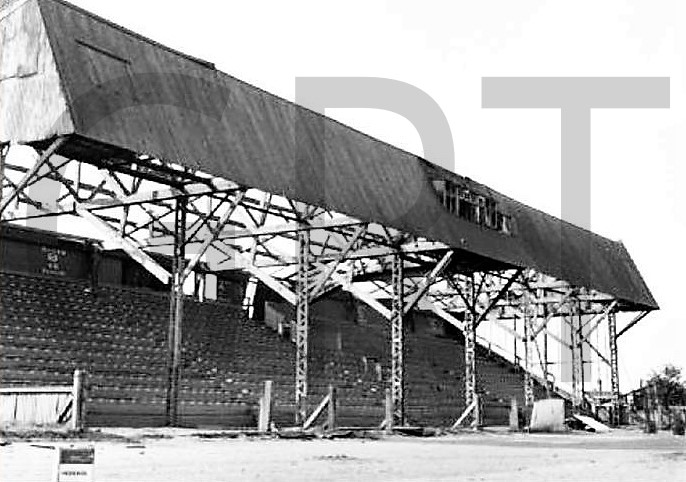 Norwich became one of only a handful of cities away from London, to host a cluster of Greyhound Racing venues. One of those was at The Firs Greyhound Stadium, which became the first of four greyhound tracks that would begin operations during the 1930's.
The Firs was located roughly three miles north of Norwich city centre, in a district known as Hellesdon, situated along Aylsham Road roughly a quarter of a mile south west of were Norwich Airport lies today. The original site had been nothing more than farm grazing land, but it soon took the shape of a grass Speedway track during 1930.
The Speedway had become so much of an attraction, that in 1931, a more permanent cinder track was laid, with the track itself becoming fenced off, along with the erection of earth banks to create better spectator viewing. In 1932, a grandstand was erected, a year in which also witnessed the introduction of Greyhound Racing.
Competition was on the cards from the word go, as another new greyhound stadium was under construction at Boundary Park, just one mile south of The Firs track. Both greyhound tracks would see events staged under NGRC rules, with The Firs track promoting its first meeting on the 30th of July 1932, nine weeks prior to the one at Boundary Park. Sadly, the stiff competition created between the two tracks, contributed to The Firs premature closure, after less than three years of operation, its final meeting came on the 14th of January 1935.
Speedway continued at The Firs, only to be interrupted by the hostilities of the Second World War, a period on which the track became closed to all sporting events. By the 1960's the city of Norwich was expanding rapidly, and the need of land to build new housing was becoming more apparent. It came as no surprise when in 1964 the stadium closed, having been sold to developers.
Although derelict, the stadium hosted a handful of speedway practice sessions during 1965, the year in which The Firs eventually became demolished. By the end of the 1960's a new housing estate had covered the site, and that is how it remains today, with houses on Meadow Road and a children's recreation park pinpointing its once location, yet it leaves no trace of a stadium ever having been there.
A programme, photograph or even memorabilia for this track is required for this page, if you can help please contact me.