The ex-home of Chelmsford Football Club, New Writtle Street, Chelmsford, Essex.
POSTCODE———————————-CM2 0RR
LOCATED————————————Just south of Chelmsford town centre ,next door to Chelmsford Cricket ground.
ORIGINAL SITE—————————–Recreational Grounds.
DATE CONSTRUCTED——————–1922
DATE VENUE OPENED——————-1922 for Chelmsford Football Club.
Meaning other sports may have taken place prior to the arrival of Greyhound Racing.
FIRST MEETING—————————–May 16th 1932.
Greyhound Racing only.
LICENSED OR INDEPENDENT———-Independent
All venues covered would have to be licensed with the government, licensed suggested in this section would refer to tracks operating under NGRC Rules.
INSIDE OR OUTSIDE HARE TYPE——Mechanical hare system.
Please note that the Electric Hare suggested is only a guidance and would have been in operation for a certain amount of time at this venue. Although it is not necessarily guaranteed that it was operational all the time, as other types of lure may have been used and updated as time progressed.
DISTANCES———————————–400 and 550 yards.
Please note that most racing venues distances had become varied throughout the years, the ones given above were at once point set and offers only a guidance to the track size.
CIRCUMFERENCE—————————Don't know.
Please note that alterations at most racing venues throughout its existence would see that the circumference of the track would vary, the one shown above offers only a guidance to the track size.
BIG RACE NAMES—————————Chelmsford Derby.
STADIUM SHARED WITH——————Chelmsford City Football Club.
LAST MEETING——————————-October 12th 1936.
Greyhound Racing only.
STADIUM CLOSURE DATE—————-1997
Meaning other sports may have taken place after Greyhound Racing had ceased.
STADIUM DEMOLITION——————-1997
BUILT ON SITE——————————-A modern Health Club on the Meads, just off New Writtle Street.
In some cases, structure's that originally covered the venue after the stadium had been demolished, may have been themselves demolished too, so the one described is more likely to be the one which now presently covers the site.
EVIDENCE LEFT TODAY——————-Nothing known of.
FURTHER COMMENTS——————–None.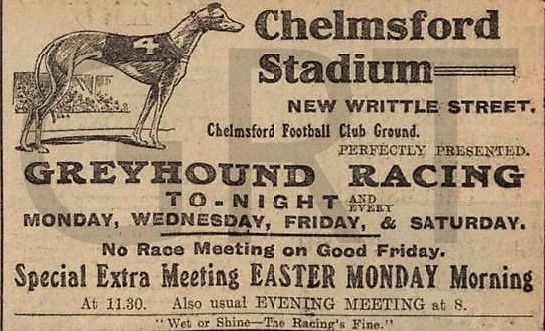 Chelmsford is a cathedral city located in the county of Essex, more recognised as a sporting base for cricket, as it is the home to Essex County Cricket Club. It is also the home of amateur football club Chelmsford City, who today play at the cities newly equipped Athletics Stadium on the eastern side of the city. But it is the football club that the link with Greyhound Racing lies, although not at today's venue, but at a venue that an earlier Chelmsford Football Club once occupied.
Kings Head Meadow was huge purpose-built recreational area that began to develop along the side of the River Can during the 1890's. But in 1922 Chelmsford Football Club had been given permission to develop a section of the park that would eventually become their new stadium. The new Chelmsford Stadium as it was known, was found less than a mile southwest of Chelmsford city centre, along the side of a road called New Writtle Street.
The new stadium opened for amateur football in 1922, but by 1927 attempts had already been made to stage the up-and-coming sport of Greyhound Racing, but the new idea was soon rejected due to complaints from local clergymen. Newspaper reports had confirmed that dog racing was in existence at Kings Head Meadow during 1929, but it was in January 1932 that Greyhound Racing began to feature more often, although only on a temporary basis. It would take another four months before the venue could announce that it would be running regular meetings, after a more permanent license had been obtained.
Opening up as an independent track, poor weather conditions hindered its first meeting on a Whit Monday of May 16th 1932, with a good crowd witnessing a greyhound called Douthfull Dan win the main event, The Chelmsford Derby over the 500-yard course. Greyhound racing ceased during the Winter months of 1932, a period which saw track lighting added, a new kennel block built, and also the installation of a new mechanical hare system. Race distances of 400, and 550 yards were calibrated, including hurdling events, and by March 1933, Greyhound Racing was back featuring four times a week at Chelmsford. But it seemed as though success was only brief as racing came to a halt in June.
It would take another two years before Greyhound Racing made a comeback, opening up in July of 1935, and continued to do so before closing again with its final meeting on the 12th of October 1936. Football continued to be the venue's main attraction, but by the end of the 1938-39 season, Chelmsford Football Club folded leaving the stadium unoccupied. In 1938 a new football club had been formed known as Chelmsford City, and it was due to this formation that the old Chelmsford Stadium was partly demolished, only to be replaced by a much more modern New Writtle Street Ground.
Once the Second World War hostilities had ceased, another attempt to bring Greyhound Racing back to Chelmsford was thwarted, again due to objections by locals. Greyhound Racing did return once more to the city, this time in October 1949, when a track was laid in a farmer's field on the outskirts, but this was nothing more than a brief encounter, and ceased just after eight meetings.
The New Writtle Street Stadium continued to host football for almost the next fifty years or so before it was deemed unsafe and demolished in 1997. A new health club known as The Meads, located just off New Writtle Street, now pinpoints the position of were the old venue once lay.
A programme, photograph or even memorabilia for this track is required for this page, if you can help please contact me.