Skegness Stadium, Marsh Lane, Orby, Nr Skegness, Lincolnshire.
POSTCODE———————————-PE24 5JA
LOCATED————————————About three miles west of Skegness near the village of Orby.
ORIGINAL SITE—————————–Farm grazing land, but was used as a Radar Base during The Second World War.
DATE CONSTRUCTED——————–1977
DATE VENUE OPENED——————-1977
Meaning other sports may have taken place prior to the arrival of Greyhound Racing.
FIRST MEETING—————————–July 16th 1981.
Greyhound Racing only.
LICENSED OR INDEPENDENT———-Independent.
All venues covered would have to be licensed with the government, licensed suggested in this section would refer to tracks operating under NGRC Rules.
INSIDE OR OUTSIDE HARE TYPE——Had spells of both Outside and inside Sumner.
Please note that the Electric Hare suggested is only a guidance and would have been in operation for a certain amount of time at this venue. Although it is not necessarily guaranteed that it was operational all the time, as other types of lure may have been used and updated as time progressed.
DISTANCES———————————–270, 460 and 640 metres.
Please note that most racing venues distances had become varied throughout the years, the ones given above were at once point set and offers only a guidance to the track size.
CIRCUMFERENCE—————————About 370 metres.
Please note that alterations at most racing venues throughout its existence would see that the circumference of the track would vary, the one shown above offers only a guidance to the track size.
BIG RACE NAMES—————————East Coast Derby.
STADIUM SHARED WITH——————Stock Car and Banger Racing. Speedway once the greyhounds had gone.
LAST MEETING——————————-Possibily February 16th, 1991.
Greyhound Racing only.
STADIUM CLOSURE DATE—————-Still there used for motor sports.
Meaning other sports may have taken place after Greyhound Racing had ceased.
STADIUM DEMOLITION——————-N/A
BUILT ON SITE——————————-N/A
In some cases, structure's that originally covered the venue after the stadium had been demolished, may have been themselves demolished too, so the one described is more likely to be the one which now presently covers the site.
EVIDENCE LEFT TODAY——————-Nothing known of.
FURTHER COMMENTS——————–None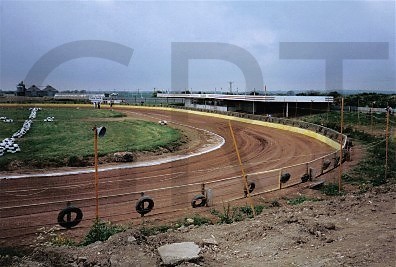 It would not be a good idea to travel into the Lincolnshire coastal resort of Skegness, thinking that you may find the site of an old greyhound stadium, as the tracks location happened to be more near the village of Orby, a few miles West of the town.
Greyhound Racing was once staged at the Skegness Stadium, a venue that remains situated in a rural area on Marsh Lane, and still offers Stock Car and Banger Racing as its main attractions. Although the stadium developed during the late seventies in an area that happened to be arable farmland, the actual site had been used during the Second World War as a radar station, which had been abandoned once hostilities had ceased.
The Orby stadium opened up for business in 1977 with Stock Car and Banger Racing being its attractions, but an approach by Greyhound Racing enthusiasts in 1981 was soon to change things. A sanded track was laid around the Stock Car track, which had a circumference of 370 metres and created distances of 270, 460 and 640 metre trips. The venue could now offer five dog race events, with the hounds chasing an outside Sumner type hare. Operating as a flapping track its first meeting came on the 16th of July 1981 only a week after its neighbours, Cleethorpes, had run theirs.
Early meetings showed much promise regarding attendances, but due to the novelty wearing off and also the shortage of entrants, Greyhound Racing had ceased within four months. The short spell of its pioneering period would prove that greyhound racing a Skegness was going to be tough, as it proved throughout its existence by opening and closing a good number of times. Greyhound Racing reappeared the following Spring, this time under new management but again failed miserably.
Throughout the next ten years Skegness continued with its future always hanging in the balance, with track distances varying slightly, six dog races also tried, along with periods of operating with an outside and inside hare's that happened to switch on more than one occasion. The opening and closing weren't helped by the attitude of the Stock Car promoters, who seemed to look down on Greyhounds Racing, believing the stadium was more for motor sports than for dogs, which certainly created poor relations with both promoters.
By November 1990 and having seen the rent of the stadium increased by 150%, Greyhound Racing returned once more, this time under another promoter, who contributed around £21,000 on new improvements, hoping this time his efforts would make things work at Skegness. Sadly, it wasn't to be as the cold spell during late January and early February had seen meetings postponed, but during his absence prior to a meeting arranged for the 16th of February, things had drastically changed. Without him knowing, the Stock Car promoters had extended the spectator viewing area over the greyhound track and had narrowed the circuit to just 8 feet in some places. They had created a spectator viewing area around the bends using soil and sand from the existing greyhound track and had also cut power lines that fed the traps.
These actions had been the final nails in the coffin for Greyhound Racing, but it would also see the promoter take out court proceedings against Trackstar, the Stock Car Group. Today, the Skegness Stadium continues to offer motor sports, with Speedway having featured during 1997 and 1998, but poor crowds and disagreements with not surprisingly, the Stock Car promoters, forced the Speedway team to locate elsewhere.
A programme, photograph or even memorabilia for this track is required for this page, if you can help please contact me.