Clyde Valley Sports Ground, Airbles Road, Motherwell, Lanarkshire.
POSTCODE———————————-ML1 3BJ
LOCATED————————————Half a mile south west of Motherwell town centre.
ORIGINAL SITE—————————–Around the turn of the 20th century it was woodland known as Logan's Plantation, but this area was cleared and used for grazing land prior to the development of the stadium.
DATE CONSTRUCTED——————–Early 1920's.
DATE VENUE OPENED——————-1930 for Speedway.
Meaning other sports may have taken place prior to the arrival of Greyhound Racing.
FIRST MEETING—————————–July 22nd 1932.
Greyhound Racing only.
LICENSED OR INDEPENDENT———-Independent
All venues covered would have to be licensed with the government, licensed suggested in this section would refer to tracks operating under NGRC Rules.
INSIDE OR OUTSIDE HARE TYPE——Inside
Please note that the Electric Hare suggested is only a guidance and would have been in operation for a certain amount of time at this venue. Although it is not necessarily guaranteed that it was operational all the time, as other types of lure may have been used and updated as time progressed.
DISTANCES———————————–320 and 525 yards.
Please note that most racing venues distances had become varied throughout the years, the ones given above were at once point set and offers only a guidance to the track size.
CIRCUMFERENCE—————————Don't know.
Please note that alterations at most racing venues throughout its existence would see that the circumference of the track would vary, the one shown above offers only a guidance to the track size.
BIG RACE NAMES—————————Nothing known of.
STADIUM SHARED WITH——————Speedway, but the venue known as The Paragon to Speedway followers between 1930 and 1932.
LAST MEETING——————————-December 19th 1959.
Greyhound Racing only.
STADIUM CLOSURE DATE—————-1972 when Speedway finished.
Meaning other sports may have taken place after Greyhound Racing had ceased.
STADIUM DEMOLITION——————-Early 1970's.
BUILT ON SITE——————————-A bus depot was built on the site during the early 1970's, but that too has gone, at present new housing called Springfields on Hamilton Road now cover the site.
In some cases, structure's that originally covered the venue after the stadium had been demolished, may have been themselves demolished too, so the one described is more likely to be the one which now presently covers the site.
EVIDENCE LEFT TODAY——————-A good section of rusty old cast iron railings found at the side of Airbles Road was once its outer fence and virtually pinpoints its once location.
FURTHER COMMENTS——————–Below-A contribution paragraph from Speedway enthusiast Jim Henry.
The site of the Greyhound track in Airbles Road in Motherwell was a refuse tip when a track for speedway was laid out. It was originally a practice track but later it was named Paragon Speedway and may have been used to stage a few meetings. No conclusive records have been found to confirm this. In 1932 a Company called Lanarkshire Speedways revisited the site and set about building a better track. Meetings proposed for early May had to be postponed because of a large hole opening up on the site. The hole was infilled and the track completed and four meetings were planned for June 1932. As far as can be established 2 meetings were staged and 2 were rained off. During June an announcement was made that a dog track was made. The greyhound track was opened in July 1932. As far is known no speedway meetings were staged after the greyhound track was built and opened.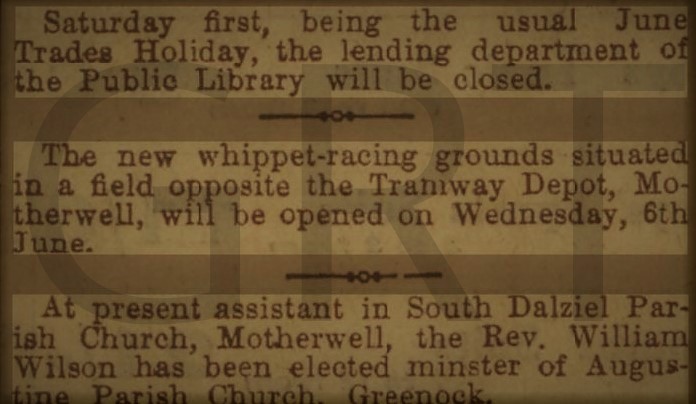 Soon after the demise of the First World War, a section of woodland, known as Logan's Plantation was cleared to make way for a recreation ground. During the 1920's the site became used for a good number of different sports such as Junior Football, Rugby, Athletics, and also Whippet Racing on a straight course.
The site was located within half a mile, southwest of Motherwell's town centre, situated along the side of Airbles Road, and became known in time as The Clyde Valley Sports Ground. It was during 1928 that the owners of the nearby Carfin Greyhound Track became interested in bringing Greyhound Racing to the area, but their interest waned as the promoters of Speedway Racing had plans to make their venture flourish.
The stadium became known as The Paragon Speedway Track, but it would be July 1930 before Speedway racing featured for the first time, although practice sessions had taken place previous. But things did not go to plan, as poor attendances contributed to the end of Speedway in 1932. With the stadium now barely in use, it became a period where another Greyhound Racing syndicate began to show interest, who eventually changed the venues name to The Clyde Sports Stadium.
Opening up as a flapping track, The Clyde Sports Stadium staged its first meeting on the 22nd of July 1932, offering six dog racing events over distances of 320 and 525 yards, with the hounds chasing an inside hare. Greyhound Racing would continue throughout the Second World War, but eventually came to a close in December 1959. It would take a tragic accident to contribute to the venue's closure.
During a meeting on the 19th of December 1959, the proprietor's son who was operating the starting apparatus, received a fatal electric shock that would cost him his life. Racing was immediately abandoned, the accident also contributed to the tracks permanent closure.
1960 witnessed the demolition of the stadium, with the site being replaced by a bus depot which was built during 1961. Yet even the bus depot, is no longer there as its foundations having been replaced by a new building called The Trigon Call Centre, which clearly dominates the local horizon.
Very little remains regarding evidence of the old sports stadium, but its location can still be pinpointed by old cast iron railings along Airbles Road, as they give an insight of were the stadiums perimeter once lay.
New on sale A Speedway Publication offering further info at Motherwell.
A programme, photograph or even memorabilia for this track is required for this page, if you can help please contact me.