Home of Boston United Football Club, Shodfriars Lane, York Street, Boston, Lincolnshire.
POSTCODE———————————-PE21 6JN
LOCATED————————————Less than half a mile east of Boston's Railway station.
ORIGINAL SITE—————————–A football pitch.
DATE CONSTRUCTED——————–The site had been used by local football teams since the late1800's.
DATE VENUE OPENED——————-No official date, just developed for local football teams.
Meaning other sports may have taken place prior to the arrival of Greyhound Racing.
FIRST MEETING—————————–May 25th 1932.
Greyhound Racing only.
LICENSED OR INDEPENDENT———-Independent
All venues covered would have to be licensed with the government, licensed suggested in this section would refer to tracks operating under NGRC Rules.
INSIDE OR OUTSIDE HARE TYPE——Dont know.
Please note that the Electric Hare suggested is only a guidance and would have been in operation for a certain amount of time at this venue. Although it is not necessarily guaranteed that it was operational all the time, as other types of lure may have been used and updated as time progressed.
DISTANCES———————————–Dont know.
Please note that most racing venues distances had become varied throughout the years, the ones given above were at once point set and offers only a guidance to the track size.
CIRCUMFERENCE—————————Don't know.
Please note that alterations at most racing venues throughout its existence would see that the circumference of the track would vary, the one shown above offers only a guidance to the track size.
BIG RACE NAMES—————————Nothing known of.
STADIUM SHARED WITH——————Boston United Football Club.
LAST MEETING——————————-September 1939 closed due to the outbreak of World War Two.
Greyhound Racing only.
STADIUM CLOSURE DATE—————-Still hosting football matches.
Meaning other sports may have taken place after Greyhound Racing had ceased.
STADIUM DEMOLITION——————-N/A
BUILT ON SITE——————————-N/A
In some cases, structure's that originally covered the venue after the stadium had been demolished, may have been themselves demolished too, so the one described is more likely to be the one which now presently covers the site.
EVIDENCE LEFT TODAY——————-Nothing regarding Greyhound Racing.
FURTHER COMMENTS——————–None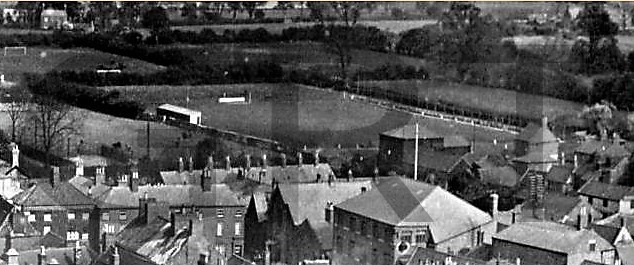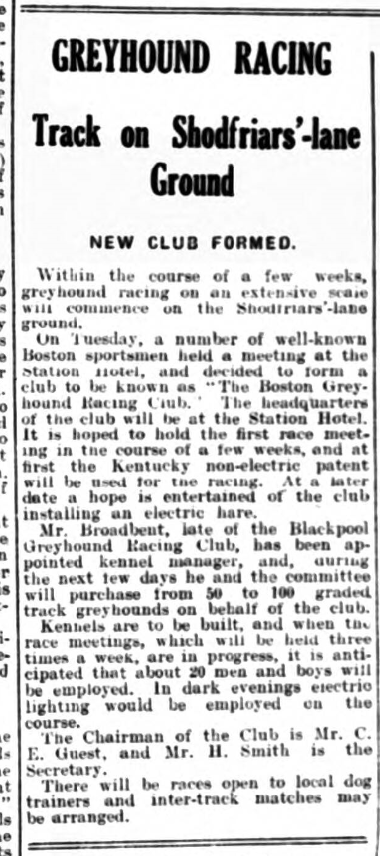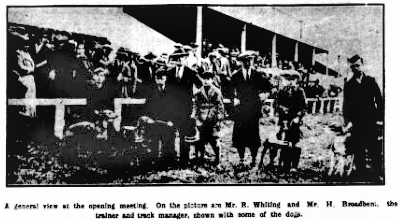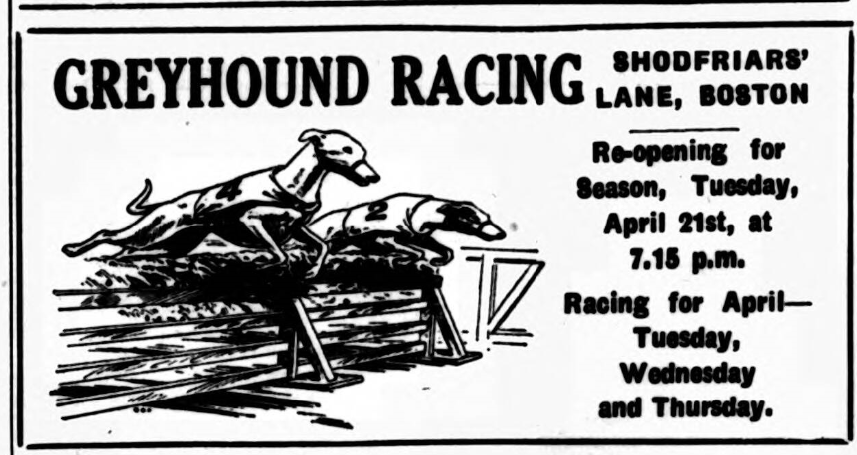 Over the year's the Lincolnshire spa town of Boston has hosted Greyhound Racing at more than one venue in the town, yet none of which have lasted anywhere near a decade as a permanent track. The first signs of Greyhound Racing began during the early 1930's on a football ground on Shodfriars Lane, situated just of York Street, very close to the town centre, a venue that happened to be the home of Boston football club.
Dog racing first featured on the 25th of May 1932 on a temporary track that was laid around just two corners of the football pitch. Little is known on how it operated, but during 1934, the newly formed Boston United began playing fixtures there, but more significantly was a happening during August when a new greyhound company took control and improved the greyhound track so that it would encircle the whole perimeter of the pitch.
The new company also installed track lighting, and built a large kennel block, and owned enough greyhounds to stage four meetings per week. Sadly, the outbreak of the Second World War during September 1939, put a halt to the sport at Boston, with the temporary closure enforced by the war office eventually becoming a permanent one.
Its closure may have been due to the shortage of fuel and pet supplies, but also the unlikely chance of staging daylight meetings, with the football club having priority of any use. Today, the stadium at York Street still exists and is the home to Boston United Football Club, although the venue is totally transformed from the days of Greyhound Racing, it is a very impressive non-league ground indeed, with four huge floodlight pylons, and covered stands on each of the four sides of the ground.
A programme, photograph or even memorabilia for this track is required for this page, if you can help please contact me.