Ensbury Park Racecourse, Ensbury, Bournemouth, Dorset.
POSTCODE———————————-BH10 8HZ is were the southern tip of the racecourse was, nothing found regarding greyhound track.
LOCATED————————————About four miles north of Bournemouth town centre.
ORIGINAL SITE—————————–RAF Winton which closed in 1919.
DATE CONSTRUCTED——————–The figure of eight racecourse was constructed by Sir Robert McAlpine during 1924.
DATE VENUE OPENED——————-The first National Hunt Meeting during 1925.
Meaning other sports may have taken place prior to the arrival of Greyhound Racing.
FIRST MEETING—————————–January 7th 1928
Greyhound Racing only.
LICENSED OR INDEPENDENT———-Independent
All venues covered would have to be licensed with the government, licensed suggested in this section would refer to tracks operating under NGRC Rules.
INSIDE OR OUTSIDE HARE TYPE——Trackless type.
Please note that the Electric Hare suggested is only a guidance and would have been in operation for a certain amount of time at this venue. Although it is not necessarily guaranteed that it was operational all the time, as other types of lure may have been used and updated as time progressed.
DISTANCES———————————–Dont know.
Please note that most racing venues distances had become varied throughout the years, the ones given above were at once point set and offers only a guidance to the track size.
CIRCUMFERENCE—————————Dont know.
Please note that alterations at most racing venues throughout its existence would see that the circumference of the track would vary, the one shown above offers only a guidance to the track size.
BIG RACE NAMES—————————Nothing found.
STADIUM SHARED WITH——————Horse Racing.
LAST MEETING——————————-February 18th 1928, having staged 9 meetings only.
Greyhound Racing only.
STADIUM CLOSURE DATE—————-Late 1920's.
Meaning other sports may have taken place after Greyhound Racing had ceased.
STADIUM DEMOLITION——————-Grandstand demolished during 1934.
BUILT ON SITE——————————-Leybourne Housing Estate.
In some cases, structure's that originally covered the venue after the stadium had been demolished, may have been themselves demolished too, so the one described is more likely to be the one which now presently covers the site.
EVIDENCE LEFT TODAY——————-Nothing known of.
FURTHER COMMENTS——————–None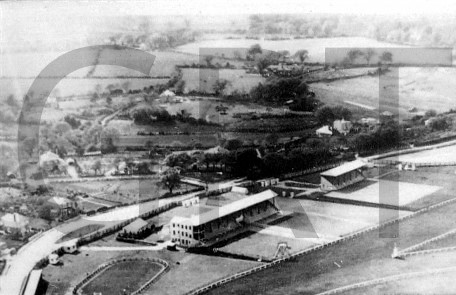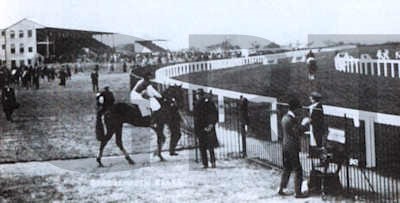 Another of England's coastal towns that hosted greyhound racing was Bournemouth in Dorset, a town that could also boast it had two different venues, although neither of them operated at the same period of time. The first one that featured the sport was known as Ensbury Park, the second being Victoria Park, which still survives today, albeit not as a greyhound track, but as the home to an amateur football club.
The one described in this section became known as Ensbury Park, which developed on a vast 118 acre section of land that hosted not only horse racing, but grass track speedway, greyhound racing, pony racing and even staged air racing events. Originally the land had been an old aerodrome known as RAF Winton, which had been abandoned as a civil aerodrome during the early 1920's, although it had been operational as an Air Force base throughout The First World war.
The main feature of this vast area was its two mile figure of eight racecourse, which was designed and built under the guidance of Sir Robert McAlpine during 1924. It had cost of over £100,000 to construct, and consisted of two huge grandstands, complete with stabling for one hundred race horses, before being ready to stage its first National Hunt Meeting in April 1925. In 1926 Air Racing events took place during the summer months, and with the land being so vast it attracted other sports promoters as well, such as Grass Speedway, which was first staged during November 1927.
Yet within a month of this, a greyhound track had been laid, although the exact location of the track is yet to be determined. Opening up as an independent track, the first meeting for the greyhounds was arranged for Boxing Day 1927, but as blizzards swept across the south coast, the grand opening was delayed. It would take almost two weeks before the ice would clear and the grand opening did not feature until the 7th of January 1928.
The introduction of greyhound racing immediately triggered objections from The National Hunt Committee, with a statement being issued to the venue's owners, The Bournemouth Racecourse Company, saying that no horseracing would take place if greyhound racing was to continue. After discussions between the two camps during late February, the NHC got their wish, with a statement announcing that all future greyhound meetings would be cancelled. Another statement was to follow, this time from the greyhound company, who explained that due to future unpleasantness, the lease had to be terminated, and after just nine meetings, Ensbury Park staged its last meeting on the 18th of February 1928.
Although horse racing continued, Pony Racing became the next sport to feature at the venue, with events being run during May 1928. This sport too was short lived as The Racecourse Company went into administration the following month, then followed soon after by the Greyhound Company who also folded. Odd National Hunt Meetings did continue, and greyhound racing featured unofficially, but not much happened on the site until it was eventually sold for housing in 1931. After the building of new houses on the site had begun, the main grandstand was demolished during 1934, with sections of the timber structure being used as fencing for some of the houses that had already been built.
Today, the site is covered by the Leybourne Housing Estate, which is situated approximately four miles north of Bournemouth town centre, and leaves no evidence at all of a racecourse ever being there.