Groveway Stadium, Ashlands, Milton Keynes, Buckinghamshire.
POSTCODE———————————-MK6 4AZ
LOCATED————————————Two miles north east of Bletchley town centre and two miles north west of Milton Keynes town centre, with the site situated about half a mile south west of the present MK Dons football stadium.
ORIGINAL SITE—————————-Farm grazing land.
DATE CONSTRUCTED——————–Developed as a schooling track for greyhounds between 1946 and 1948.
DATE VENUE OPENED——————-July 1963.
Meaning other sports may have taken place prior to the arrival of Greyhound Racing.
FIRST MEETING—————————–July 25th 1963.
Greyhound Racing only.
LICENSED OR INDEPENDENT———-Mainly NGRC, but early days had seen it operating as an independent track but did iy switch to NGRC on more than one occasion.
All venues covered would have to be licensed with the government, licensed suggested in this section would refer to tracks operating under NGRC Rules.
INSIDE OR OUTSIDE HARE TYPE——Originally inside Sumner the switched to Outside McGee during the mid 1970's.
Please note that the Electric Hare suggested is only a guidance and would have been in operation for a certain amount of time at this venue. Although it is not necessarily guaranteed that it was operational all the time, as other types of lure may have been used and updated as time progressed.
DISTANCES———————————–245, 440, 620 and 805 metres.
Please note that most racing venues distances had become varied throughout the years, the ones given above were at once point set and offers only a guidance to the track size.
CIRCUMFERENCE—————————375 metres.
Please note that alterations at most racing venues throughout its existence would see that the circumference of the track would vary, the one shown above offers only a guidance to the track size.
BIG RACE NAMES—————————Milton Keynes Derby, Milton Keynes Summer Cup and The Christmas Cracker.
STADIUM SHARED WITH——————Speedway from 1978 to 2005.
LAST MEETING——————————-December 26th 2005.
Greyhound Racing only.
STADIUM CLOSURE DATE—————-December 2005.
Meaning other sports may have taken place after Greyhound Racing had ceased.
STADIUM DEMOLITION——————-2006
BUILT ON SITE——————————-New housing on The Martlett and Langham Way now covers the site.
In some cases, structure's that originally covered the venue after the stadium had been demolished, may have been themselves demolished too, so the one described is more likely to be the one which now presently covers the site.
EVIDENCE LEFT TODAY——————-Nothing known of.
FURTHER COMMENTS——————–The Bletchley Stadium became known as The Milton Keynes stadium around 1974.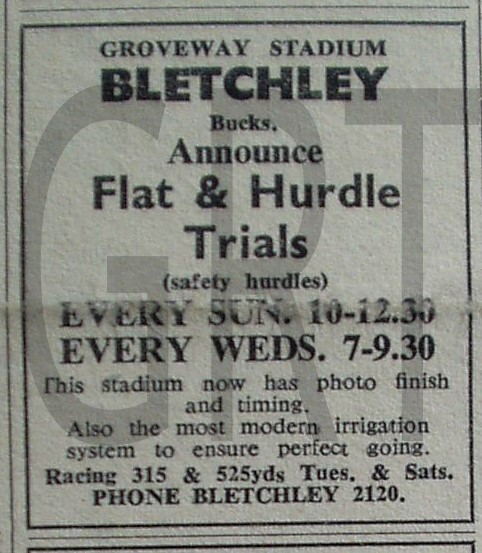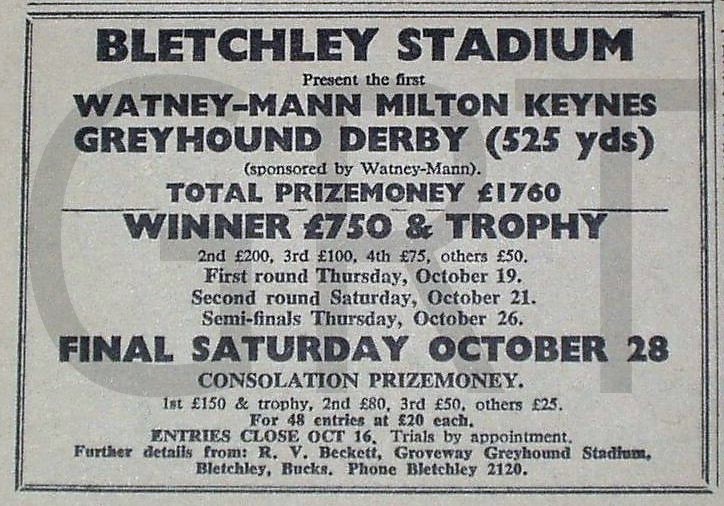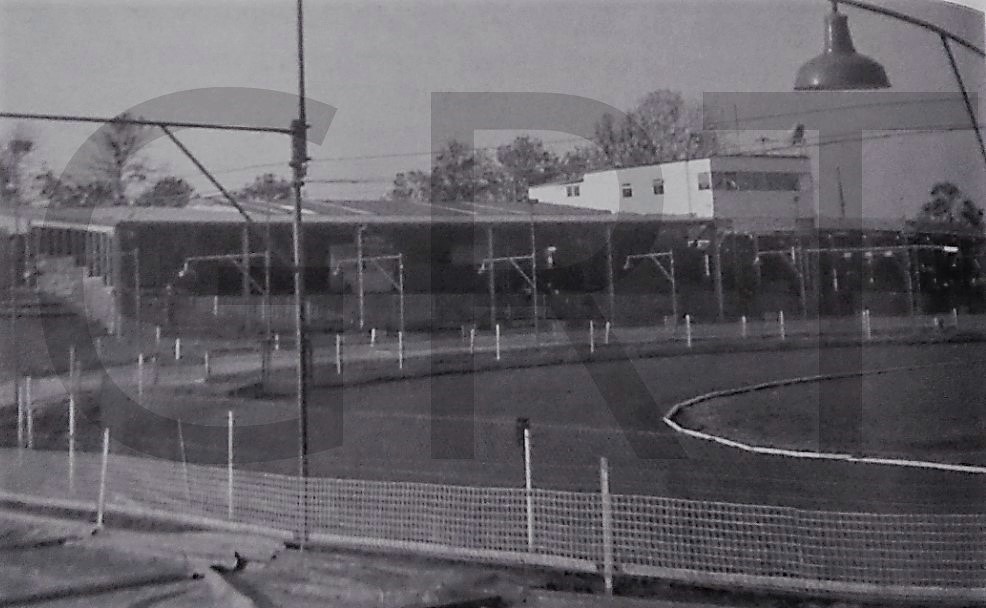 This next section describes a Greyhound Stadium that had two different location titles during its existence and could be quite easily mistaken as two totally different venues if unaware. To put the matter straight, The Bletchley Greyhound Stadium eventually became known as The Milton Keynes Stadium and was located in a district known as Ashlands.
The district of Ashlands lies exactly two miles northeast of Bletchley Town Centre, and two miles southwest of Milton Keynes. Its origin had been a greyhound schooling track constructed on a section of grazing land during the months following the end of The Second World War. The tracks promoter had applied for an independent license, but with the track being in such a primitive state, the application was declined.
It would take almost fifteen years before the matter was resolved, with its opening meeting being staged on the 25th of July 1963. Opening up as flapping track, it became known as The Groveway Greyhound Stadium, Bletchley, and became one of the first independents to race on an all-sanded surface.
In July 1971 the Bletchley track switched codes, and began promoting racing under NGRC rules, with trainers being offered a Class C Permit License to race their dogs. By 1972 the future of the track looked in the balance, after 60 acres of land close by, was bought by the council under The Compulsory Purchase Order Agreement, with Milton Keynes requiring more land for its ever-expanding town.
Fortunately, the track was reprieved as the 12-acre site was not required at that period of time. Throughout its existence drainage of the site had been poor, and it wasn't much of a surprise when a meeting would become postponed due to the track being waterlogged. But in November 1973 the track closed to try and resolve the problem, seeing the track being raised by as much as fifteen feet in some areas.
By July 1974 the track was back in action, and was now known as The Groveway Stadium, Milton Keynes, with the new title appearing in adverts inside its race cards. The reopening had also seen The Groveway track reverting back to an independent, but again switched back to operating under NGRC rules once again in 1980.
The circuit had a circumference of 375 metres, creating racing distances of 245, 440, 620 and 805 metres. Its early days had seen the greyhounds chase an inside Sumner type hare, but that changed too when switching to NGRC standards, by installing the updated outside McGee. It had a crowd capacity of 3,000, and accommodation for around one hundred guests in its restaurant. It ran regular six dog races, with its big attractions being the Milton Keynes Summer Cup, The Milton Keynes Derby, and The Christmas Cracker run during not surprisingly in December.
In 1978 the venue became a multi sports stadium, with Speedway arriving and featuring regular right up until its closure nearly thirty years later. But by the turn of the 21st century, the site of The Groveway Stadium had become part of Milton Keynes expansion development scheme and came as no surprise when it was announced that it had been purchased by the council under The Compulsory Purchase Order Scheme.
Milton Keynes staged its final meeting on the 26th of December 2005, seeing the stadium bulldozed the following year. Today the area around were the Ashfield venue once stood has become totally transformed, as new housing on "The Martlett" and Langham Way pinpoints its once location, which are found within half a mile Southwest of MK Dons impressive football stadium.
Although chances of Greyhound Racing ever returning to Milton Keynes remains remote, rumours of a new sports stadium to be constructed on Elfield Park is more directed towards Speedway followers, but even today nothing has yet materialised.
A programme, photograph or even memorabilia for this track is required for this page, if you can help please contact me.