ex Home of Plymouth Albion Rugby Union Club, Beacon Park Road, Plymouth, Devon.
POSTCODE———————————-PL2 2SJ
LOCATED————————————Two miles north of Plymouth city centre and about half a mile north of Plymouth Argyle Football Clubs Stadium.
ORIGINAL SITE—————————–Farm grazing land.
DATE CONSTRUCTED——————–1920's.
DATE VENUE OPENED——————-1920's for Plymouth Albion Rugby Club.
Meaning other sports may have taken place prior to the arrival of Greyhound Racing.
FIRST MEETING—————————–May 5th 1928, although a charity meeting had been staged on an adjacent field during the 7th of April 1928.
Greyhound Racing only.
LICENSED OR INDEPENDENT———-Independent
All venues covered would have to be licensed with the government, licensed suggested in this section would refer to tracks operating under NGRC Rules.
INSIDE OR OUTSIDE HARE TYPE——Trackless hare system.
Please note that the Electric Hare suggested is only a guidance and would have been in operation for a certain amount of time at this venue. Although it is not necessarily guaranteed that it was operational all the time, as other types of lure may have been used and updated as time progressed.
DISTANCES———————————–525 yards.
Please note that most racing venues distances had become varied throughout the years, the ones given above were at once point set and offers only a guidance to the track size.
CIRCUMFERENCE—————————Dont know.
Please note that alterations at most racing venues throughout its existence would see that the circumference of the track would vary, the one shown above offers only a guidance to the track size.
BIG RACE NAMES—————————Nothing known of.
STADIUM SHARED WITH——————Plymouth Rugby Union Club.
LAST MEETING——————————-July 4th 1931, although two planned future meetings were cancelled due to waterlogged surfaces.
Greyhound Racing only.
STADIUM CLOSURE DATE—————-2003 when rugby union ended.
Meaning other sports may have taken place after Greyhound Racing had ceased.
STADIUM DEMOLITION——————-2003
BUILT ON SITE——————————-Houses on Barlow Gardens.
In some cases, structure's that originally covered the venue after the stadium had been demolished, may have been themselves demolished too, so the one described is more likely to be the one which now presently covers the site.
EVIDENCE LEFT TODAY——————-Nothing known of.
FURTHER COMMENTS——————–The continuation of Greyhound Racing was transferred to Beacon Park in Plymouth.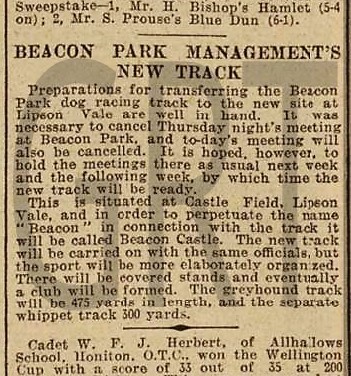 The pioneering years of greyhound racing had seen the Devon city of Plymouth host the sport at a good number of venues, with its most successful being the Pennycross Stadium, a track which would host greyhound racing continuously for 44 years. One of these pioneering tracks was known as Beacon Park, which lay just off Baddeley Road, roughly half a mile north of Plymouth Argyles Home Park, and two miles north of Plymouth city centre.
First signs of any sporting activities took place in 1920, when open land became developed to act as a sports field which included a rugby pitch. The following years had seen the pitch becoming enclosed, and soon became the home of Plymouth Albion Rugby Union Club. But in 1928 the open land adjacent to the pitch was chosen to host dog racing, meaning both whippets and greyhounds, with a charity meeting being staged on the 5th of May 1928. The success of the meeting had seen further meetings take place during the summer months of 1928. But it was in 1929 that a new greyhound company approached the rugby club to stage more regular meetings, with a new track being laid around the rugby pitch ready for it first official opening meeting on the 30th of March 1929.
The meeting composed of both whippets and greyhounds, offering six dog racing over 525 yards, with the hounds chasing a trackless hare system. Further success with good crowds attending, had seen greyhound racing feature three times a week. But an announcement during 1931 had sensed that Beacon Park's greyhound racing days were numbered, as plans had been passed for the redevelopment of the venue, which included a new stand and terracing along the side the pitch, which in effect would see the removal of the greyhound track.
At least the warning was there and that the greyhound company had found a new venue at Lipson Vale, which was gradually coming together as the last official meeting had been run on the 4th of July. The meeting on the 4th had been premature as the last had been arranged for the 7th of July, only for it to be cancelled due to the grounds being waterlogged. Building work to transform Beacon Park began on the 9th of July, which in turn would remove any evidence of greyhound racing at the venue.
Beacon Park carried on as the home of Plymouth Albion Rugby Union Club right up until 2003 before the site was sold for redevelopment. Today, the site is now covered by modern dwellings on Barlow Gardens.