Ryehouse Stadium, Rye Road, Hoddesden, Hertfordshire.
POSTCODE———————————-EN11 0EH
LOCATED————————————One mile north east of Hoddesden town centre, just south of the present Ryehouse Stadium.
ORIGINAL SITE—————————–Water Cress beds next to the River Lea.
DATE CONSTRUCTED——————–Developed throughout the 1920's.
DATE VENUE OPENED——————-1934 for Speedway.
Meaning other sports may have taken place prior to the arrival of Greyhound Racing.
FIRST MEETING—————————–1935
Greyhound Racing only.
LICENSED OR INDEPENDENT———-Independent
All venues covered would have to be licensed with the government, licensed suggested in this section would refer to tracks operating under NGRC Rules.
INSIDE OR OUTSIDE HARE TYPE——Drag Lure then inside Sumner.
Please note that the Electric Hare suggested is only a guidance and would have been in operation for a certain amount of time at this venue. Although it is not necessarily guaranteed that it was operational all the time, as other types of lure may have been used and updated as time progressed.
DISTANCES———————————–250 and 450 yards.
Please note that most racing venues distances had become varied throughout the years, the ones given above were at once point set and offers only a guidance to the track size.
CIRCUMFERENCE—————————Don't know.
Please note that alterations at most racing venues throughout its existence would see that the circumference of the track would vary, the one shown above offers only a guidance to the track size.
BIG RACE NAMES—————————Nothing known of.
STADIUM SHARED WITH——————Speedway
LAST MEETING——————————-Late 1957.
Greyhound Racing only.
STADIUM CLOSURE DATE—————-1957.
Meaning other sports may have taken place after Greyhound Racing had ceased.
STADIUM DEMOLITION——————-Redeveloped during 1957 and 1958.
BUILT ON SITE——————————-The present Ryehouse Stadium.
In some cases, structure's that originally covered the venue after the stadium had been demolished, may have been themselves demolished too, so the one described is more likely to be the one which now presently covers the site.
EVIDENCE LEFT TODAY——————-Nothing known of.
FURTHER COMMENTS——————–This venue could be quite easily mistaken for The Ryehouse stadium that still exists today.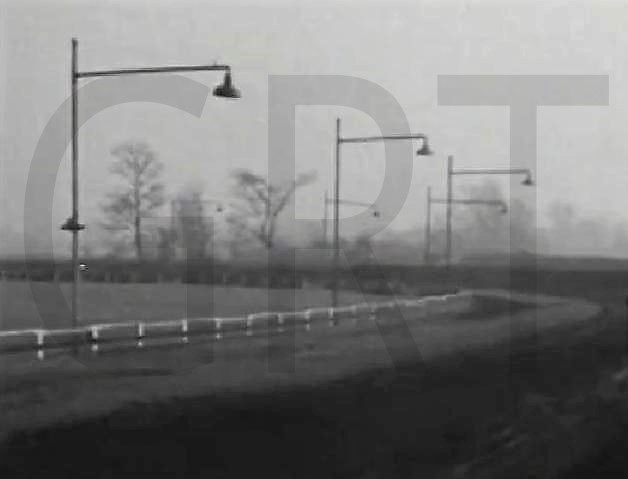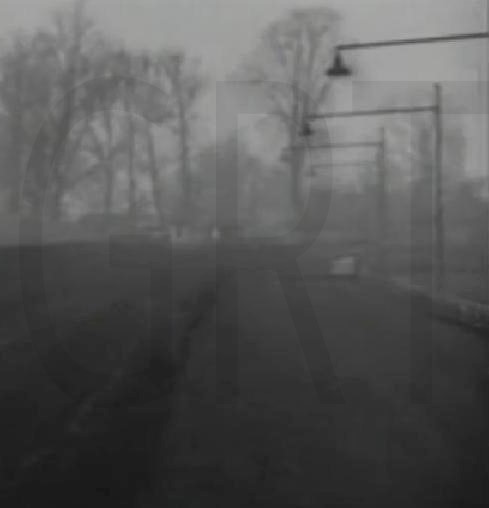 The Hertfordshire town of Hoddesden first staged greyhound racing during 1935, at a venue situated roughly one mile northeast of Hoddesden town centre. It had developed on land close to the River Lea that had been once used for growing water cress during the 19th century.
Prior to greyhound racing, Harness Racing was staged on a circuit laid around the years spanning the First World War. Whippet racing also featured during the early 1920's, but it was during 1934 that dirt track speedway began to build a reputation as the venue's main attraction, using the trotting circuit as its track.
By the following year greyhound racing was staged for the first time, opening up as an independent track, with its grass surfaced track running parallel, inside the trotting circuit. The greyhound track had track lighting, but there was no outside rail, with the inside rail supporting the inside Sumner hare mechanism. Research reveals racing distances of 270 and 460 yards, but it is presumed that the circumference of the track was not all that substantial. Other motor sports featured such as midget racing and grass track speedway, but it was dirt track speedway that became most common, even staging meetings during the Second World War, which was rare for the sport, due to fuel rationing.
Throughout its existence, flooding had hindered meetings of both greyhounds and speedway, its poor drainage not helped by the close proximity of the River Lea. By the mid 1950's it became clear that the greyhound racing promoters were beginning to improve the venue and by 1957 significant changes began to take place. On the 22nd of September 1957 Hoddesden staged Speedway Racing for the very last time, its circuit required to develop a new greyhound track.
A programme, photograph or even memorabilia for this track is required for this page, if you can help please contact me.