Wisbech Stadium, Cromwell Road, South Brink, Wisbech, Cambridgeshire.
POSTCODE———————————-PE14 0RH
LOCATED————————————One mile south west of Wisbech town centre Just of the B198 Cromwell Road, opposite Thurlow Nunn Vauxhall Garage.
ORIGINAL SITE—————————–Farm grazing land.
DATE CONSTRUCTED——————–1947-48
DATE VENUE OPENED——————-May 1948.
Meaning other sports may have taken place prior to the arrival of Greyhound Racing.
FIRST MEETING—————————–May 17th 1948.
Greyhound Racing only.
LICENSED OR INDEPENDENT———-Mainly independent but had to spells of NGRC Racing during its latter years.
All venues covered would have to be licensed with the government, licensed suggested in this section would refer to tracks operating under NGRC Rules.
INSIDE OR OUTSIDE HARE TYPE——Outside Sumner replaced by a the Swaffham type in 1998.
Please note that the Electric Hare suggested is only a guidance and would have been in operation for a certain amount of time at this venue. Although it is not necessarily guaranteed that it was operational all the time, as other types of lure may have been used and updated as time progressed.
DISTANCES———————————–286, 484 and 700 metres.
Please note that most racing venues distances had become varied throughout the years, the ones given above were at once point set and offers only a guidance to the track size.
CIRCUMFERENCE—————————390 metres.
Please note that alterations at most racing venues throughout its existence would see that the circumference of the track would vary, the one shown above offers only a guidance to the track size.
BIG RACE NAMES—————————Nothing known of.
STADIUM SHARED WITH——————Speedway, Stock Car Racing.
LAST MEETING——————————September 20th 2003
Greyhound Racing only.
STADIUM CLOSURE DATE—————-2007
Meaning other sports may have taken place after Greyhound Racing had ceased.
STADIUM DEMOLITION——————-2007
BUILT ON SITE——————————-Retail Park and a Tesco Extra Superstore.
In some cases, structure's that originally covered the venue after the stadium had been demolished, may have been themselves demolished too, so the one described is more likely to be the one which now presently covers the site.
EVIDENCE LEFT TODAY——————-Nothing known of.
FURTHER COMMENTS——————–None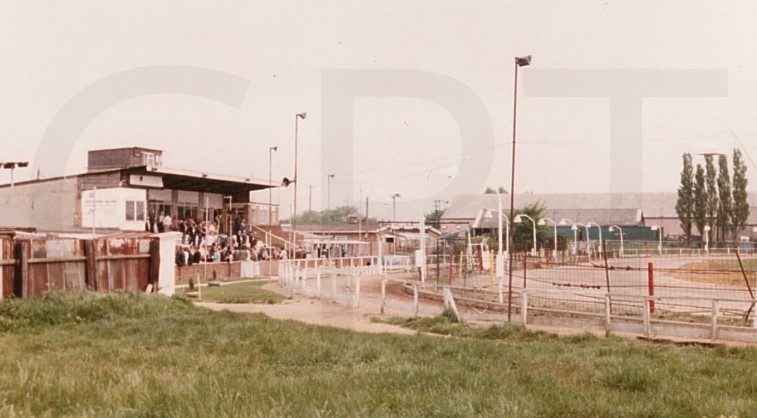 The Fenlands of Cambridgeshire has had its fair share of greyhound tracks, such as March, Peterborough and Huntingdon just to name a few, but another track does come to mind in more recent times, and that is the one at Wisbech. Wisbech Sports Stadium, or the South Brink Greyhound Stadium as it was sometimes known, was located roughly one mile south of Wisbech town centre, situated along the side of the B198 Cromwell road.
It developed on a 7.7 acre section of arable farmland during the post war years of the Second World War as a purpose-built greyhound stadium, although it did have a spell of hosting motor sports, such as speedway racing and stock cars during the 1980's and 90's. On the 17th of May 1948, over four thousand racegoers attended Wisbech's first meeting, whose presence witnessed races consisting of six greyhounds chasing an inside Sumner type hare over distances of 322 and 400 yards. Distances changed throughout the following years, mainly due to track side improvements, and by the early 1970's had become one of the earliest tracks to have an all-sanded circuit.
In 1972, the track hit the headlines for all the wrong reasons after the track promoters had been fined for illegal use of electricity to power track side lighting during the electricity black out. The 1980's saw metric distances set over 286, 484 and 700 metres, with the track having a circumference of 390 metres.
During 1988 the future of Wisbech looked promising as their application to join the NGRC as a permit track was accepted. But things did not go to plan, as poor kennel strength contributed to its delayed start, taking a number of weeks before numbers were sufficient to fill the card, and by 13th of January 1989 the first NGRC meeting had been run. But stiff opposition from nearby Peterborough and Swaffham hampered its progress, with fewer greyhounds available and attendances falling, Wisbech made the switch back to flapping with its proprietors admitting that the failure had been purely financial.
The last meeting that was staged under NGRC rules was on the 30th of July 1991, only to reopen immediately as an independent track two days later. Yet in 1998 another switch to NGRC permit racing saw extra new kennels built and also the replacement of the old Sumner type hare to the more modern Swaffham outside type, with its new date for reopening set for the end of March 1998. More controversy brought on its closure once again, this time in October 2001, after it was revealed that no vet had been attending meetings.
In 2002 the track was put up for sale, and for a short spell the track opened once again as an independent track, but another closure during 2003 signified the end. It had been made clear that the site had been sold for development, although the track would remain available for schooling for local trainers for as long as possible. By the end of 2007 all sporting activities had ceased, and within weeks the bulldozers had moved in to flatten the site. The site became a temporary ground for holding car boot sales and markets, even though it had been announced that Tesco had bought the site for around 50 million, with a view of turning it into a massive retail park, with building work expected to begin in 2011.
Today the old foundations of the Wisbech track are covered by the new retail park which includes a Tesco Extra Superstore, which was completed by 2013, but its once location is best described as opposite to were Thurlow and Nunn have their car showroom on Cromwell Road, with no evidence at all of a greyhound stadium ever being there.
A photograph or even memorabilia for this track is required for this page, if you can help please contact me.